Research article

Open Access
Implementation of uniform information on fetal movement in a Norwegian population reduced delayed reporting of decreased fetal movement and stillbirths in primiparous women - a clinical quality improvement
BMC Research Notes
2010
3:2
Received: 3 September 2009
Accepted: 4 January 2010
Published: 4 January 2010
Abstract
Background
Delayed maternal reporting of decreased fetal movement (DFM) is associated with adverse pregnancy outcomes. Inconsistent information on fetal activity to women during the antenatal period may result in delayed reporting of DFM. We aimed to evaluate an intervention of implementation of uniform information on fetal activity to women during the antenatal period.
Methods
In a prospective before-and-after study, singleton women presenting DFM in the third trimester across 14 hospitals in Norway were registered. Outcome measures were maternal behavior regarding reporting of DFM, concerns and stillbirth. In addition, cross-sectional studies of all women giving birth were undertaken to assess maternal concerns about fetal activity, and population-based data were obtained from the Medical Birth Registry Norway.
Results
Pre- and post-intervention cohorts included 19 407 and 46 143 births with 1 215 and 3 038 women with DFM respectively. Among primiparous women with DFM, a reduction in delayed reporting of DFM (≥48 hrs) OR 0.61 (95% CI 0.47-0.81) and stillbirths OR 0.36 (95% CI 0.19-0.69) was shown in the post-intervention period. No difference was shown in rates of consultations for DFM or maternal concerns. Stillbirth rates and maternal behavior among women who were of non-Western origin, smokers, overweight or >34 years old were unchanged.
Conclusions
Uniform information on fetal activity provided to pregnant women was associated with a reduction in the number of primiparous women who delayed reporting of DFM and a reduction of the stillbirth rates for primiparous women reporting DFM. The information did not appear to increase maternal concerns or rate of consultation. Due to different imperfections in different clinical settings, further studies in other populations replicating these findings are required.
Keywords
Maternal Behavior
Stillbirth Rate
Overweight Woman
Fetal Movement
Primiparous Woman
Background
Women presenting with decreased fetal movement (DFM) are at increased risk of fetal growth restriction, stillbirth, preterm birth and emergency caesarean section [1–5]. Excessive delay in maternal reporting of DFM is associated with perinatal deaths [5, 6]. There is no agreement on any quantitative limit between "normal" versus "abnormal" fetal activity [7, 8], due to normal variation among healthy fetuses [9] and variation in maternal ability to perceive fetal activity [10]. The only definition of DFM based on focused counting data in a total population, is the rule of "10 fetal movements within two hours", which subsequently has been tested as a screening tool [7, 11]. Fetal movement counting (FMC) is a method used by the mother to quantify her baby's movements. Various methods with different alarm limits have been published; discussed elsewhere [7, 8]. FMC is not promoted as a universal screening tool for fetal wellbeing [4], but has been recommended in high-risk pregnancies [12, 13].
The most important clinical screening tool for DFM for identifying high-risk pregnancies is the women's own perception of a decrease [8, 14–16]; i.e. her perception of a change, not the crossing of a given limit. Existing guidelines for antenatal care in the United Kingdom, the US and Norway recommend that a distinct reduction of fetal movement should be reported and lead to further investigation [17–20]. In our Norwegian setting nearly 100% of all pregnant women attend the public antenatal care program provided by community midwives and general practitioners. Pregnant women with a concern of DFM usually contact maternity wards directly. Four to fifteen percent of women present to the hospital in late pregnancy with the primary complaint of reduced or absent fetal movements [8, 21, 22].
The current study was a part of the ongoing, interdisciplinary collaborative effort related to DFM: Fetal Movement Intervention Assessment (Femina), aiming to survey clinical management and initiate quality improvement efforts in Australia & New Zealand [23], the US [24], the United Kingdom [15] and Norway. The information pamphlet provided to expectant mothers by Norwegian health authorities, instructs women to contact a midwife or a physician "if the baby has become very calm, if they feel less movements - a few or no movements from the fetus" [18, 20]. In Norway, significant variation has been shown in maternal recall of information received about fetal movement [10]. Further, women who waited >24 hours with reduced or absent movement before contacting healthcare have been shown to be at increased risk for adverse outcomes [22]. Maternal recall of having received information about fetal movement was associated with more frequent concerns, without improving pregnancy outcomes [10].
Variation in clinical practice, as reflected in patient information, may represent increased risk [25]. Quality assurance efforts aimed at health providers (through clinical guidelines) and pregnant women (through uniform information) were implemented in order to increase identification of high-risk pregnancies for optimal observation and treatment. This paper reports the effects of providing uniform information about fetal activity on maternal awareness, behavior, concerns and pregnancy outcomes when DFM was perceived by the mothers. We hypothesised that providing this information would reduce the number of women who delayed reporting DFM to their healthcare provider, in the total population or by the subgroups defined by maternal age [5, 26], body mass index (BMI) [5, 27], smoking habits [5, 28], and maternal country of origin [29]. We also hypothesised that the intervention was associated with improved pregnancy outcomes, overall and/or by the subgroups. The guidelines for health care providers and effects on clinical management are presented elsewhere [30].
Results
Overview data collection is presented in Figure
1
. Baseline characteristics of the populations are described in Table
1
. The respondents in the cross-sectional studies were representative for the pregnant population in their area during the study period in regard to age, parity and smoking habits (data from the Medical Birth Registry Norway, not shown).
Table 1
Descriptive characteristics: DFM and Cross-sectional populations
DFM*

N = 4 253

Cross-sectional*

N = 1 431

Characteristics

Pre-intervention

n = 1 215

n (%)†

Post-intervention

n = 3 038

n (%)†

P ‡

Pre-intervention

n = 692

n (%)†

Post-intervention

n = 739

n (%)†

P ‡

Age, y mean (SD)

29.6 (4.9)

29.7 (5.2)

0.625

30.2 (4.9)

30.1 (5.1)

0.849

   <20

23 (1.9)

59 (2.0)

9 (1.3)

10 (1.4)

   20-24

182 (15.1)

454 (15.1)

70 (10.3)

101 (13.7)

   25-29

388 (32.3)

933 (31.1)

231 (34.0)

208 (28.1)

   30-34

413 (34.4)

1 031 (34.3)

237 (34.9)

273 (36.9)

   35+

196 (16.3)

527 (17.5)

133 (19.6)

147 (19.9)

Parity

   Para 0

559 (51.1)

1 414 (52.4)

0.490

287 (43.1)

300 (41.4)

0.197

   Para 1

372 (34.0)

878 (32.5)

221 (33.2)

283 (39.0)

   Para 2+

163 (14.9)

409 (15.2)

158 (23.7)

142 (19.5)

BMI, kg/m 2

24.7 (5.1)

24.5 (5.0)

0.547

24.4 (4.4)

23.6 (4.2)

<0.001

   <20

143 (13.3)

383 (14.2)

74 (11.0)

113 (15.6)

   20-24

547 (50.8)

1325 (49.0)

378 (56.2)

412 (56.9)

   25-29

244 (22.7)

638 (23.6)

147 (21.8)

137 (18.9)

   30+

91 (8.5)

249 (9.2)

74 (11.0)

21 (8.6)

Smoking habits

   Smoking

104 (8.8)

259 (8.9)

0.924

50 (7.4)

48 (6.4)

0.483

Country of origin

   Non-Western

178 (14.7)

406 (13.4)

0.271

39 (5.7)

29 (3.6)

0.064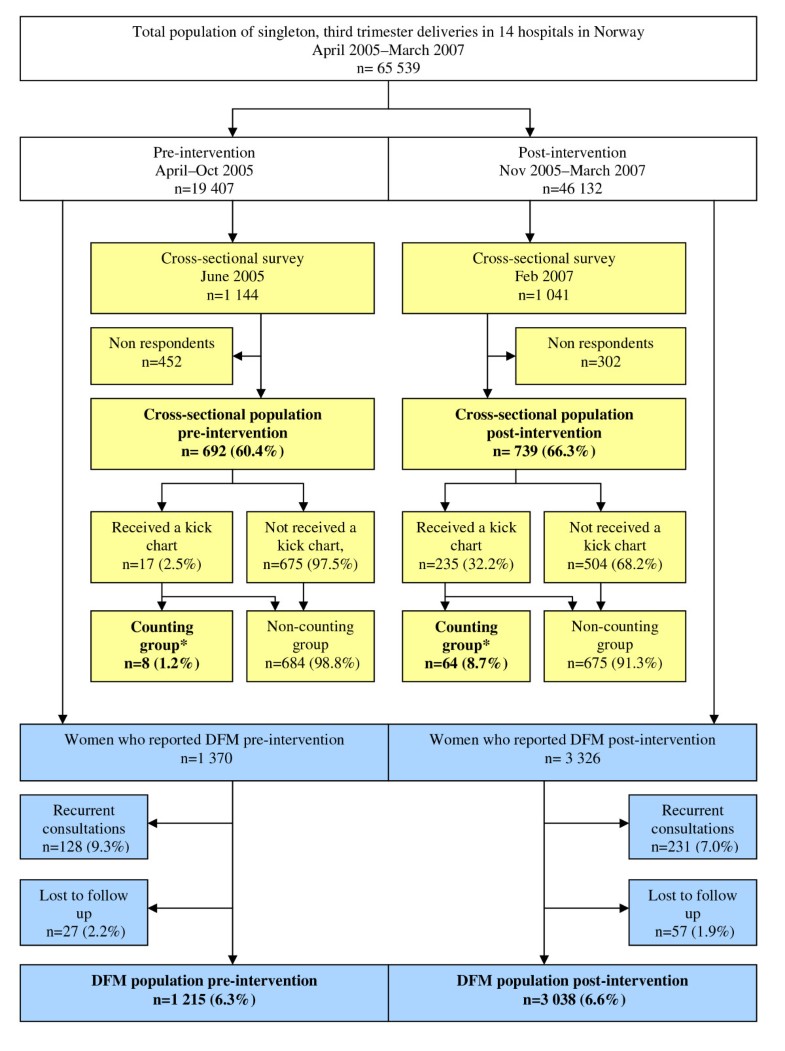 Discussion
In this prospective before-and-after study, primiparous women were shown to have the greatest behavioral change in reporting DFM and were the only risk group with a reduction in stillbirth. This may be associated with the experience of transition to the motherhood role of first-time mothers. With no previous experiences, pregnancy represents a major adjustment period, strongly influenced by information seeking and trying to adopt best health practices and changes in lifestyle [44].
While the effect of printed educational materials as guidelines for health care providers is associated with some improvement in process of care [45], the addition of additional interventions such as outreach education and audit and feedback may enhance this effect [46]. In this study, implementation of standardized information for women across participating hospitals was achieved through a multifaceted intervention including clinical practice recommendations, outreach education and audit and feedback. Standardized written information improved maternal self-screening of significance for decrease in or absence of fetal movement. This may have contributed to the decreased stillbirth rate among primiparous women. The importance of recognizing DFM for pregnancy outcomes is indisputable [2, 4, 22], and identification of risk is one of the main goals for antenatal care [47]. Women were advised to contact their health care provider for concerns about DFM regardless of reaching in any specific fetal movement rate threshold. The advice on focused counting and the suggested "alarm limits" [7, 11] when women were in doubt about the presence of DFM in addition to the advice about their perceptions may have contributed to a reduction in excessive delay in reporting DFM.
A similar proportion (75%) of women recalled having received information in the baseline and the intervention. Thus, this provides support to the effectiveness of the information to improve maternal self-screening of DFM which was more explicit than the previous information [18] and emphasized maternal assessment of fetal activity according to the activity pattern for her own child [9]. This was reflected in the mothers' reasoning for concern in the post-intervention. Women in the post-implementation period reported concerns related to the activity level earlier in the pregnancy more often and were more confident that their perception of DFM was the true reason for being concerned.
Conclusions
Uniform information about fetal activity provided to pregnant women was associated with a reduction in the number of primiparous women who delayed reporting of DFM and reduced stillbirth rates for primiparous women reporting DFM. The information did not appear to increase maternal concerns or frequency of consultations. While these findings are encouraging, caution in its interpretation is warranted due to limitations of the design employed in this quality improvement project; the implemented solutions were based on the local issues identified by prior quality assurance studies. Further studies replicating these findings are required. A clearer definition of DFM is needed.
Declarations
Acknowledgements
We want to express a special gratitude to all the participating hospitals and their coordinators for collecting the presented material: Live Grindaker Ask, Ingrid Borthen, Cecilie Bryn, Elisabeth Hals, Nora Pran Halvorsen, Kari Haugødegård, Elisabeth Heiberg, Lina Herstad, Ann Holstvoll, Berit Jacobsen, Åse Kari Kringlåk, Kristine Lem, Hege Lundring, Hårek Lysberg, Zelalem Mengistu, Mette Nordbø, Cecilie Nordklev, Lill Nyfløt, Richard Olsson, Inger-Lise Paulsen, Torill O'Reilly, Kjersti Rimstad, Åse Karin Rondestveit, Siri Skrøppa, Ruth Svarstad, Asbjørn Myren Svendsen, Torgrim Sørnes, Ursula Teufel, Ameli Trope, Ellen-Sofie Trovik, Christin Wendt, Stian Westad, and Line Aaby,
This work has been supported by grants from The Norwegian Research Council, The Norwegian SIDS and Stillbirth Society, The Norwegian Women's Public Health Association, The Norwegian Medical Association, Unger Vetlesen Medical Foundation, Blix Foundation, Odd Fellow Foundation, Fulbright Foundation, American Women's Club of Oslo and Medinnova, The Norwegian Foundation for Health and Rehabilitation and National Resource Centre for Women's Health, Rikshospitalet University Hospital. The funding sources had no involvement in the authors' work.
Authors' Affiliations
(1)
Norwegian Institute of Public Health, Division of Epidemiology, Oslo, Norway
(2)
Akershus University College, Lillestrøm, Norway
(3)
Department of Obstetrics and Gynecology, Centre for Perinatal Research, Rikshospitalet University Hospital, Oslo, Norway
(4)
University of Oslo, Medical faculty, Norway
(5)
Department of Obstetrics and Gynecology, University of Queensland, Mater Mothers' Hospital, South Brisbane, Australia
(6)
Brigham and Women's Hospital, Division of Maternal-Fetal Medicine, Harvard Medical School, Boston, MA and Harvard Medical Associates, Wellesley, USA
(7)
Institutes for Clinical Medicine, Section for Gynecology and Obstetrics, and University of Bergen, Norway
Copyright
© Saastad et al; licensee BioMed Central Ltd. 2010
This article is published under license to BioMed Central Ltd. This is an open access article distributed under the terms of the Creative Commons Attribution License (http://creativecommons.org/licenses/by/2.0), which permits unrestricted use, distribution, and reproduction in any medium, provided the original work is properly cited.