Visceral leishmaniasis in 26 HIV-negative adults
BMC Research Notes
2011
4:389
Received: 10 February 2011
Accepted: 8 October 2011
Published: 8 October 2011
Abstract
Background
Visceral leishmaniasis is a notifiable parasitic disease that had increased in incidence in our region on the past few years. It is common in children. In adults, it occurs more on a background of immunodeficiency, and frequently with incomplete clinical manifestations, making the diagnosis complicated.
Findings
The aim of our study is to reveal different features of visceral leishmaniasis in adults, through the analysis of its epidemiological, clinical and biological parameters, in a group of 26 patients. No one was infected with HIV or under immunosuppressive therapy Clinical presentation was generally conservative, but there was few differences in adults compared to children, concerning both the clinical symptoms and the laboratory parameters. Diagnosis was provided by direct examination of bone marrow smears in 24 cases (sensitivity 92%), and anti-leishmanial serology in the others.
Conclusion
We should think to the diagnosis of VL even if the patient is not known immunocompromised, and even if the clinical is incomplete, to avoid a delay of care which can lead to serious complications.
Keywords
visceral leishmaniasisHIV-negative adultsbone marrow aspirateimmunofluorescent antibody test
Introduction
Visceral leishmaniasis (VL), also known as kala-azar, is a systemic parasitic infection caused by two of the species of the protozoan Leishmania : L. donovani and L. Infantum. It is spread by the bite of the female sand fly Phlebotomus[1]. It affects approximately 500.000 people every year [2–4], and almost 1000 individuals in the Mediterranean basin [5].
Its typical presentation associate fever, splenomegaly, hepatomegaly, lymph node enlargement and pancytopenia.
Conventional laboratory techniques for the diagnosis of VL are parasitological methods, based on the search for parasites on bone marrow smears or other tissues, and in vitro cultivation, and serological methods, favoured by the presence of serum antibodies; the most commonly used are immunofluorescent antibody test (IFAT) and immunoenzymatic methods (ELISA). PCR assays are also proposed as useful tools for the diagnosis of VL, through the detection of Leishmania DNA in different biological samples such as peripheral blood and bone marrow aspirate [1, 4].
Through this retrospective analysis, we try to discuss the specifics of VL in immunocompetent adults. Patients included are beyond 15 years-old, collected in the internal medicine department at the University Hospital of Fez, between June 2003 and August 2010. All of them were not infected with HIV, and they all underwent a bone marrow aspiration and a serological test of leishmaniasis based on immunofluorescent antibody test (IFAT) for the diagnosis.
Findings
We collected 26 cases of visceral leishmaniasis diagnosed in HIV-negative adults. Patients ranged in age from 15 to 65 years, with mean ages of 28 years. There were 15 men and 11 women. All patients were from regions already known to be endemic foci of VL, 61% of them were from rural areas, mainly from the vicinity of Fez and Taounate wich are cities in the center of Morocco.
Two patients were diabetic, one had chronic hepatitis C, another suffered from chronic renal failure and in two cases, VL was associated with pregnancy. We have also noted the particular association of VL with pernicious anemia in a woman, and with a spondylarthropathy in an adolescent.
The average consultation time was 107 days. More than half of our patients had consulted the first time for abdominal symptoms. In other cases, hematological and general symptoms were inaugural.
Clinical features of the 26 patients are summarized in Table
1
. 84% of our patients had fever, 81% had asthenia and all of them had pallor. Splenomegaly was present in 84% of cases but hepatomegaly and lymph node enlargement were noted in only 35%. Respiratory signs were rare.
Table 1
Clinical characteristics of the 26 patients
| Clinical data | No. of patients | Percentage |
| --- | --- | --- |
| Fever | 24 | 92 |
| Sweats | 22 | 84 |
| Weight loss | 11 | 42 |
| Asthenia | 21 | 81 |
| Pallor | 26 | 100 |
| Haemorrhage | 9 | 35 |
| Splenomegaly | 22 | 84 |
| Hepatomegaly | 9 | 35 |
| Lymphadenopathy | 9 | 35 |
| Edema of lower limbs +/- ascites | 2 | 7 |
| Respiratory signs | 3 | 11 |
| Skin lesions | 0 | 0 |
Biologically (table
2
), anemia was constant, non-regenerative, often normochromic and normocytic, with an average hemoglobin of 7,51 g/dl; It was below 7 g/dl in 40% of cases. Leukopenia was also frequently observed in 76% of cases and thrombocytopenia was less common. In 53% there was a severe neutropenia (< 1000 cells/mm
3
). 11 patients had a platelet count less than 100.000/mm
3
, 7 others had moderate thrombocytopenia (between 100.000 and 130.000/mm
3
), and 8 patients had normal levels of platelets. The rate of serum protein was elevated in 27% of cases, with an extreme of 120 g/l. Most patients had an obvious inflammatory syndrome; in 63% of them, the erythrocyte sedimentation rate (ESR) exceeded 100 mm in the first hour and C-reactive protein (CRP) was often above 50 mg/l and the average value was 62,4 mg/L. only 10 patients had at admission elevated liver enzymes levels, reaching more than 3 times the normal value.
Table 2
Biological characteristics of the 26 patients
| Parameter | Average value | Minimum value | Maximum value |
| --- | --- | --- | --- |
| Hemoglobin (g/dL) | 7,51 | 5,1 | 10,5 |
| White blood cells (cells/mm3) | 3208 | 900 | 9400 |
|    Neutrophils (cells/mm3) | 1524 | 380 | 7300 |
|    Lymphocytes (cells/mm3) | 1207 | 110 | 3500 |
| Platelets (103cells/mm3) | 131 | 34 | 394 |
| ESR (mm/h) | 99,63 | 19 | 150 |
| CRP (mg/L) | 62,4 | 5 | 219 |
| Total protein (g/L) | 81,7 | 62 | 120 |
| ALAT (IU/L) | 69,32 | 4 | 573 |
| ASAT (IU/L) | 80,72 | 5 | 674 |
Anti-
Leishmania
serology was performed in 13 patients by IFAT. It was positive in 12 of them. The analysis of bone marrow smears, stained with May-Grunwald-Giemsa, objectified the presence of
Leishmania
amastigotes in 24 cases. The parasites were usually scattered in the stroma in extracellular. Rarely they regrouped in clusters, or were found inside the granulocyte (Figure
1
). In 2 cases, the myelogram was normal and no
Leishmania
were demonstrated, probably because of low parasitemia; the diagnosis was therefore established on the basis of clinical and serological data.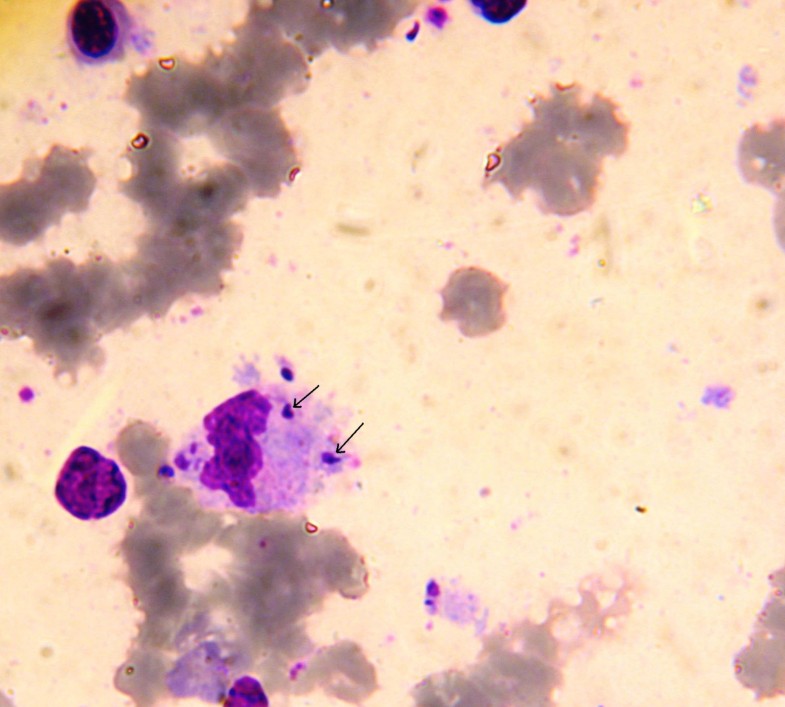 An anti-HIV serology was performed in all patients and was negative. It was the same for the serology for hepatitis B and syphilis, made in 15 cases. One patient was positive for Hepatitis C tests.
All patients were treated with injections of antimoniate of Méglumine (Glucantime®). They received a single cure of 21 days at a dose of 80 mg/kg/day, administered gradually. This treatment was generally well tolerated. We have noted a single case of liver toxicity that resolved after dose reduction of Glucantime®. There was no relapse in our series.
The outcome was favorable in 23 cases (88%), with a progressive improvement in clinical parameters with obtaining apyrexia, disappearing of splenomegaly and improving general condition, then in biological assessments with decreasing of the inflammatory syndrome and normalization of the liver enzymes levels. No infectious or hemorrhagic complications were recorded. Although, the outcome in both pregnant women was characterized by the occurrence of portal hypertension in one, and fetal death in the other. We recorded an unexplained death of a patient of 60 years-old with renal failure, on the 4th day of treatment.
Conclusion
VL affects more and more adults in the Mediterranean area. This means that special care must be given to diagnosis, especially since clinical signs are often incomplete and little characteristic.
Thus, the disease should be suspected whenever there is prolonged or unexplained fever, splenomegaly or hypergammaglobulinemia in a patient from an endemic area, even if he is not infected with HIV or receiving immunosuppressive therapy. And when VL is diagnosed in those adults, an underlying condition that could weaken the immunity of the patient must be seeked, but even if there is not, this does not rule out the diagnosis of VL.
Declarations
Acknowledgements
all the staff of the Department of Internal Medicine and Laboratory of Hematology.
Authors' Affiliations
(1)
Laboratory of Hematology, University Hospital of Fez, Atlas, Morocco
(2)
Internal Medicine Department, University Hospital of Fez, Atlas, Morocco
Copyright
© Lahlou et al; licensee BioMed Central Ltd. 2011
This article is published under license to BioMed Central Ltd. This is an open access article distributed under the terms of the Creative Commons Attribution License (http://creativecommons.org/licenses/by/2.0), which permits unrestricted use, distribution, and reproduction in any medium, provided the original work is properly cited.