HumMeth27QCReport: an R package for quality control and primary analysis of Illumina Infinium methylation data
BMC Research Notes
2011
4:546
Received: 20 July 2011
Accepted: 19 December 2011
Published: 19 December 2011
Abstract
Background
The study of the human DNA methylome has gained particular interest in the last few years. Researchers can nowadays investigate the potential role of DNA methylation in common disorders by taking advantage of new high-throughput technologies. Among these, Illumina Infinium assays can interrogate the methylation levels of hundreds of thousands of CpG sites, offering an ideal solution for genome-wide methylation profiling. However, like for other high-throughput technologies, the main bottleneck remains at the stage of data analysis rather than data production.
Findings
We have developed HumMeth27QCReport, an R package devoted to researchers wanting to quickly analyse their Illumina Infinium methylation arrays. This package automates quality control steps by generating a report including sample-independent and sample-dependent quality plots, and performs primary analysis of raw methylation calls by computing data normalization, statistics, and sample similarities. This package is available at CRAN repository, and can be integrated in any Galaxy instance through the implementation of ad-hoc scripts accessible at Galaxy Tool Shed.
Conclusions
Our package provides users of the Illumina Infinium Methylation assays with a simplified, automated, open-source quality control and primary analysis of their methylation data. Moreover, to enhance its use by experimental researchers, the tool is being distributed along with the scripts necessary for its implementation in the Galaxy workbench. Finally, although it was originally developed for HumanMethylation27, we proved its compatibility with data generated with the HumanMethylation450 Bead Chip.
Keywords
Methylation Level
Bisulfite
Methylation Data
Methylation Array
Genome Studio
Findings
DNA methylation is an epigenetic mechanism that in vertebrates occurs most frequently at cytosines followed by guanines (CpG). This modification regulates gene expression and can be inherited through cell division, thus being essential for preserving tissue identities and guiding normal cellular development [1]. Recent studies have also indicated that modulation of DNA methylation occurs during lineage-specific differentiation. For instance, methylation and transcriptional changes accompany myeloid versus lymphoid fate decisions [2]. However, alterations in DNA methylation at specific regulatory sites have been linked to common diseases such as cancer, diabetes, multiple sclerosis, schizophrenia, and other neurodegenerative disorders [3–5].
As investigating the human DNA methylome has gained more and more interest in the last few years, several methods have been developed to detect cytosine methylation on a genomic scale. Among these, the Illumina Infinium Methylation Assay has proven reliable in genotyping labs worldwide. This hybridization-based technique offers quantitative methylation measurements at the single-CpG-site level and provides as accurate results as sequencing-based methylation assays (e.g. MethylCap-seq, MeDIP-seq, RRBS) [6].
More specifically, two Illumina platforms are available for high-throughput DNA methylation analysis so far: Golden Gate Veracode and Infinium. The Veracode Golden Gate Methylation represents an ideal platform for custom studies or biomarker validation, targeting 96 or 384 custom CpG sites per sample. For Infinium platform, two different Bead Chips are on the market: the HumanMethylation27 and the new HumanMethylation450 Bead Chips. The first enables scientists to interrogate 27,578 highly informative CpG sites located within the genomic regions upstream of 14,475 consensus coding sequence (CCDS) annotated at the NCBI database. Instead, the new HumanMethylation450 Bead Chip provides scientists with methylation levels of >450,000 CpG sites per sample, including coverage of all designable RefSeq genes (along with promoter, 5', and 3' regions, without bias against those lacking islands of CpG sites), CpG sites outside of CpG islands, non-CpG methylated sites identified in human stem cells, differentially methylated sites identified in tumor versus normal in multiple forms of cancer and across several tissue types, CpG islands outside of coding regions, microRNA promoter regions, and disease-associated regions identified through genome-wide association studies.
Like for other technologies, quality control is an important step in the analysis of methylation array data [7]. Indeed, arrays with poor quality can significantly affect subsequent analysis and consequently invalidate their interpretation. But, while several R packages can assist scientists with quality control analysis of other data types (i.e. microarray [8–10], RNA-seq [11], target enrichment experiments [12]), only four are tailored to support DNA methylation research and, in particular, only two specifics for Illumina data. Of these, charm [13] implements analysis tools for DNA methylation data generated using Nimblegen microarrays and the McrBC protocol; it finds differentially methylated regions between samples, calculates percentage methylation estimates and includes array quality assessment tools. MassArray [14] is designed for the import, quality control, analysis, and visualization of methylation data generated using Sequenom's MassArray platform. Specific for Illumina, methylumi[15] facilitates data manipulation with methods for quality control, normalization (only for Illumina Golden Gate), and plotting; while lumi[16] handles Infinium data providing functions for quality and colour balance assessment, colour balance adjustment, background adjustment, normalization, and modelling of the methylation status. While these open source packages require knowledge and live interaction with the R programming environment, non-computational scientists could instead carry out the analysis with the Illumina Genome Studio software. However, since not all researchers may have access to this commercial software, we believe that a fully automated, open source and unique function-based tool would facilitate the analysis of methylation data even for wet-lab researchers.
Here, we developed
HumMeth27QCReport
: an R package to automate quality control and analysis of Illumina Infinium Methylation Arrays. This software is made of a unique function that performs four main steps (Figure
1
), some of which based on already existing functionalities from
lumi
and
methylumi
. First,
HumMeth27QCReport
imports methylation files directly as they are exported from
Genome Studio
without any further manipulation. An optional file can be provided to eventually discard some samples from subsequent analysis. Second,
HumMeth27QCReport
generates ad-hoc quality plots to monitor in an easy and fast way sample-dependent and sample-independent QC parameters. These plots, designed with wet-lab researchers following the Illumina guidelines, are automatically exported in printable PDF format. Third,
HumMeth27QCReport
makes use of normalization method functionality of
lumi
package, as well as exports normalized methylation calls and basic statistics in text format that can be easily imported into any statistical package or spreadsheet program for further analyses. Fourth,
HumMeth27QCReport
computes Principal Component Analysis (PCA) and hierarchical clustering to assess overall sample similarities on normalized DNA methylation M-values. Importantly, we show that this software, originally developed for HumanMethylation27, is compatible with data produced with the new HumanMethylation450 Bead Chip. Finally, the package is available at CRAN repository, and, in order to encourage its use by non-computational researchers, ad-hoc scripts for its implementation in the Galaxy workbench [
17
,
18
] are provided at the Galaxy Tool Shed [
19
].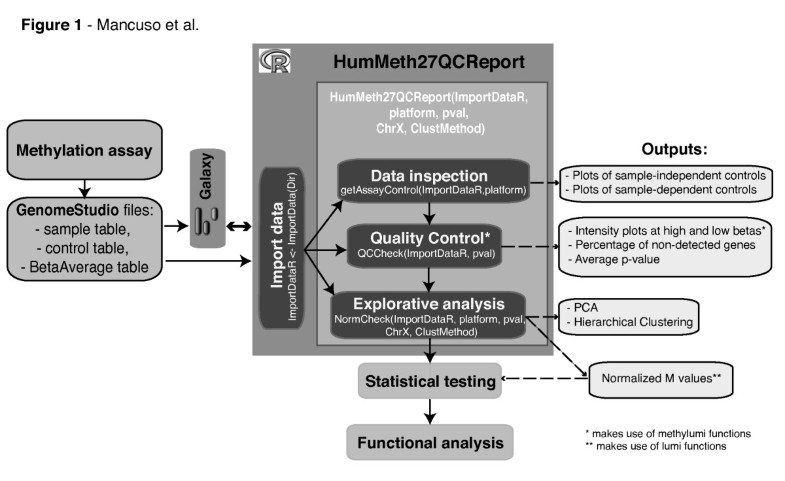 Conclusions
HumMeth27QCReport is an R package designed with wet lab researchers for automating the quality control and primary analysis of Illumina Infinium Methylation Assays. The novelty of our software is the automatic generation of ad-hoc quality plots that allow an easy monitor of sample-dependent and sample-independent QC parameters, as suggested by the Illumina Infinium guidelines. These plots represent a comprehensive tool for visual inspection of methylation datasets. Moreover, our software exports DNA methylation calls and basic statistics into text files that can be easily imported into other statistical software for further analysis, as well as computes sample similarities using unsupervised approaches, like PCA and hierarchical clustering. The software, compatible with the new HumanMethylation450 Bead Chip, is available at the CRAN repository. To enhance its use by non-computational researchers, we developed ad-hoc scripts for its implementation in the Galaxy workbench and made them available at the Galaxy Tool Shed.
Availability and requirements
Project name: HumMeth27QCReport
Project homepage:http://biocore.crg.cat/wiki/HumMeth27QCReport;http://cran.r-project.org/package=HumMeth27QCReport
Operating system(s): Platform independent
Programming language: R
Dependecies: R (> = 2.13.0), methylumi, lumi, IlluminaHumanMethylation27k.db, IlluminaHumanMethylation450k.db, amap, Hmisc, gplots, plotrix, WriteXLS, tcltk
Other requirements: Perl
License: GNU GPLv2
Availability of supporting data
Declarations
Acknowledgements
We thank Manuela Hummel for testing the package and providing us with very helpful comments, Toni Hermoso for his technical support, and Susana Iraola and Raquel Rabionet for useful discussions on DNA methylation research.
Authors' Affiliations
(1)
Bioinformatics Unit, Centre for Genomic Regulation (CRG) and UPF, Dr, Barcelona, Spain
(2)
Genotyping Unit-Centro Nacional de Genotipado (CeGen), Centre for Genomic Regulation (CRG) and UPF, Dr, Barcelona, Spain
(3)
Genes and Disease Programme, Centre for Genomic Regulation (CRG) and UPF, Barcelona, Spain
Copyright
© Mancuso et al; licensee BioMed Central Ltd. 2011
This article is published under license to BioMed Central Ltd. This is an Open Access article distributed under the terms of the Creative Commons Attribution License (http://creativecommons.org/licenses/by/2.0), which permits unrestricted use, distribution, and reproduction in any medium, provided the original work is properly cited.