Corky, a gypsy-like retrotransposon is differentially transcribed in Quercus suber tissues
BMC Research Notes
2012
5:432
Received: 18 March 2012
Accepted: 2 August 2012
Published: 13 August 2012
Abstract
Background
Transposable elements (TEs) make up a large part of eukaryotic genomes. Due to their repetitive nature and to the fact that they harbour regulatory signals, TEs can be responsible for chromosomal rearrangements, movement of gene sequences and evolution of gene regulation and function. Retrotransposon ubiquity raises the question about their function in genomes and most are transcriptionally inactive due to rearrangements that compromise their activity. However, the activity of TEs is currently considered to have been one of the major processes in genome evolution.
Findings
We report on the characterization of a transcriptionally active gypsy-like retrotransposon (named Corky) from Quercus suber, in a comparative and quantitative study of expression levels in different tissues and distinct developmental stages through RT-qPCR. We observed Corky's differential transcription levels in all the tissues analysed.
Conclusions
These results document that Corky's transcription levels are not constant. Nevertheless, they depend upon the developmental stage, the tissue analysed and the potential occurring events during an individuals' life span. This modulation brought upon by different developmental and environmental influences suggests an involvement of Corky in stress response and during development.
Keywords
Quercus suber Corky LTR retroelementRT-qPCRExpression
Background
Retrotransposons are generally the most abundant class of Transposable Elements (TEs), concerning their proportion in the genomes and, are widely distributed among eukaryotic genomes, especially in plants [1]. Due to their wide distribution and the diverse types of induced mutations, TEs are thought to have contributed significantly to eukaryotic genes and genomes evolution [2]. The increasing number of data obtained from genome-wide sequencing projects indicate that TEs take part in major events and are a potential pool of promoter regions for host regulatory sequences [3]. TE regulatory regions are known to be sequences of extremely rapid evolution, a characteristic of eukaryotic regulatory regions attributed to having to cope with changing genomic environments [4]. LTR-retrotransposons are 'copy-and-paste' (class I) TEs that replicate via an RNA intermediate. Like animal retroviruses, these retrotransposons have two LTRs, with signals for transcription initiation and termination, flanking an internal region (gag-pol) that typically contains genes and other features necessary for autonomous retrotransposition. Retrotransposon ubiquity raises the question about their function in genomes. Retrotransposon insertions in, or next to coding regions, generate mutations that can lead to changes in gene expression. For instance, Tnt 1A transposition preferentially targets genic regions, suggesting that the activity of transposable elements can modulate genic functions and represent a natural source of phenotypic diversity [5]. Furthermore, run-off transcription from retrotransposons can lead to overexpression or suppression of nearby genes [6]. Transcription activity detected in several retrotransposons during certain stages of development seems to point to a potential role of these elements during plant growth [7, 8]. Additionally, some biotic and abiotic stresses can increase transcript levels of retroelements, such as tobacco Tnt1[9], Tto1[10], Tto2[11], rice´s Tos17[12] and Rtsp-1 from sweet potato [7]. An overall picture of retrotransposon expression is however difficult to establish due to the absence of exhaustive comparative studies in different tissues. Several Gypsy and Copia- like retroelements are known to be well represented in the Mediterranean Quercus suber[13, 14].
IFG 7 [15] is one of the most representative Gypsy-like elements in coniferous genomes such as in several Pines [15–18]and Taxodium distichum[19], and sometimes is considered as a conifer-specific LTR retroelement [20]. However, elements like IFG 7 were not yet identified in Angiosperms. In order to study the possible occurrence of a conifer derived LTR retroelement in a distant related Angiosperm tree species, as well as its potential active transcriptional activity in this species, we used IFG 7 as a Gypsy representative element.
The key aims of this work were the molecular characterization of a new retrotransposon in the Quercus suber genome which is homologue to the previously identified IFG 7 from Pinus radiata[15] and PpRT 1 from Pinus pinaster[18] and, the quantification of its transcriptional activity in different tissues and distinct developmental stages and conditions. Together, the data presented here clearly show that this retrotransposon, named Corky, makes up a dynamic component of the cork oak genome.
Findings
Organization and structure of Corky
Corky is a gypsy retroelement that was isolated throughout genome walking in Q. suber genome. All generated DNA fragments were sequenced and further analysed.
The assemblage of all the sequences revealed that this retrotransposon is 5924 bp long (GeneBank: EU862277) (Figure 
1
a) and harbours internal regions with homology to retroviral genes
gag
and
pol
. The
pol
region contains sequence motifs related to the enzymes protease, reverse transcriptase, RNAseH and integrase in the same typical order known for
gypsy
-like retrotransposons. The complete sequence analysis reveals that the reverse transcriptase (RVT), RNaseH and integrase (INT) have the same nucleotide number as
PpRT
1 [
18
] with nucleotide identity percentage of 92%, 96% and 95%, respectively. Additionally, the H
P
VFH(V)S integrase motif in
Corky
is distinct from H
L
VFH(D)S found in
PpRT
1 and
IFG
7 retrotransposons. Two substitutions occurred in
Corky
: a leucine to a proline and an aspartic acid to a valine (Additional file
1
). Changes in these motifs might be responsible for the specific targeting and insertion [
21
]. Flanking the 3'LTR, another region was identified as a chromatin organization modifier (CH) [
22
], with 50 amino acids, which appear to play a role in the functional organization of the eukaryotic nucleus and probably targets the element to regions of high gene expression [
23
].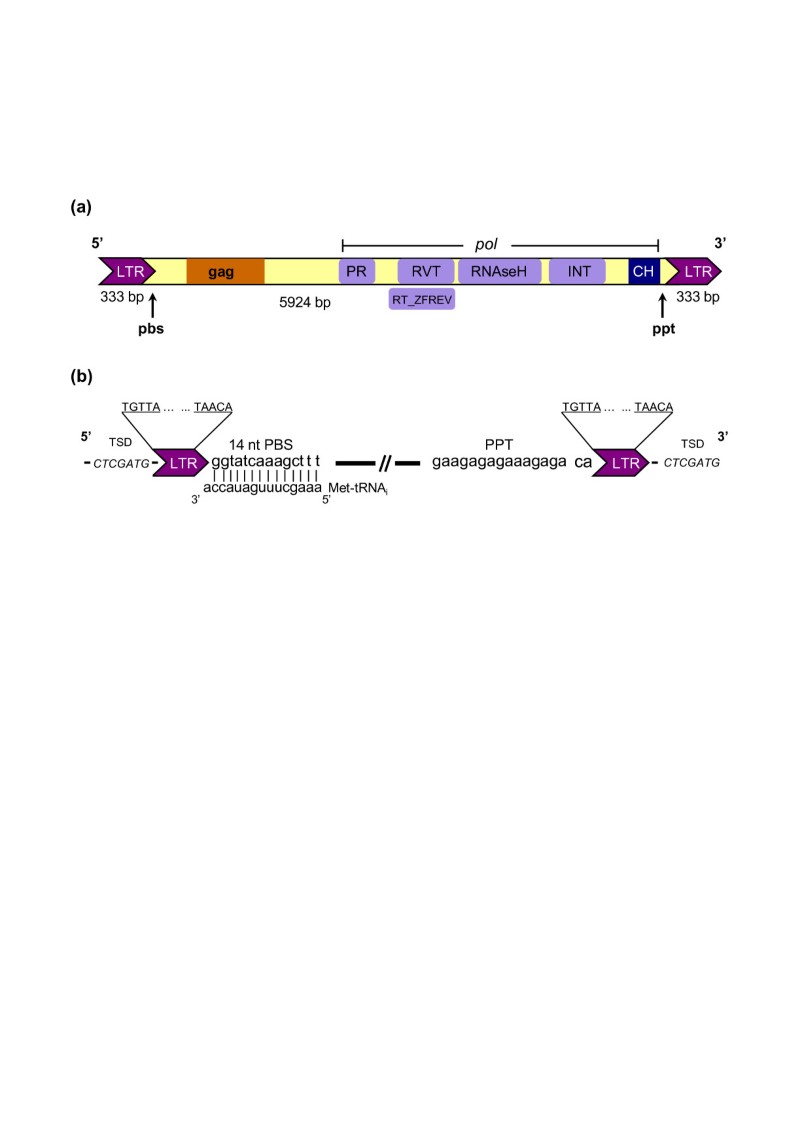 Each LTR is 333 bp long and is flanked by a short 7 bp direct repeat 5'- CTCGATG-3' (Figure 1b), probably representing a duplication of the genomic target site produced by the insertion of a Corky copy, such as it has been reported for other retroelements [24]. Both LTRs begin and end with a 5 bp inverted repeat 5'­TGTTA…TAACA-3' including the retroviral consensus 5'-TG…CA-3'. LTRs inverted repeats are present in all retroviruses and are thought to be important for their integration [25] (Figure 1b). 5'LTR´s Corky sequence analysis (Additional file 2) revealed two characteristic patterns of repeating motifs: one is a simple pattern of short tandem sequence motifs (a..a..) TA(G)TGATTACCCC(A)T(T)(A) and TA(T)TG(T)ATTA(TA)CCCC(T)T(A)(T), while the other one, more complex, has two adjacent heterologous motifs (TATTGTTA, TTATATT), repeated twice as a group (ab..ab), as present within the HIV-1 and gypsy enhancers [26]. Both patterns are dispersed between the two TATA sequences (TATATATA) (Additional file 2). Enhancers typically consist of a series short repeated sequence motifs that are often associated with regulatory protein binding domains [27].
Quantification of Corky expression
Corky's
transcription levels were monitored using the RVT and a region between the integrase and the chromodomain (Figure
2
) in ten replicates of several tissues and developmental stages: embryos, root and leaf primordia (15 days after seed germination), secondary roots, old and young leaves (intact and wounded) from 2.5 year old trees and pollen grains using RT-qPCR (Figure
3
).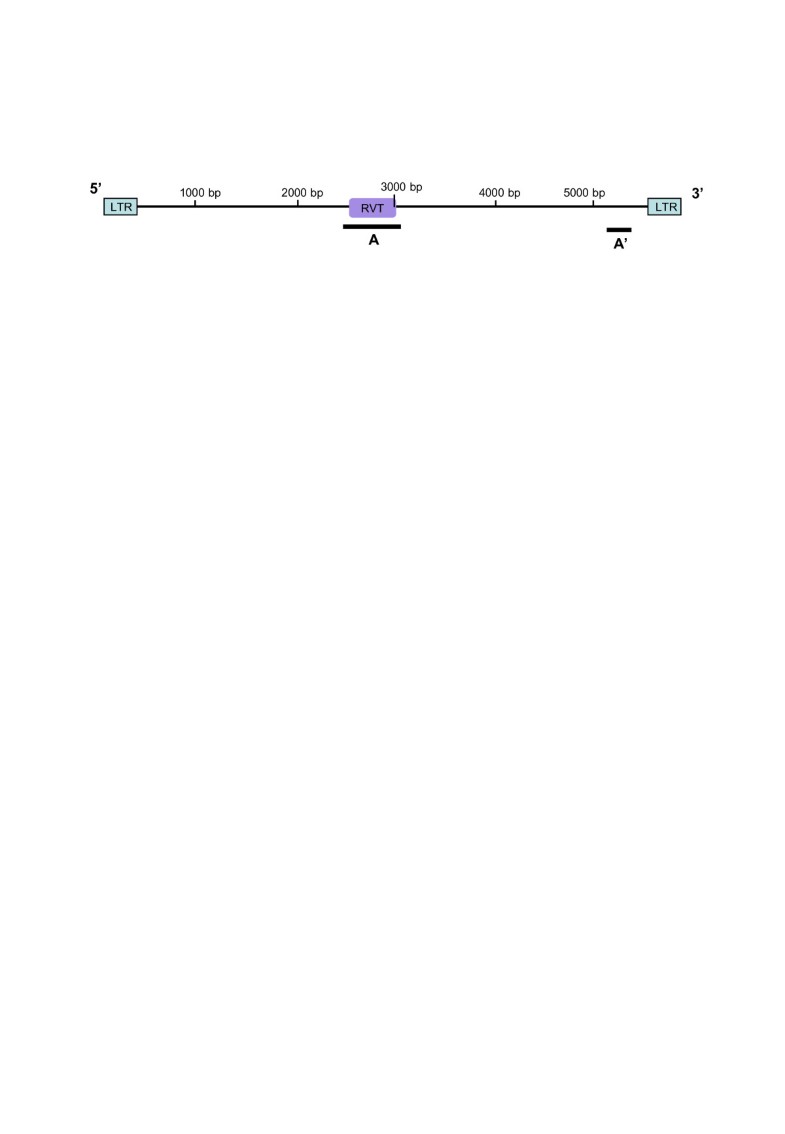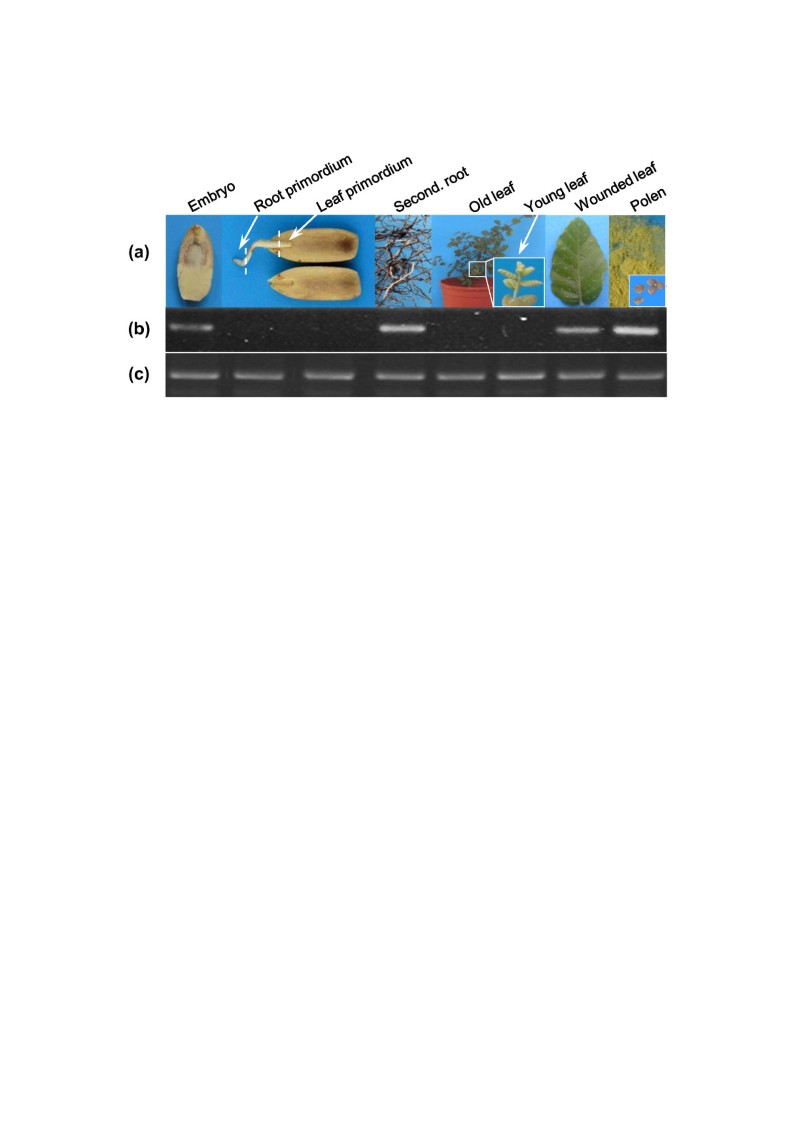 The results obtained for both
Corky
regions revealed to be similar. Transcripts quantification throughout plant development, clearly demonstrated that this retroelement is always active although with significant difference between organs/cells (Figure
3
and
4
). The highest
Corky
expression was detected in pollen, usually exposed to high levels of stress represented by an extremely low cell hydration state. High levels of expression were also detected in secondary roots (Figure
4
). This situation can be interpreted in a developmental point of view, considering that the meristematic activity leading to root expansion increases the levels of
Corky
transcription, as it was already detected [
28
]. Furthermore,
Corky
's high levels of expression could also be due to potential wounding caused by roots growing through soil, as has also been reported for
TLC1
in tomato [
29
] and
Cire
1 in sweet orange [
8
]. The association of
Corky
activity with stress is even stronger when healthy leaves are compared with those subjected to a mechanical stress similar to herbivory, increasing the number of transcripts (Figure
4
). When we compared embryos, in a dormancy state, with two regions (root and leaf primordia) of the same embryo in the initial steps of germination we found high levels of transcript in the first condition, probably because in regions with high levels of cell division retrotransposon expression is not required. These results revealed that
Corky
expression is not only associated to stress conditions but also to different developmental stages. Taken together, these findings suggest that
Corky
has escaped from host silencing mechanisms and might have been preserved to a potential selective advantage.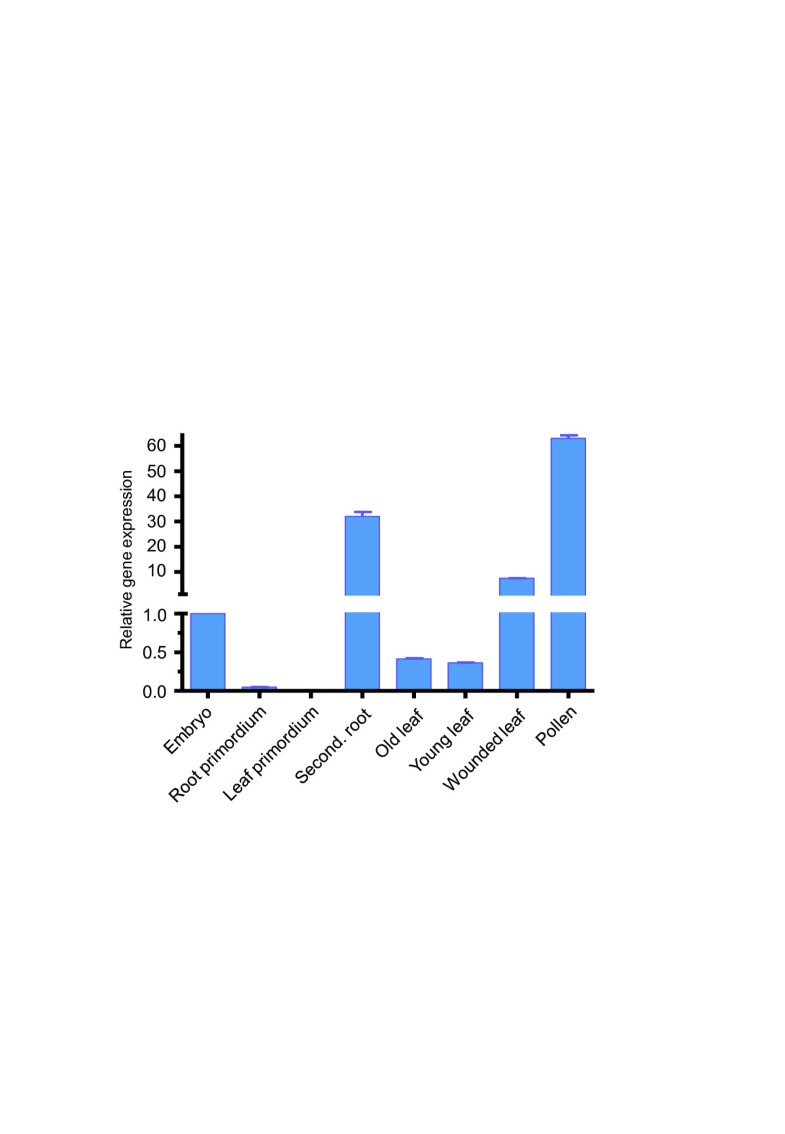 Conclusion
Our data show good evidence that a retrotransposon (Corky) has escaped from host silencing mechanisms. The differential expression in several plant tissues in different developmental stages suggests, at least, an involvement of this retrotransposon in stress response and in developmental processes. It is likely that retroelements do not increase plasticity in an evolutionarily active way but they might play a crucial role in response to developmental/environmental challenges. Together, these results set the need to further investigate both regulation and control mechanisms that implicate retrotransposons and development.
Abbreviations
Cq:

threshold cycle
bp:

base pairs
nt:

nucleotides
RT-qPCR:

reverse transcription real time PCR
TE:

transposable element
RVT:

reverse transcriptase.
Declarations
Acknowledgments
We thank "Fundação para a Ciência e Tecnologia" for the post-doc grant SFRH/BPD/5707/2001 to L.C., for post-doc grant SFRH/BPD/64905/2009 to M. R. and for the "Plurianual" funding to CBAA and PTDC/AGR-GFL/104197/2008. We are extremely grateful to Sara Amâncio for the cheer encouragement and helpful suggestions. We also give our thanks' Quirina Santos-Costa for the English revision.
Authors' Affiliations
(1)
Centro de Botânica Aplicada à Agricultura (CBAA), Departamento de Recursos Naturais, Ambiente e Território, Instituto Superior de Agronomia, de Lisboa, PORTUGAL
Copyright
© Rocheta et al.; licensee BioMed Central Ltd. 2012
This article is published under license to BioMed Central Ltd. This is an Open Access article distributed under the terms of the Creative Commons Attribution License (http://creativecommons.org/licenses/by/2.0), which permits unrestricted use, distribution, and reproduction in any medium, provided the original work is properly cited.