Research article

Open Access
Interactions of the CpxA sensor kinase and cognate CpxR response regulator from Yersinia pseudotuberculosis
BMC Research Notes
2012
5:536
Received: 10 February 2012
Accepted: 22 September 2012
Published: 27 September 2012
Abstract
Background
The CpxA sensor kinase-CpxR response regulator two-component regulatory system is a sentinel of bacterial envelope integrity. Integrating diverse signals, it can alter the expression of a wide array of components that serve to shield the envelope from damage and to promote bacterial survival. In bacterial pathogens such as Yersinia pseudotuberculosis, this also extends to pathogenesis. CpxR is thought to dimerize upon phosphorylation by the sensor kinase CpxA. This phosphorylation enables CpxR binding to specific DNA sequences where it acts on gene transcription. As Cpx pathway activation is dependent on protein-protein interactions, we performed an interaction analysis of CpxR and CpxA from Y. pseudotuberculosis.
Results
CpxR full-length and truncated versions that either contained or lacked a putative internal linker were all assessed for their ability to homodimerize and interact with CpxA. Using an adenylate cyclase-based bacterial two hybrid approach, full-length CpxR readily engaged with CpxA. The CpxR N-terminus could also homodimerize with itself and with a full-length CpxR. A second homodimerization assay based upon the λcI repressor also demonstrated that the CpxR C-terminus could homodimerize. While the linker was not specifically required, it enhanced CpxR homodimerization. Mutagenesis of cpxR identified the aspartate at residue 51, putative N-terminal coiled-coil and C-terminal winged-helix-turn-helix domains as mediators of CpxR homodimerization. Scrutiny of CpxA full-length and truncated versions revealed that dimerization involved the N-terminus and an internal dimerization and histidine phosphotransfer domain.
Conclusions
This interaction analysis mapped regions of CpxR and CpxA that were responsible for interactions with self or with each other. When combined with other physiological and biochemical tests both hybrid-based assays can be useful in dissecting molecular contacts that may underpin Cpx pathway activation and repression.
Keywords
BACTH assay
λCI homodimerization assay
Homodimer
Heterodimer
Linker
Coiled-coil
Winged helix-turn-helix
Phosphorylation
Background
Conditions that threaten the integrity of the bacterial envelope are collectively termed extracytoplasmic stresses (ECS). Bacteria employ a series of ECS-responsive regulatory pathways to control the expression of 'survival' genes whose products act in the periplasm to maintain membrane integrity. This ensures continued bacterial growth even in environments poisoned by harmful ECS. A notable ECS-responsive pathway is the CpxA-CpxR two-component regulatory system (TCRS)[1, 2]. Belonging to the class I histidine kinases[3], CpxA is the integral inner-membrane sensor kinase (SK). Upon activation by ECS sensing – presumably in the form of misfolded proteins – it becomes auto-phosphorylated. Through a phospho-transfer reaction, CpxA transduces this signal through the membrane to activate the cytoplasmic CpxR response regulator (RR). CpxR belongs to the OmpR/PhoB family of winged-helix-turn-helix (wHTH) transcriptional RRs[4]. Phosphorylated CpxR (CpxR ~ P) then binds to the promoters of genes coding for several protein folding and degradation factors that operate in the periplasm. An important function of the Cpx pathway is therefore in protein quality control in the bacterial envelope with an emphasis on maintaining outer membrane structural integrity[1, 2]. However, as the CpxR regulon may include hundreds of genes[5, 6], playing sentinel to the cell envelope must incorporate diverse signals and safeguarding mechanisms.
In Gram negative enteropathogenic Yersinia pseudotuberculosis, activation of the Cpx pathway also regulates periplasmic protein folding and degradation factors[7–10]. Additionally, accumulation of CpxR ~ P down-regulates several prominent Yersinia virulence determinants. Most notable is the Ysc-Yop type III secretion system[7, 10], the cellular adhesin known as invasin and its transcriptional activator RovA[8, 9]. RovA is a global regulator in pathogenic Yersinia and is capable of influencing the expression of at least 60 genes[11–13]. Hence, the regulatory influence of CpxR ~ P – either direct or indirect via effects on rovA expression – has potential to be quite widespread in these bacteria.
An activated Cpx pathway may therefore function to restrict Y. pseudotuberculosis virulence factor expression during times of ECS when all resources must be dedicated to the expression of survival genes. In the absence of ECS, virulence factor expression can be de-repressed to permit Y. pseudotuberculosis to mount a successful host infection[14]. In fact, accumulating evidence in a few Gram-negative pathogens suggests that the Cpx pathway might possess a universal role in virulence factor regulation and bacterial pathogen fitness either by aiding in the establishment of an environmental reservoir or during host infections[2, 15–17].
CpxA possesses a modular structure[
3
,
18
,
19
] (Figure
1
). Consecutive domains in their N-terminus are responsible for signal input, processing and signal transmission. The latter is defined as the HAMP linker domain by virtue of its presence in
H
istidine kinases,
A
denyl cyclases,
M
ethyl-accepting proteins and
P
hosphatases[
20
]. Located in the cytoplasm, the HAMP linker domain most likely regulates the phosphorylation of histidine SKs by transmitting conformational changes originating in the periplasmic ligand-binding domains to the cytoplasmic-located C-terminal kinase catalytic domain[
20
,
21
]. The remainder of the protein is composed of an internal dimerization and histidine phosphotransfer (DHp) domain and then a C-terminal histidine kinase catalytic domain[
22
,
23
]. Together, these two consecutive domains form the kinase core. The DHp domain mediates dimerization[
24
], and possesses the conserved phospho-accepting histidine residue and also a phosphatase domain for dephosphorylating CpxR[
22
,
23
,
25
,
26
]. Lastly, the catalytic domain is essential for kinase activity. It contains a number of conserved motifs necessary for ATP binding[
27
,
28
] and probably also for catalysis and phosphotransfer[
22
].

CpxR contains two structurally conserved domains; a N-terminal receiver domain and a C-terminal effector domain that are joined by a flexible internal linker[
29
,
30
] (Figure
2
). The N-terminal receiver domains of RRs share several conserved features such as a α
4
-β
5
-α
5
interface and an enrichment in aspartate/serine/threonine amino acids. These residues are thought to cooperate in dimerization as a result of phosphorylation induced conformational changes that in turn propagates the signal[
29
,
30
]. A common wHTH motif defines the C-terminal effector domain. This motif is responsible for binding to target DNA in order to regulate transcription output[
29
,
30
]. The internal linker region that tethers together the receiver and effector domain might as well contribute in signal propagation, perhaps by promoting necessary molecular interactions[
29
,
30
].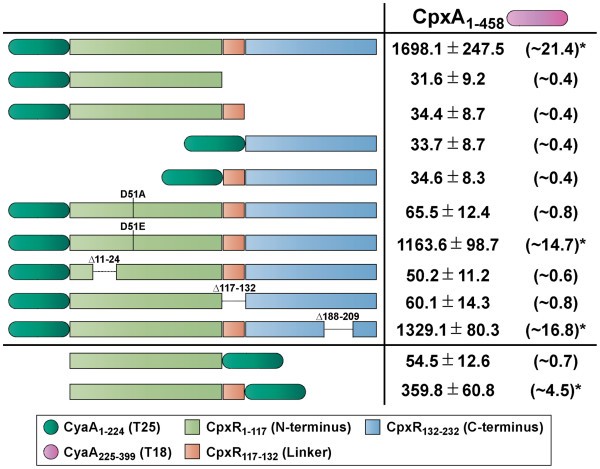 Significantly, TCRS are a potential target for the development of novel anti-bacterial therapeutics[31], which are urgently needed to overcome the current public health crisis associated with common antibiotic resistances among prominent bacterial pathogens[32]. Given the emerging theme of CpxA-CpxR-dependent virulence gene regulation in clinically important bacteria[2, 15–17], this pathway might well be an attractive target for chemical modulation. With this in mind, the present study is primarily aimed at establishing practical and reliable assays to identify the molecular interactions of CpxA and CpxR from pathogenic Y. pseudotuberculosis. Not only would this guide further in vivo mutagenesis studies to explore the molecular determinants involved in CpxA-CpxR signal transduction and virulence gene control in Y. pseudotuberculosis, this knowledge should also benefit studies aimed at targeting the Cpx pathway using chemical manipulation.
Discussion
TCRSs play a significant role in the regulation of physiological processes in the bacterial cell ranging from the control of single genes to diverse multi-cellular behavior. This occurs by means of transcriptional, post transcriptional and post translational regulation whereby TCRSs exploit a variety of protein-protein and protein-DNA interactions[3, 42, 52]. In this study, we attempted to gain some insight into the protein-protein interactions that are the hallmark of CpxA-CpxR signal transduction.
BACTH analysis revealed that full-length CpxR and the truncated N-terminal derivatives were able to interact together, albeit in a manner conditionally dependent upon the direction and orientation of the T18 and T25 fusions. Interactions of full-length CpxR were also observed in our λcI homodimerization analysis, but we were unable to validate dimerization of N-terminal truncates via this method. Interactions dependent upon the positioning of the fused CyaA domains might well indicate that the CpxR-CpxR interaction occurs as a head-to-head symmetrical dimer mediated by a N-terminal α4-β5-α5 interface highly conserved among OmpR-PhoB RR family members[30, 42]. Indeed, structural studies of full-length and isolated N-terminal receiver domains of various RRs belonging to this OmpR-PhoB family suggest head-to-head dimerization is common and functionally important[53–56]. Hence, further studies are required to better understand how the α4-β5-α5 interface of CpxR determines CpxR dimerization orientation and contributes to subsequent DNA binding and gene transcription control.
Use of the λcI assay indicated that the CpxR C-terminus could readily dimerize; a finding not observed during our BACTH analysis. Nevertheless, a previous study has demonstrated that solitary trans- expression of C-terminal CpxR is constitutively active and capable of transcriptional control of an array of target genes in E. coli[43]. Moreover, the degree of CpxR activation was independent of the internal linker[43]. This data was explained through an expectation that the C-terminal effector domain can alone dimerize to activate its target genes; a notion we can now experimentally verify via λcI homodimerization analysis. Incidentally, this analysis also demonstrated that the linker was not required for this dimerization process as was previously assumed[43]. In addition to the ability to interact with itself, constitutive activation of the CpxR C-terminus implies that this region must engage one of the six subunits of the RNA polymerase holoenzyme in order to specifically modify its transcription output from targeted genes. Direct interaction with the RNA polymerase through the C-terminus is well established for other RRs of the wHTH family; prototype OmpR interacts with the α subunit[57–63] and PhoB the σ70 subunit[64–66]. Hence, it is of considerable interest to determine how the C terminus of CpxR coordinates dimerization, DNA binding and modulation of RNA polymerase activity in the pathogenic Yersiniae.
The studies performed to elucidate the role of the phospho-modified residue (D51) were intriguing. The non-phosphorylated and functionally inactive CpxRD51A variant could not interact with CpxA or other CpxR variants via BACTH analysis. The caveat here concerns our inability to confirm stable production of CpxRD51A fused to either T18 or T25. Where production was confirmed in the λcI homodimerization assay, λcI1-131-CpxRD51A did dimerize. Clearly therefore, this aspect requires more investigation, especially given the suggestion that phosphorylation promotes homodimer formation within the OmpR/PhoB subfamily[50]. Intriguingly, the potentially 'locked-on' CpxRD51E always maintained the ability to interact. This suggests that CpxRD51A and CpxRD51E are functionally distinct, the glutamate having the ability to mimic phosphorylation at residue 51 to maintain transcriptional activity. We have confirmed that CpxRD51E does maintain function in Y. pseudotuberculosis (EJT et al., unpublished), while purified CpxRD51A is not phosphorylated in vitro by small phospho donors that in turn dramatically lessons target DNA binding ability[9]. It is evident therefore that conformational change induced by phosphorylation at D51 permits certain inter- and intra-molecular interactions. Based on these data, we anticipate that performing a thorough pair-wise molecular and biochemical characterization of the CpxRD51A and CpxRD51E variants will benefit our understanding of the complexities of CpxR-mediated transcriptional output mechanisms.
Our investigation into the role of the CpxR linker region (residues 117–132) in inter- and intra-molecular interactions was inconclusive. Both BACTH and λcI homodimerization studies revealed the linker to be non-essential for homodimerization of any CpxR truncated variant. However, the near full-length CpxRΔ117–132 variant lost the ability to engage with the CpxR N-terminus and with full-length CpxA via BACTH analysis, although it still efficiently dimerized in λcI-based studies. Hence, it seems that the linker has a function in facilitating protein-protein interactions, but this ability is context dependent. Recent studies of other members of the OmpR/PhoB subfamily are starting to shed some light on internal linker function[67–69]. Collectively, these demonstrate how linker sequence composition and length can influence RR interdomain interactions, DNA binding and subsequent transcriptional output. Presumably, the linker optimizes N- and C-terminal domain function by imparting physical separation as well as offering inherent flexibility that assists in domain conformational changes as a consequence of phosphorylation and/or DNA binding. Given this potential for influencing RR function, a detailed investigation of the CpxR linker is warranted.
The C-terminal wHTH DNA binding domain is also likely to contribute to CpxR homodimerization. While we and others have shown that truncated CpxR can dimerize even in the complete absence of the C-terminus (this study)[50], restricted removal of only residues 188 to 209 encompassing the wHTH prevents subsequent dimerization of CpxRΔ188–209 in both BACTH and λcI homodimerization assays. While not tested here, the role of the wHTH domain in CpxR dimer formation might well relate to the effects of binding to target DNA. After all, it is established that DNA binding by non-phosphorylated OmpR is a mechanism to enhance phosphorylation and dimerization capacity[70, 71]. Hence, the wHTH motif may play a dual role in both RR target DNA binding and dimerization. On the basis of our own DNA binding assays, where non-phosphorylated native CpxR[8], but not the non-phosphorylated CpxRD51A mutant[9] only very weakly bound to target DNA, it is conceivable that initial binding can dramatically enhance phosphorylation and then dimerization.
Although both the BACTH and λcI homodimerization assay were highly reproducible, they were often contradictory in their ability to predict interactions. This should not mean that these assays are unreliable or not physiologically relevant. However, it does highlight the need to perform in parallel other complementing experimental analyses to ensure relevancy of the phenotypic data. No doubt, creation of hybrid proteins fused with structurally distinct CyaA or λcI tags could diminish inherent protein flexibility or stability, curbing the subsequent ability to measure authentic protein-protein interactions. Indeed, a good correlation between protein instability and the absence of interactions in a BACTH assay has already been stated[37]. Despite our numerous attempts, we could not detect any T18 or T25 fusions, including those reliably inducing high reporter activities, such as the positive control. However, we could infer from numerous positive interaction data sets involving various T18 and T25 fusion combinations that the majority of our fusions must, to some extent, be stably produced. The notable exceptions to this deduction are the fusions involving CpxRD51A and it's C-terminal domain when in isolation. We are therefore confident that BACTH analysis is useful for CpxR N-terminal interaction studies, but it may have limited use for similar studies of the C-terminus. Critically, the majority of our λcI fusions were produced and stable. Hence, product instability cannot account for the failure of λcI1-131-CpxR2-116 and λcI1-131-CpxR2-132 fusions to homodimerize. Moreover, as homodimerization of similar CpxR N-terminal fusions occurred via BACTH analysis, poor production alone cannot explain the contradictory results using the two reporter systems. This can be further illustrated by observations with the stably produced full-length CpxR; it could dimerize to itself only when fused to λcI, but via BACTH analysis could only interact with CpxA or the CpxR N-terminus. Thus, it is apparent that individual domains appended to either CpxAn or CpxRn variants can alter their structural context in unique ways that significantly influence protein-protein interactions, making no one assay fully self-sufficient. By necessity therefore, future work will analyze the significance of these CpxR and CpxA interaction motifs by means of other sensitive interaction techniques in concert with analysis of pertinent in vivo phenotypes.
Conclusions
We have shown here that the BACTH and λcI assays are two simple and complementary approaches amenable to identify the independent modular homo- and hetero-interactions of CpxA and CpxR. Notably, the former is ideally suited to analyze the molecular context of CpxR interactions involving the N-terminus, while the latter can aid in dissecting interactions of the CpxR C-terminus. Moreover, when combined with in vivo assays designed to assess bacterial survival and virulence, a better understanding of the roles of the CpxA-CpxR TCRS in Y. pseudotuberculosis will ensue.
Abbreviations
ECS:

Extracytoplasmic stress
Cpx:

Conjugative pilus expression
RR:

Response regulator
SK:

Sensor kinase
TCRS:

Two-component regulatory system
wHTH:

winged helix-turn-helix
LB:

Luria-Bertani
IPTG:

Isopropyl-β-d-thiogalactopyranoside
X-Gal:

5-Bromo-4-chloro-3-indolyl-β-d-galactopyranoside
Ap:

Ampicillin
Km:

Kanamycin
Cm:

Chloramphenicol
Tc:

Tetracycline, BACTH, bacterial adenylate cyclase two-hybrid
CAP:

Catabolite activator protein
cAMP:

Cyclic adenosine monophosphate.
Declarations
Acknowledgements
This work, performed within the framework of the Umeå Centre for Microbial Research (UCMR) Linnaeus Program (LP), was supported by grants from the Swedish Research Council and Foundation for Medical Research at Umeå University.
We thank Ryutaro Utsumi for the generous gift of λcI homodimerization plasmids, Victoria Schingler for E. coli DH5, Hans Wolf-Watz for parental Y. pseudotuberculosis YPIII/pIB102 and Thomas Silhavy for antibody against CpxA from E. coli. Ikenna Obi, Junfa Liu and Frédéric Login are also thanked for their critical review of the manuscript.
Authors' Affiliations
(1)
Department of Molecular Biology, Umeå University, Umeå, Sweden
(2)
Umeå Centre for Microbial Research, Umeå University, Umeå, Sweden
Copyright
© Thanikkal et al.; licensee BioMed Central Ltd. 2012
This article is published under license to BioMed Central Ltd. This is an Open Access article distributed under the terms of the Creative Commons Attribution License (http://creativecommons.org/licenses/by/2.0), which permits unrestricted use, distribution, and reproduction in any medium, provided the original work is properly cited.