Research article
Open Access
Streptophyte phytochromes exhibit an N-terminus of cyanobacterial origin and a C-terminus of proteobacterial origin
BMC Research Notes
2015
8:144
Received: 27 October 2014
Accepted: 23 March 2015
Published: 13 April 2015
Abstract
Background
Phytochromes are red light-sensitive photoreceptors that control a variety of developmental processes in plants, algae, bacteria and fungi. Prototypical phytochromes exhibit an N-terminal tridomain (PGP) consisting of PAS, GAF and PHY domains and a C-terminal histidine kinase (HK).
Results
The mode of evolution of streptophyte, fungal and diatom phytochromes from bacteria is analyzed using two programs for sequence alignment and six programs for tree construction. Our results suggest that Bacteroidetes present the most ancient types of phytochromes. We found many examples of lateral gene transfer and rearrangements of PGP and HK sequences. The PGP and HK of streptophyte phytochromes seem to have different origins. In the most likely scenario, PGP was inherited from cyanobacteria, whereas the C-terminal portion originated from a proteobacterial protein with multiple PAS domains and a C-terminal HK. The plant PhyA and PhyB lineages go back to an early gene duplication event before the diversification of streptophytes. Fungal and diatom PGPs could have a common prokaryotic origin within proteobacteria. Early gene duplication is also obvious in fungal phytochromes.
Conclusions
The dominant question of the origin of plant phytochromes is difficult to tackle because the patterns differ among phylogenetic trees. We could partially overcome this problem by combining several alignment and tree construction algorithms and comparing many trees. A rearrangement of PGP and HK can directly explain the insertion of the two PAS domains by which streptophyte phytochromes are distinguished from all other phytochromes.
Keywords
BacteriaCyanobacteriaFungiGene transferHistidine kinasePhytochromePlants
Background
Phytochromes are photoreceptors with a bilin chromophore that are found in plants, bacteria and fungi but missing in animals and Archaea. In plants, they act as the dominant photoreceptors affecting most developmental processes, from stimulation of seed germination over de-etiolation and shade avoidance to flowering [1]. Phytochromes are often lacking in algae, but they have been found in the Zygnematales Mougeotia scalaris and Mesotaenium caldariorum [2], diatoms [3], brown algae, Prasinophytes and glaucophytes [4]. In fungi, phytochromes regulate sporulation and the transition from sexual to asexual development [5]. Only a few effects of phytochromes have been reported in bacteria: in species of the genera Bradyrhizobium and Rhodopseudomonas, phytochromes control the synthesis of photosynthetic pigments [6,7], and in Azospirillum brasilense, bacteriophytochrome modulates the stress response [8]. The role of phytochromes in cyanobacteria remains unclear [9]. However, cyanobacteria also contain biliproteins that are partially homologous to phytochromes, which are termed cyanobacteriochromes [10] and modulate various effects, including phototaxis [11,12] and chromatic adaptation [13-15].
Phytochromes present two spectrally distinct long-lived forms, termed Pr and Pfr, that serve as red-absorbing and far-red absorbing forms, respectively [16]. A few bacterial phytochromes [17,18], a few algal phytochromes [4] and most cyanobacteriochromes [15,19-21] absorb in other spectral ranges but still retain two spectrally distinct long-lived forms. In classical phytochromes, light triggers both Pr to Pfr and Pfr to Pr photoconversion. Red light establishes a high Pfr level, whereas far-red light produces mainly Pr. The Pr form is synthesized in darkness, and this form is typically stable in the dark. Pfr is either stable or undergoes slow dark conversion to Pr. Some bacterial phytochromes termed "bathy-phytochromes" convert from Pr to Pfr in darkness [7,22,23], these phytochromes therefore have a Pfr dark state.
Phytochromes are multidomain proteins that carry an N-terminal tridomain referred to as a PGP domain, which consists of a PAS domain [
24
], followed by a GAF domain [
25
] and a PHY domain [
26
,
27
] (Figure
1
). The chromophore-binding Cys residue of fungal and most bacterial phytochromes lies in the N-terminus of the PAS domain [
28
,
29
]. The presence of this cysteine correlates with the incorporation of biliverdin (BV) as a chromophore [
30
,
31
]. Certain cyanobacterial phytochromes of the "CphB" type use the same chromophore [
32
] and the same binding site. All other cyanobacterial phytochromes belong to the "CphA" type, which incorporate phycocyanobilin (PCB) as a chromophore [
33
]. The chromophore-binding Cys residue lies within the GAF domain of the protein. Plant phytochromes employ the same binding site but carry a less reduced chromophore termed phytochromobilin (PΦB) [
34
]. The cyanobacteriochromes exhibit one or more GAF domains for chromophore insertion and a cysteine for covalent binding. The GAF domain(s) can be combined with various other domains [
10
]; in certain cases, a PHY domain is placed at the C-terminal end of the GAF domain.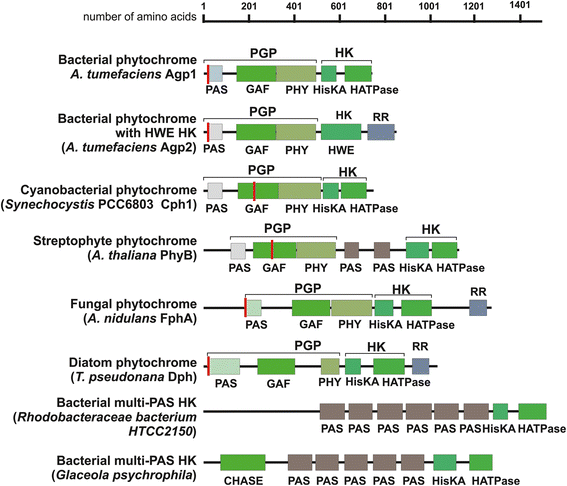 Domain rearrangement, a central principle in evolution, has occurred frequently within the phytochrome family. In some proteins, a PYP domain is fused to the N-terminus of bacterial phytochromes [18,27]. A few bacterial phytochromes contain a markedly short C-terminal sequence in addition to the PGP domain [7], and there are also examples of phytochromes with a C-terminal GGDEAF domain [35]. The prototypical phytochrome exhibits a C-terminal histidine kinase (HK) comprising an ATP-binding/ATPase domain (HATPase) at its C-terminus and a dimerization and substrate domain (HisKA) that contains the His residue phosphorylated by the HATPase domain [26]. Land plants and the Zygnematales green algae Mougeotia and Mesotaenium show the same phytochrome domain arrangement, indicating a close relationship between the two groups. These phytochromes carry both HATPase and HisKA domains, but (with the exception of monocotyledonous PhyA) the substrate His residue is replaced by an Arg or Glu. The kinase activity was apparently lost during evolution. (This region is nevertheless also abbreviated as HK here.) Between the HK and the PGP of streptophyte phytochromes, two PAS domains are observed that are not present in other phytochromes (Figure 1). Prasinophyte, glaucophyte and heterokont phytochromes exhibit a HK with conserved substrate His and sometimes an additional response regulator (RR) at its C-terminus. There is no double PAS-domain between PGP and HK in these cases, but prasinophyte phytochromes can contain one PAS domain. Certain bacterial phytochromes display a HK type that is distinct from all others, termed HWE-His kinase, according to the amino acids that are specifically conserved in this group [36]. These phytochromes also present an additional C-terminal response regulator (RR), whereas the cognate response regulators of other bacterial phytochromes are expressed as separate proteins. Many members of the phytochromes with HWE-HKs and a C-terminal RR belong to the bathy phytochromes [23]. Fungal and diatom phytochromes also carry a C-terminal RR (Figure 1), but their HK is of the classical type [3,29,37]. The two fungal phytochromes that have been studied biochemically exhibit a Pr ground state [29,37,38].
Other rearrangements occurred during the evolution of streptophyte phytochromes. "Neochromes" are fusions of an N-terminal PGP with a C-terminal phototropin, which is a blue light sensor with two FMN chromophores. This type of photoreceptor has been found in Zygnematales, algae, hornworts and ferns, in which the same type of rearrangement has occurred several times [39-41]. Another rearrangement was found for phytochrome 1 of the moss Ceratodon purpureus. In this phytochrome, the N-terminal PGP domain is fused with a C-terminal serine/threonine protein kinase [42].
Despite the present wealth of available sequence information, it remains unclear how eukaryotic phytochrome genes arose out of prokaryotic sequences. Typical cyanobacterial, prasinophyte and streptophyte phytochromes share common properties: their PCB and PϕB chromophores differ from BV based on the presence of the reduced ring A double bond and they share a chromophore-binding cysteine, which lies within the GAF domain. Therefore, prasinophyte and streptophyte phytochromes might have arisen from the cyanobacterial endosymbiont that gave rise to the plastids of photosynthetic eukaryotes. However, phylogenetic studies in which the origin of streptophyte phytochromes is addressed are not reliable. Firstly, bootstrap values [43] are always low at the suggested transition points from prokaryotes to eukaryotes. Secondly, a close relationship between plant and cyanobacterial phytochromes has been observed in published phylogenetic studies [23,44], whereas other studies imply a distinct prokaryotic origin of streptophyte phytochromes [31,45]. The prokaryotic origin of fungal phytochromes is also uncertain, although their origin is clearly different from that of streptophytes.
There is also uncertainty regarding the times at which the major angiosperm phytochrome lineages diverged. Based on homology and function, angiosperm phytochromes are referred to as PhyA to PhyE according to the founding members of Arabidopsis thaliana. PhyA and PhyC are closely related, as are PhyB, D and E. PhyD arose later following a gene duplication event and is found exclusively in the Brassicaceae family [46]. PhyF is the PhyC homolog of tomato [47] and is not found in other species. PhyA is highly concentrated in dark-grown seedlings, allowing early protein purification and biochemical studies [48,49]. This member differs from the other phytochromes in its high sensitivity. The effects of PhyA are induced by markedly weak light or by far-red light, and PhyA mediates the so-called high irradiance response, which can be induced by continuous far-red light [50-52]. Most studies on the specific properties of PhyA have been performed in angiosperms, but far-red high-irradiance responses are also observed in gymnosperms [53] and mosses [54]. Outside of the angiosperms, these specific features are not necessarily linked to PhyA homologs, but phylogenetic studies have shown that the separation of the type A and type B lineages occurred before the angiosperms arose [55].
The problem of uncertain eukaryote/prokaryote branching points is a factor in all approaches involving the construction of phylogenetic trees using a single program. A reasonable number of algorithms and computer programs are available for multiple alignments and tree constructions [56,57]. We therefore performed phylogenetic analyses using a combination of various programs. All of the obtained trees together provided a clearer picture of the early evolution of prokaryotic and eukaryotic phytochromes. Streptophyte phytochromes have most likely arisen from a fusion of a cyanobacterial PGP with a PAS/PAS/HK from a non-cyanobacterial prokaryote. The divergence between the PhyA and PhyB lineages must be placed during the early evolution of streptophytes. Similarly, early phytochrome gene duplication occurred during the evolution of fungi. This study also revealed several examples of lateral gene transfer of phytochromes within bacteria and provides evidence of HK replacements of bacterial phytochromes.
Results and discussion
The present approach is based on the construction of multiple trees using two alignment programs, six phylogenetic programs and variations of the replacement matrices. We selected only proteins with an N-terminal PGP tridomain and a C-terminal HK, which is the most common motif of bacterial and eukaryotic phytochromes. As in earlier studies, alignments and tree constructions were performed separately for PGP and HK [
31
]. Thus, rearrangements between N- and C-terminal moieties can be recognized. Streptophyte phytochromes exhibit an insertion between PGP and HK, and the present study led to a possible explanation for how this specialty arose (see below). Figures
2
and
3
show PGP and HK trees, respectively, with collapsed clades. The collection of all PGP and HK trees is shown in Additional files
1
and
2
.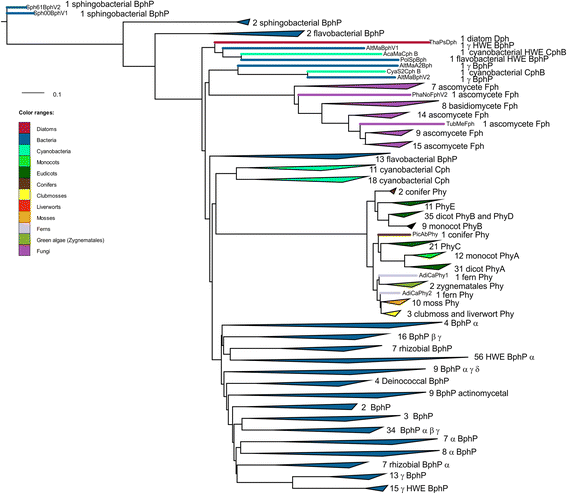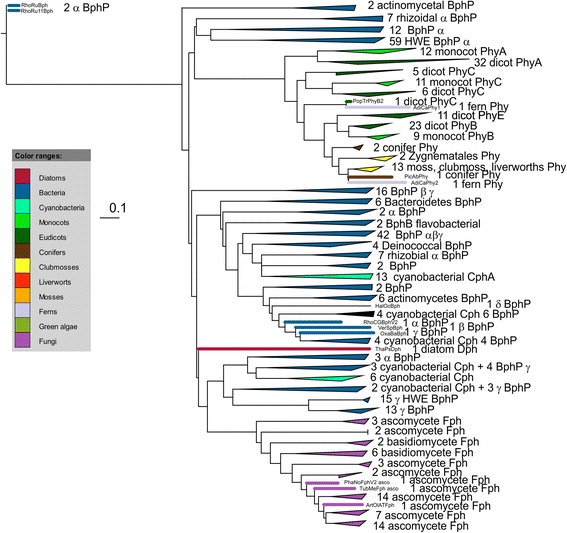 Conclusions
Phylogenetic studies that cover a long time range are usually hampered by unclear branch positions. Bootstrapping indicates the reliability of branches but does not provide an alternative if a value is low. Here, we use multiple programs for alignment and tree construction. Manual inspection of these various trees with respect to specific questions allowed us to reach reliable conclusions regarding the major steps in the evolution of pro- and eukaryotic phytochromes.
Since manual interpretation is required, the present method does still have limitations. Also, the choice of programs and replacement matrices could still affect the outcome. We nevertheless assume that the "multiple tree approach" is superior over studies where only few calculations are performed, especially in situations where branching is insecure.
It was found that horizontal gene transfer of phytochrome genes has occurred frequently between various bacterial groups and that the C-terminal HK has often been replaced by another HK. This type of event underlies the evolution of plant phytochromes with an N-terminus of cyanobacterial origin and a C-terminus that originated from other prokaryotes. The evolutionary advantage of this rearrangement could be that nuclear genes are brought under the control of a phytochrome sensor that is adapted to the spectral characteristics of chlorophyll. Without this rearrangement, phytochrome would be specialized to control genes of the endosymbiont, i.e., plastidic genes, or would exhibit a BV chromophore. The gene duplication event during the early evolution of two lineages, streptophytes and fungi, suggests a general principle in the early evolution of eukaryotes, which could be coupled to genome duplication.
Methods
Phytochrome protein sequences were retrieved from the GenBank database after extensive NCBI BLAST searches employing five plant, three bacterial, two fungal and five cyanobacterial phytochrome sequences as queries. Using the domain prediction program PFAM (http://pfam.sanger.ac.uk/), sequences with PAS, GAF, PHY domains and HK sequences were selected. After removing duplicates, a collection of 442 protein sequences was obtained, which was used for alignments and tree constructions. This collection included 246 bacterial phytochromes, 56 fungal phytochromes, 137 land plant phytochromes, two phytochromes from green algae (Mougeotia scalaris and Mesotaenium caldariorum, Zygnematophyceae) and one phytochrome from the diatom Thalassiosira pseudonana. Prasinophyte or glaucophyte phytochrome sequences were not included in our analyses because they were added to the databases after we had initiated alignment and tree construction. The bacterial collection encompassed 29 sequences from cyanobacteria, 92 from α proteobacteria, 20 from ß proteobacteria, 62 from γ proteobacteria, 19 from Bacteroidetes and 24 from other taxa. The sequence IDs, species names and phylogenetic groups are provided in Additional file 3. From each sequence, the N-terminal PGP and the C-terminal HK were extracted; other sequence information was discarded. The PGP and HK sequences were aligned using the programs MUSCLE [68] and MAFFT version 6.81 [69], resulting in four sets of aligned sequences. The MAFFT parameters were as follows: BLOSUM62 scoring matrix, gap open penalty 1.53, offset value 0.123 and FFT-NS-2 strategy. With MUSCLE, default parameters were used. The alignments were edited with JALVIEW (http://www.jalview.org) by deleting positions with more than 50% gaps. From this procedure, the frequency of phylogenetically informative sites in the PGP region was increased from 80% to 99.5%, as indicated by the Topali program [70]. For the HK region, the value increased from 97% to 100%. Six programs were used for tree construction: FITCH; NeigHbor; Protpars; and ProML from the program package Phylip version 3.69 [71], PyML version 3.1 [72] and MrBayes version 3.2.2 [73]. In the PHYLIP programs, the default parameters were used: JTT distance matrix [74], no "gamma distribution of rates among positions" and no "outgroup root." Most programs were also combined with bootstrapping. In those cases, 100 datasets were generated, and consense trees were calculated according to the majority rule. The branch lengths of the consense results were estimated using ProML with the consensus trees as user trees. Prior to the construction of HK trees with NEIGHBOR, FITCH or PROTPARS, 33 sequences were deleted because their overlaps were too short. With PhyML, the default value of 4 for the number of substitution rate categories was always selected. With this program, seven different replacement matrices were used. For each matrix, the log likelihood for parameter combinations (+I, estimated proportion of invariable sites; +G, estimated gamma distribution parameter; +F, empirical amino acid frequencies) was estimated with prottest3 [75]. The parameter combinations for the best-fit models were selected. The estimated running time for MrBayes with the large datasets was too long (estimated at several months). For this reason, the number of sequences was reduced to 152. For this reduction, information from the other trees was considered: in each cluster that was found in most trees, all of the sequences except one were deleted. MrBayes was run using a fixed WAG model, with 4 parallel runs and approximately 5,000,000 generations until the deviation of split frequencies fell below 0.5. Circular tree graphics were prepared with ITOL (http://itol.embl.de) employing different colors for each of the major groups. Each sequence is denominated by a 5-letter code that stands for the species (the first three letters of the first and the first two letters for the second part of the species name). If distinct strains belonging to the same species are present, the code of the second strain contains an additional letter or digit. The name of the protein is abbreviated as Phy followed by a letter for streptophytes; Fph followed by a letter or number for fungal phytochromes; CphA or CphB for cyanobacterial phytochromes; and BphP for bacterial phytochromes. Examples of PGP and HK trees are shown in Figures 2 and 3; Additional files 1 and 2 show all trees.
Abbreviations
BV:

Biliverdin
HK:

Histidine kinase (like) region
PGP:

Region containing an N-terminal PAS, central GAF and C-terminal PHY domain
PAS domain:

Protein domain denominated according to the founding members PER ARNDT SIM
GAF domain:

Protein domain abbreviated according to the founding members cGMP-specific phosphodiesterases, adenylyl cyclases and FhlA [25]
PCB:

Phycocyanobilin
PϕB:

Phytochromobilin
Declarations
Acknowledgements
We thank Benjamin Makrutzki, who selected the first set of phytochrome sequences from the databases, and Michael Riemann for helpful discussions.
Authors' Affiliations
(1)
Karlsruhe Institute of Technology (KIT), Botanical Institute, Karlsruhe, Germany
Copyright
© Buchberger and Lamparter; licensee BioMed Central. 2015
This is an Open Access article distributed under the terms of the Creative Commons Attribution License (http://creativecommons.org/licenses/by/4.0), which permits unrestricted use, distribution, and reproduction in any medium, provided the original work is properly credited. The Creative Commons Public Domain Dedication waiver (http://creativecommons.org/publicdomain/zero/1.0/) applies to the data made available in this article, unless otherwise stated.