Research article

Open Access
Australian GP management of osteoarthritis following the release of the RACGP guideline for the non-surgical management of hip and knee osteoarthritis
BMC Research Notes
2015
8:536
Received: 20 February 2015
Accepted: 28 September 2015
Published: 5 October 2015
Abstract
Background
Osteoarthritis (OA) is a highly disabling and costly condition with an escalating prevalence in Australia due to the ageing and increasing obesity of the population. The general practitioner (GP) plays a central role in the management of this condition. The aim of this study was to examine opinions about the management of OA by Australian GPs following the release of the Royal Australian College of General Practitioners Guideline for the non-surgical management of hip and knee OA (RACGP OA CPG), and to compare the results with an earlier survey administered by the National Prescribing Service.
Methods
In January 2013, a self-administered questionnaire was sent to 228 GPs to determine their treatment approaches to OA management using a clinical vignette of a patient with OA. This was compared with results from a similar survey undertaken in 2006.
Results
Seventy-nine GPs returned questionnaires (response rate 35 %). GP recommendations for paracetamol, a paracetamol/codeine compound, and oral non-steroidal anti-inflammatory drugs (NSAIDs) were consistent with recommendations in the RACGP OA CPG, and varied little from the previous survey. Notably, there was a marked increase between surveys in GP recommendations for tramadol (p = 0.004) and more potent opioids (p < 0.001). Advice about the adverse effects of NSAIDs and codeine and how to manage them increased between surveys (p = 0.038 and 0.005, respectively). For all non-pharmacological treatments, there were only minor changes in the percentage of GP recommendations when compared with the previous survey, however they remain underutilised.
Conclusions
GPs generally demonstrated a conservative approach to the treatment of OA, however, the increased recommendations for more potent opioids warrants further investigation. Patients should be made aware of the risks of medications through the use of decision aids, which can provide structured guidance to treatment. Non-pharmacological interventions were not given the importance that is suggested by clinical practice guidelines.
Keywords
Osteoarthritis
General practitioners
Primary health care
Background
Osteoarthritis (OA) is a chronic disease affecting more than 1.9 million Australians (nearly 9 % of the population) with an annual health cost estimated at AUD$3.7 billion [1]. Prevalence surveys suggest that more than 50 % of the population aged over 65 have radiological evidence of OA, whilst it is universally present amongst those aged over 85 [2]. It is the sixth most common condition managed by General Practitioners (GPs) in Australia, accounting for 2.8 % of encounters [3], yet there is a paucity of detailed information about GP OA management [4].
Despite a multitude of clinical practice guidelines (CPGs) for OA that have been developed both locally, nationally and internationally, there is abundant evidence of suboptimal OA care [5]. Furthermore, the uptake of CPGs by health professionals is highly variable [6], most likely due to a range of barriers that have been variously ascribed to organisational, clinician and patient factors [7].
The aim of our present study was primarily to examine opinions about the management of OA by Australian GPs following the release in 2009 of the Royal Australian College of General Practitioners Guideline for the non-surgical management of hip and knee OA (RACGP OA CPG) [8]. To our knowledge, no other studies have evaluated the impact of CPGs on the management of OA. A secondary objective was to compare these results with those from an earlier survey reported by the National Prescribing Service (NPS) [9].
Methods
This paper provides the results of a new GP survey and then compares them to the results of a previously published survey.
Previously published NPS cross-sectional survey (2006)
The survey was conducted by the National Prescribing Service Limited.
Target population
All Australian GPs.
Recruitment
The NPS did not publish recruitment details in their report and did not respond to requests for this information.
Survey instrument
The questionnaire used a clinical vignette of a hypothetical 79 year old woman with moderate to severe OA (see Fig.
1
). Respondents were asked to describe what non-pharmacological therapy they would initiate for her OA, the analgesic regimen they would use, and what information about analgesic use they would provide her with. Response options to the 4-part questionnaire included yes/no answers and 1–4 line open-ended text.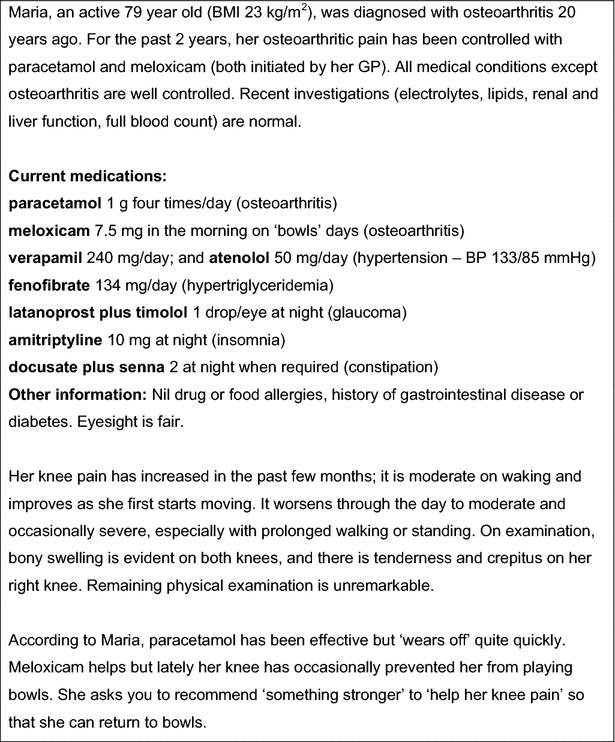 Current CTA cross-sectional survey (2013)
Target population
Australian GPs from New South Wales and South Australia.
Recruitment
The survey was conducted of GPs who had consented to participate in the CareTrack Australia (CTA) study, a population based study of the appropriateness of care [10]. GPs had been initially identified by randomly selected CTA patients who had been asked to name their treating GP for at least one of 22 selected conditions for the period 2009–2010, one of which was OA. The subset of GPs treating CTA patients for OA was the target population. The survey was mailed to GPs in December 2012, with AUD$150 paid as an incentive for completion. Reminder letters were sent with a set completion deadline of 31 January 2013. The return of questionnaires was considered to be implied consent to take part in the study.
Survey instrument
The new survey used the NPS questionnaire, modified to include two additional questions relating to GP workload.
Statistical analysis
Given a population of approximately 29,000 GPs in Australia, the response of 79 provides, at worst, ±11 % accuracy for any dichotomous questionnaire item with 95 % confidence. Descriptive data are presented as counts and percentages, with ninety-five percent confidence intervals. Comparison of results between the two surveys, and between GP demographics of the current survey and the Australian GP population was undertaken using Chi squared tests. All statistical analyses were undertaken using the Statistical Package for Social Scientists, version 21 (SPSS, Chicago, IL, USA).
Ethics approval
Ethics approval was obtained from the Human Research Ethics Committee of the University of South Australia.
Conclusions
Despite the existence of CPGs for the best practice management of OA, our study has highlighted a diversity of therapeutic approaches for a typical case. There have been some change in GP treatment recommendations following the release of the RACGP OA CPG, however, it is not possible to infer a causal relationship. Tramadol and more potent opioids appear to be more commonly favoured than previously; the latter, in particular, warrants further investigation, as its use does not appear to be in accord with CPG recommendations. Furthermore, whilst there have been only minor changes in recommendations for the non-pharmacological treatment of OA, it would appear that GPs are still not giving these options the attention that is warranted.
Abbreviations
OA:

osteoarthritis
GP:

general practitioner
RACGP:

Royal Australian College of General Practitioners
NPS:

National Prescribing Service
NSAID:

non-steroidal anti-inflammatory drug
CPGs:

clinical practice guidelines
CTA:

CareTrack Australia
CAM:

complementary and alternative medicine
RCT:

randomised controlled trial
Declarations
Authors' contributions
MB conceived and performed the study, contributed to the design of the questionnaire, analysed and interpreted the data and drafted the manuscript. WBR, HW, EMS and AE analysed and interpreted the data, and critically reviewed the manuscript. All authors read and approved the final manuscript.
Acknowledgements
We thank the GPs who generously gave of their time. We also thank the National Prescribing Service Limited for allowing us to use the clinical vignette in our survey. Our study was funded by a National Health and Medical Research Council Program Grant (Australia, no. 568612).
Compliance with ethical guidelines
Competing interests The authors declare that they have no competing interests.
Open AccessThis article is distributed under the terms of the Creative Commons Attribution 4.0 International License (http://creativecommons.org/licenses/by/4.0/), which permits unrestricted use, distribution, and reproduction in any medium, provided you give appropriate credit to the original author(s) and the source, provide a link to the Creative Commons license, and indicate if changes were made. The Creative Commons Public Domain Dedication waiver (http://creativecommons.org/publicdomain/zero/1.0/) applies to the data made available in this article, unless otherwise stated.
Authors' Affiliations
(1)
School of Psychology, Social Work and Social Policy, University of South Australia, Adelaide, Australia
(2)
School of Medicine, Flinders University, Adelaide, Australia
(3)
Southern Adelaide Local Health Network, Adelaide, Australia
(4)
Australian Institute of Health Innovation, Macquarie University, Sydney, Australia
(5)
Centre for Population Health Research, University of South Australia, Adelaide, Australia
(6)
The Joanna Briggs Institute, University of Adelaide, Adelaide, Australia
(7)
Sansom Institute of Health Service Research and School of Nursing and Midwifery, University of South Australia, Adelaide, Australia
(8)
Centre for Chronic Disease Prevention, James Cook University, Cairns, Australia