Research article

Open Access
Structural insights into the mechanism defining substrate affinity in Arabidopsis thaliana dUTPase: the role of tryptophan 93 in ligand orientation
BMC Research Notes
2015
8:784
Received: 2 September 2015
Accepted: 26 November 2015
Published: 15 December 2015
Abstract
Background
Deoxyuridine triphosphate nucleotidohydrolase (dUTPase) hydrolyzes dUTP to dUMP and pyrophosphate to maintain the cellular thymine-uracil ratio. dUTPase is also a target for cancer chemotherapy. However, the mechanism defining its substrate affinity remains unclear. Sequence comparisons of various dUTPases revealed that Arabidopsis thaliana dUTPase has a unique tryptophan at position 93, which potentially contributes to its degree of substrate affinity. To better understand the roles of tryptophan 93, A. thaliana dUTPase was studied.
Results
Enzyme assays showed that A. thaliana dUTPase belongs to a high-affinity group of isozymes, which also includes the enzymes from Escherichia coli and Mycobacterium tuberculosis. Enzymes from Homo sapiens and Saccharomyces cerevisiae are grouped as low-affinity dUTPases. The structure of the homo-trimeric A. thaliana dUTPase showed three active sites, each with a different set of ligand interactions between the amino acids and water molecules. On an α-helix, tryptophan 93 appears to keep serine 89 in place via a water molecule and to specifically direct the ligand. Upon being oriented in the active site, the C-terminal residues close the active site to promote the reaction.
Conclusions
In the high-affinity group, the prefixed direction of the serine residues was oriented by a positively charged residue located four amino acids away, while low-affinity enzymes possess small hydrophobic residues at the corresponding sites.
Keywords
Deoxyuridine triphosphate nucleotidohydrolase
Substrate affinity
Drug targets
Arabidopsis thaliana
Background
Deoxyuridine triphosphate nucleotidohydrolase (dUTPase; EC 3.6.1.23) is an important enzyme that prevents uracil misincorporation during de novo DNA synthesis [1]. It catalyzes the hydrolysis of dUTP to deoxyuridine monophosphate (dUMP) and inorganic pyrophosphate [2, 3], thereby maintaining an appropriate level of dUTP with respect to deoxythymidine triphosphate (dTTP) levels [4]. Compromising dUTPase activity in fast-growing cells causes an imbalance in the dUTP–dTTP ratio that can cause uracil misincorporation into DNA [1]. Due to its role in fast-growth-specific cell death, dUTPase has been a target for cancer chemotherapy [5, 6].
Homo-trimeric dUTPases have three active sites, each of which consists of five conserved motifs [
3
] (Fig.
1
a–c). An aspartate in motif 1 interacts with active site water molecules to stabilize the divalent cation cofactor Mg
2+
, which is important for enzymatic activity [
7
–
9
]. A serine in motif 2 interacts with the oxygen atom between α, β-phosphate to induce a reaction-favorable orientation [
10
] (Ser 89 in
Arabidopsis
dUTPase). An aspartate in motif 3 activates catalytic water [
11
]; a glutamine in motif 4 also interacts with the catalytic water (Wcat in Fig.
1
a) and the ligand [
9
]. Interactions between ligands and residues in motif 5 help orient the ligand so that the α phosphate locates close to the catalytic water [
12
]. The homo-trimeric dUTPase kinetic mechanism has mainly been studied by multidimensional nuclear magnetic resonance (NMR) [
13
,
14
], quench-flow experiments [
15
], and the mixed quantum mechanics/molecular mechanics (QM/MM) calculations [
16
]. These studies have revealed at least four distinct enzymatic steps including substrate binding, isomerization, hydrolysis, and release. However, the mechanism for defining the substrate affinity remains unclear.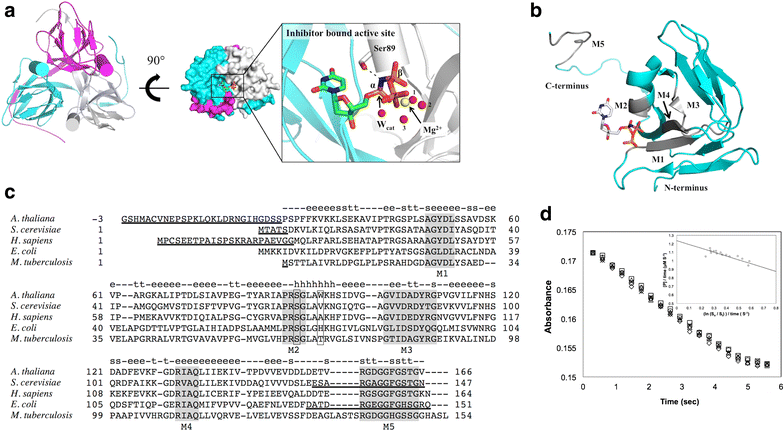 To address the basis for substrate affinity differences among dUTPases, we chose those five dUTPases using two criteria, including (i) consistent measurement conditions of K
m
accompanied by (ii) reported X-ray structure of both apo and holo formats. We compared amino acid sequences as a function of substrate affinity, including in the analysis high-affinity isozymes (low K
m
) from
Escherichia coli
[
11
],
Mycobacterium tuberculosis
[
17
], and
Arabidopsis thaliana
(thale cress; this study) [
18
] and low-affinity isozymes (high K
m
) from
Saccharomyces cerevisiae
(yeast) [
19
] and
Homo sapiens
(human) [
15
] (Fig.
1
c; Table
1
).
Table 1
Comparison of secondary structures and interactions at the ligand-binding site
A. thaliana

S. cerevisiae

H. sapiens

E. coli

M. tuberculosis

PDB ID

4OOP

3P48

2HQU

1RN8

2PY4

Sequence similaritya

Self

56.2 %

63.9 %

35.5 %

39.2 %

K m

0.4 ± 0.1 μM

13.2 ± 0.6 μM

3.6 ± 1.9 μM

0.5 μM

(SE 17 %)

0.46 ± 0.2 μM

α helix 1st res

S89

S69

S86

S72

S65

α helix 5th res

W93

V73

A90

H76

T69

α1st–WAT–α5th

Present

Absent

Absent

Absent

Absent

References

This study

Tchigvintsev et al. [19]

Toth et al. [15]

Barabas et al. [11]

Pecsi et al. [17]
We found that Arabidopsis dUTPase contains a unique tryptophan at the 93rd position, which is located between motifs 2 and 3 (Fig. 1c; Table 1). To identify the role of the 93rd tryptophan, we solved the structure of Arabidopsis dUTPase in its holo form. This homo-trimeric enzyme shows a unique set of interactions with ligands, amino acids, and water molecules at each active site. A comparison of the active sites reveals that tryptophan 93 seems to play a key role in guiding serine reorientation via a water molecule to orient the incoming ligand. In high-affinity dUTPases, the serine residue can be held in place in similar manner by a positively charged residue located four amino acids away. In contrast, low-affinity enzymes lack charges at the corresponding sites.
Conclusions
The structure of Arabidopsis dUTPase has been analyzed. Interestingly, this homotrimeric enzyme shows varying binding site environments with respect to their types of ligand interactions. Additionally, the tryptophan 93 substitution seems to use ordered water molecules to aid in coordinating Ser89 for initial ligand binding.
Declarations
Authors' contributions
NI and MB carried out the protein crystallography. NI, KC, and MY carried out the kinetic analysis. NI and YJ carried out the molecular dynamics and structural mining. HM, DB, CPC, MKK conceived the study, designed the experiments, analyzed the data and wrote the manuscript. All authors read and approved the final manuscript.
Acknowledgements
We thank the Arabidopsis Biological Resource Center at the Ohio State University for providing us with the dUTPase clone. We also thank Dr. Javier Seravalli in the Dept. of Biochemistry at UNL for his contributions to the stopped-flow activity assays. This research used resources from the Advanced Photon Source, a US Department of Energy (DOE) Office of Science User Facility operated for the DOE Office of Science by Argonne National Laboratory under Contract No. DE-AC02-06CH11357.
Competing interests
The authors declare that they have no competing interests.
Open AccessThis article is distributed under the terms of the Creative Commons Attribution 4.0 International License (http://creativecommons.org/licenses/by/4.0/), which permits unrestricted use, distribution, and reproduction in any medium, provided you give appropriate credit to the original author(s) and the source, provide a link to the Creative Commons license, and indicate if changes were made. The Creative Commons Public Domain Dedication waiver (http://creativecommons.org/publicdomain/zero/1.0/) applies to the data made available in this article, unless otherwise stated.
Authors' Affiliations
(1)
School of Biological Sciences, University of Nebraska-Lincoln, Lincoln, USA
(2)
Department of Chemistry, University of Nebraska-Lincoln, Lincoln, USA
(3)
School of Mechanical Engineering, Sungkyunkwan University, Suwon, South Korea
(4)
Department of Mechanical and Industrial Engineering, University of Massachusetts, Amherst, USA
(5)
Department of Biochemistry, University of Nebraska-Lincoln, Lincoln, USA
(6)
Virology, Surveillance and Diagnostic Branch, Influenza Division, Centers for Disease Control and Prevention, Atlanta, USA