Leprosy in Denmark 1980–2010: a review of 15 cases
BMC Research Notes
2016
9:10
Received: 1 September 2014
Accepted: 30 November 2015
Published: 5 January 2016
Abstract
Background
Leprosy, caused by Mycobacterium leprae, is a chronic and progressive granulomatous disease affecting mainly the skin and the peripheral nervous system. If left unrecognized, the infection can lead to permanent nerve damage and disability. The clinical presentation depends on the immune response of the patient and can result in a wide spectrum of symptoms. Leprosy is a rare encounter in Scandinavia but remains endemic in some parts of the world, with some areas reporting an increasing incidence. We performed a retrospective record review of leprosy cases in Denmark from 1980 to 2010 with the purpose of presenting the most common geographical, demographic and clinical findings and to discuss the diagnostic and therapeutic challenges of patients with leprosy.
Case presentation
In total 15 cases were reviewed. The majority (87 %) of leprosy patients in Denmark were born in South- and Southeast Asia, and were presumed to have contracted the infection in their countries of origin. Patients were predominately young males (mean age: 28.6 years). Anaesthetic skin lesion with or without nerve enlargement were the most common clinical presentations (73 %). Immunological leprosy reactions were seen in 40 % of the cases. Diagnoses were based on clinical findings and skin biopsies. Treatment length varied but all patients received multidrug regimens.
Conclusion
Leprosy should be kept in mind when encountering patients with suspicious skin lesions originating from leprosy endemic areas or with history of travel or work in the tropics. Due to the long incubation period with symptoms presenting long after immigration or return, clinicians often do not have the diagnosis in mind. The wide spectrum of symptoms and immunological reactions further complicates the diagnostic process. Treatment of leprosy and the complicated immunological reactions, which frequently accompanies the infection, should be performed in collaboration with a specialist.
Keywords
Leprosy cases
Clinical findings
Immunology
Treatment
Background
Comparative genomics indicates that leprosy originated in Eastern Africa or the Near East, and was spread by human migration to rest of the world. Leprosy was well-recognized in ancient India and China since 4000 BC with the first known written reference to the disease 600 BC. Leprosy is believed to have arrived in Ireland through trade and commerce with the Far East and travelled to Scandinavia through the Vikings; however, some believe that the crusaders brought the disease to Europe from where it spread to the Americas [1]. Others believe that Alexander the Great's Greek soldiers introduced it to Europe [2]. By the 12th century leprosy had become a widespread disease in Denmark giving rise to numerous leprosy hospitals/centres, demanding a large number of victims and inflicting a great deal of socioeconomic damage [3]. In Norway the disease raged well into the 19th century giving rise to the world's first national patient registry. In 1873, driven by epidemiological studies, the causative agent of leprosy was discovered by the Norwegian physician Gerard Armauer Hansen [4], but not until a century later, in 1982, an efficient multidrug therapy (MDT) was recommended by the World Health Organisation (WHO) [5]. The global prevalence rate has declined markedly following implementation of MDT. The WHO 'elimination of leprosy' goal is less than 1 per 10,000 persons in a given population receiving MDT. Elimination of leprosy at global level was achieved by the year 2000. At present, leprosy is endemic in countries such as India, Indonesia and Brazil, and these countries account for the bulk of newly detected cases. Thus, in 2013, a total of 180,618 cases were registered, and the prevalence rate was 0.32 in 10,000 worldwide [6]. However, no decline was recorded and a rising incidence in some countries indicate continuous transmission. Some attribute this to the intensified leprosy control and new case finding strategies in endemic regions and not an increasing incidence per se [7, 8].
The vast majority of infected individuals never develop clinically detectable symptoms and signs. Age and sex are important risk factors for developing leprosy: adolescents aged 10–19 and persons aged 30 or above are the most susceptible. Adult men are twice as likely to develop the infection as adult women [9]. Although, household contacts of multibacillary (MB) cases have an increased risk of developing leprosy compared to the general population, infection acquired outside the household and subclinical infection is being recognized as an potential route of transmission, sustaining the high new detection rate of leprosy [10–13]; 90–95 % of spouses to infective leprosy patients did not acquire the infection in the pre-antibiotic era. Children of leprosy patients have an increased risk of acquiring the infection compared to the spouse, indicating that genetic similarity to the infected parent makes one more susceptible to the infection [14]. Even though some studies have shown an association between susceptibility to leprosy and certain genes/chromosomal regions, more studies are needed to fully understand the genetics of susceptibility to leprosy [15–17].
Today, in Scandinavia, as in most of Europe, leprosy remains non- autochthonous, brought to the region by immigrants from endemic areas, thus explaining its rarity: In Denmark less than one case per year has been reported during the last 30 years, and the leprosy situation in Denmark was last reviewed more than 20-years-ago [18].
The aim of our study was to give a brief overview of the history and of the current general knowledge on leprosy and conduct a retrospective review of leprosy cases from 1980 to 2010 in Denmark with emphasis on clinical characteristics and therapeutic challenges.
Methods
Leprosy is a mandatory notifiable disease in Denmark. Based on social security numbers, and retrieved from the national surveillance service database at Statens Serum Institut (SSI) leprosy cases reported in the period January, 1980 to December, 2010 were reviewed. Additionally, we searched the patient register at University Hospital of Copenhagen, Rigshospitalet which is the main referral hospital for tropical diseases in Denmark. For elaboration on medical history, clinical presentation, diagnostic procedures and treatment, medical records, photographs and letters from these and other notifying hospitals were collected.
Permission to obtain information about leprosy cases was granted by the Danish National Board of Health (Additional file 1).
Case presentation
From 1980 to 2010, 17 cases of leprosy were reported to SSI and five additional cases were identified in the Rigshospitalet patient register. Only 14 of 22 journals were available. One of the cases had been suspected for leprosy, but this was never confirmed. This left us with 13 available medical records of confirmed cases. For two patients, information was collected from letters, photographs and personal correspondence with the attending physician. Thus, in total, information on 15 leprosy patients was reviewed.
The available data were reviewed with focus on demographic data, clinical findings, diagnostic procedures and treatment. The results of these findings are summarized in Table
1
.
Table 1
Summary of demographic and clinical features of leprosy patients in Denmark recorded from 1980 to 2010
Variable

Leprosy patients (N = 15), n (%)

Age (years)

Range

5–74

Median

23

Gender

Male

9 (60)

Female

6 (40)

Country of origin

Philippines

3 (20)

Cambodia

3 (20)

India

3 (20)

Pakistan

1 (7)

Cameroon

1 (7)

Tanzania

1 (7)

Thailand

1 (7)

Sri Lanka

2 (13)

Duration of stay in Denmark (years)

Range

0–20

Median

0

0–5

11 (73)

≤6–10

0

≤11–15

0

≤16–20

1 (7)

Unknown

3 (20)

Duration of clinical presentation (weeks)

Range

3–384

Median

36

Classification

Tuberculoid leprosy (TT)

5 (33)

Borderline tuberculoid leprosy (BT)/Borderline leprosy (BB)/Borderline lepromatous leprosy (BL)

8 (53)

Lepromatous leprosy (LL)

1 (7)

Indeterminate leprosy

1 (7)

Reactions

Type 1

4 (27)

Type 2

2 (13)

Histopathological findings

Skin smears positive for bacilli (7 patients had skin smears performed)

3 (43)

Granulomas in biopsies

9 (60)
Leprosy was predominately imported to Denmark from South- and Southeast Asia (87 %), in particular India, The Philippines and Cambodia, all areas where leprosy is endemic; only two cases originated from African countries. Age of patients ranged from 5 to 74 years, and 11 of 15 patients (73 %) debuted in their second or third decade of life. The youngest patient (5-years-old) was a girl who had most probably contracted the infection from her father, who had been treated for leprosy in Nepal.
Three patients (20 %) recalled exposure to leprosy. Five patients (33 %) were diagnosed and had also undergone treatment for leprosy before migrating to Denmark, while one patient (7 %) was defined as a relapse after consulting a leprologist in London.
Diagnosis was based on travel history, clinical and pathological findings. Most patients were classified according to the Ripley and Jopling scheme. Among the 15 patients 53 % were classified as borderline leprosy types evenly distributed along the spectrum, whilst 33 and 7 % were classified as TT and LL respectively. Duration of symptoms varied from 3 weeks to 8 years, but it was only possible to deduce the length of delay in diagnosis from a few medical records since the date of the first contact with a medical professional was rarely mentioned. For the few for whom the dates were available, the time period from contact with a doctor to suspicion of leprosy was only a few weeks.
Common clinical features were hypopigmentation, slightly dark reddish/brown skin lesions (macules, nodules and plaques), hyposensitivity/anaesthesia of skin lesions, nerve enlargement and palsy, in particular the ulnar and peroneal nerves. Approximately 73 % of cases presented with the two cardinal signs: anaesthetic skin lesions and peripheral nerve thickening. The most common symptom bringing the patient in contact with health authorities was skin changes mimicking conditions such as sarcoidosis and pityriasis versicolor. Initially, two leprosy cases (13 %) were, based on the histo-pathological finding of granulomatous skin changes, mistaken for sarcoidosis.
According to the records available, slit skin smears were performed in seven of the 15 patients (47 %), and the results recorded in six (40 %). The patients from whom skin smears were not obtained were all classified as TT/BT cases. Skin biopsies were obtained from all patients, often on the suspicion of other dermatological disease (Fig.
1
). Bacilli were visualized in six of the 15 (40 %) skin biopsies, of which five were borderline leprosy types (BT, BB and BL) while one was a LL patient. Non-necrotizing granulomatous changes were found in nine biopsies (60 %). The Wade Fite stain was used on all biopsies but one. Histopathological description of biopsies from patients with TT was only available for the one patient who experienced a relapse. This showed hyperplasia of the epidermis, perivascular inflammation consisting of lymphohistiocytes, granulocytes and plasma cells and no granulomas. Biopsies from patients in the BT/BB spectrum showed epitheloid cells granulomas, giant cells and an unaffected epidermal zone, while BB/BL was characterized by a more diffuse infiltration with or without lymphocytes, no giant cells and in some cases, 'foamy' macrophages and AFB. Confluent infiltrates of histiocytes with neutrophile granulocytes and loads of AFB was the main finding in the LL relapse patient. PCR for detection of
M. leprae
was not performed in any of the 15 cases.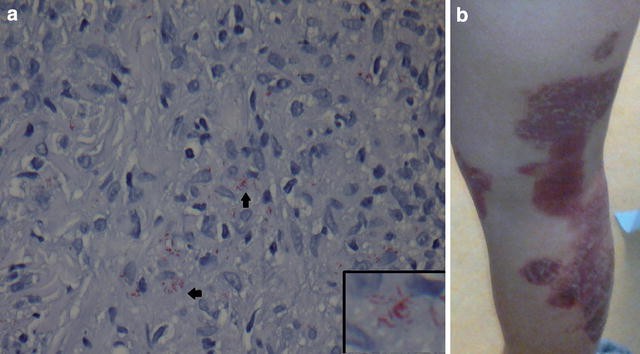 Four of the 15 patients (27 %) experienced a type 1 reaction of which two were classified as borderline lepromatous and diagnosed as downgrading reactions before initiation of leprosy treatment while the remaining presented with type 1 reaction symptoms shortly after initiation of leprosy treatment. The patients with downgrading type 1 reactions displayed the following symptoms: appearance of new anaesthetic skin elements and signs of increased inflammation of the existing ones. Both patients were feverish, one of them with increased C- reactive protein and neutrocytosis. Arthralgia and dactylitis were also present in both cases, while only one of them developed nerve palsy (drop foot). One patient experienced a type 1 reaction shortly after treatment initiation in Cameroun, before arriving in Denmark; the only symptom mentioned in the medical records regarding this was nerve palsy (peroneus paralysis). Half of the patients experiencing a type 1 reaction were treated with corticosteroids.
The patients reacting with ENL (13 %) were BL/LL patients experiencing fever, universal lymphadenitis, flaring of skin elements in the form of inflamed noduli on the upper extremities. One had enlargement of the ulnar and auriuclaris magnus nerves, which was treated with a 1 week thalidomide course while the other received prednisolone due to systemic symptoms with haematuria.
Most common complication/sequelae were decreased sensibility, particularly on the peripheral extremities, ulcers and secondary infections due to neuropathy, as well as keratosis and atrophy of fingers and toes. These patients were referred to an orthopaedist and/or orthopaedic surgeon for evaluation and treatment. Two patients had undergone amputation of fingers/toes, in total grade 2 disability (G2D) was recorded for three patients (20 %). One of three patients with G2D had the amputations done in Cameroun, while another had received several years of leprosy treatment in Thailand, and had been living with G2D for some time when a new reaction (ENL) brought him to a physician in Denmark; bringing G2D to 6 % in our patient sample.
Some patients experienced improvement of their sensory disturbances during treatment but none had complete remission.
Skin lesion with findings of granulomatous changes in skin biopsies often led to the suspicion of sarcoidosis. Other differential diagnoses mentioned were mostly dermatological: acne, pityriasis versicolor, erythema multiforme and Sweets syndrome.
All patients, diagnosed with leprosy after 1982, when WHO launched the use of MDT, received this regimen. Duration of treatment varied and was not for all cases in accordance with WHO recommendations. Some received prolonged MDT (up to 12 years) due to continued presence of bacilli in skin samples, despite clinical improvement.
Conclusion
Leprosy remains a sporadic disease imported to Denmark. With less than one case detected per year it remains difficult for doctors in non-endemic countries to recognize or even to think of leprosy, which may lead to delay of diagnosis and treatment [52]. Delayed diagnosis may lead to blindness, permanent nerve-damage and other disabilities. Even though anaesthesia of skin lesions is an important distinguishing feature it is often not recognized by the patient.
According to some leprologists there is a predominance of male leprosy patients after puberty, this was also the case in our patient sample. Skin smears were not performed in 53 % of the patients and although these were classified as TT/BT cases not expected to be skin smear positive, skin smears should be performed in all patients suspected for leprosy. Only one patient could recall close contact to an infectious leprosy patient in the household.
Skin biopsies, perhaps because of diagnostic uncertainty, were performed in all patients. Demonstration of acid fast bacilli was not possible in seven of the 15 (60 %) skin biopsies; therefore exposure, travel history and clinical presentation were essential to supplement histology. The more sensitive PCR for M. leprae could have proven helpful in these cases [53].
Classification of the disease is important for several reasons: borderline patients are unstable and at risk of experiencing type 1 reaction that can lead to serious nerve damage, while lepromatous and borderline lepromatous leprosy is associated with type 2 reactions which often are complicated by systemic effects. Both these conditions require corticosteroids and close monitoring of the clinical course due to the tendency to recur causing further damage [54, 55]. Another aspect making classification important is when choosing treatment regimen: cf. WHO's recommendations which are only 6 months for paucibacillary against 12 months for multibacillary leprosy. Skin samples can be positive for non-viable-bacilli years after completion of MDT, and this is not an indication for prolongation of treatment. Unfortunately, viability may be difficult to determine, unless the bacilli are looking disintegrated/discoloured at microscopy. There are no standard international guidelines for how often and how long after completion of MDT a patient should be examined with skin smears. It is also unclear how long a patient should be followed after ending treatment. WHO recommends skin smears at the start of treatment and if relapse/deterioration is suspected. Leading leprologists prefer to discharge patients if they display no complications and are smear negative, except MB patients, who are followed for 2 years after completion of MDT, whilst patients with permanent eye and/or nerve damage are followed lifelong.
Due to the long incubation period, the diagnosis should be kept in mind when encountering patients from endemic areas displaying dermatological or neurological symptoms even years after immigration. Special attention and care should be given to detection and treatment of complications, in particular to those with neuropathy, which can be lasting. Anaesthetic skin lesions, which were the most common clinical finding in our review, should lead to a high suspicion of leprosy.
Consent
The Danish National Board of Health granted permission to publish this case report. Written informed consent was obtained from the patient for publication of case reports and any accompanying images.
Abbreviations
AFB:

acid fast bacilli
BB:

borderline leprosy
BL:

borderline lepromatous leprosy
BT:

borderline tuberculoid leprosy
ENL:

erythema nodosum leprosum
G2D:

grade 2 disability
IL:

interleukin
INF-γ:

interferon -γ
LL:

lepromatous leprosy
MB:

multibacillary
MDT:

multidrug therapy
PB:

paucibacillary
SSI:

Statens Serum Institut
TT:

tuberculoid leprosy
TNF-α:

Tumor Necrosis Factor
WHO:

World Health Organization
Declarations
Authors' contributions
HA conducted the literature search, interpreted the data and drafted the manuscript. SDN and ICB conceived of the study and revised the manuscript. All authors read and approved the final manuscript.
Acknowledgements
The authors are very grateful to Professor Diana Lockwood for her insightful comments and recommendations on leprosy treatment and monitoring, and to Professor Sebastian Lucas for improving the histopathological diagnoses.
Competing interests
The authors declare that they have no competing interests.
Open AccessThis article is distributed under the terms of the Creative Commons Attribution 4.0 International License (http://creativecommons.org/licenses/by/4.0/), which permits unrestricted use, distribution, and reproduction in any medium, provided you give appropriate credit to the original author(s) and the source, provide a link to the Creative Commons license, and indicate if changes were made. The Creative Commons Public Domain Dedication waiver (http://creativecommons.org/publicdomain/zero/1.0/) applies to the data made available in this article, unless otherwise stated.
Authors' Affiliations
(1)
Department of Infectious Diseases and Rheumatology, Rigshospitalet, Copenhagen, Denmark
(2)
Global Health Section, Department of Public Health, University of Copenhagen, Copenhagen, Denmark