Research article

Open Access
Microbubble assisted polyhydroxybutyrate production in Escherichia coli
BMC Research Notes
2016
9:338
Received: 5 April 2016
Accepted: 1 July 2016
Published: 9 July 2016
Abstract
Background
One of the potential limitations of large scale aerobic Escherichia coli fermentation is the need for increased dissolved oxygen for culture growth and bioproduct generation. As culture density increases the poor solubility of oxygen in water becomes one of the limiting factors for cell growth and product formation. A potential solution is to use a microbubble dispersion (MBD) generating device to reduce the diameter and increase the surface area of sparged bubbles in the fermentor. In this study, a recombinant E. coli strain was used to produce polyhydroxybutyrate (PHB) under conventional and MBD aerobic fermentation conditions.
Results
In conventional fermentation operating at 350 rpm and 0.8 vvm air flow rate, an OD600 of 6.21 and PHB yield of 23 % (dry cell basis) was achieved. MBD fermentation with similar bioreactor operating parameters produced an OD600 of 8.17 and PHB yield of 43 % PHB, which was nearly double that of the conventional fermentation.
Conclusions
This study demonstrated that using a MBD generator can increase oxygen mass transfer into the aqueous phase, increasing E. coli growth and bioproduct generation.
Keywords
Microbubble
Fermentation
Dissolved oxygen
Polyhydroxybutyrate
PHB
Background
Continued use of petroleum based plastics is not sustainable, therefore alternative and environmentally friendly materials need to be developed. Biologically derived polymers could potentially be a candidate to replace petroleum based plastics in the near future [1]. Currently bioplastics make up only 1 % of the market share of all plastics used worldwide, in part due to various bottlenecks to making biological plastics economical on a large scale [2].
Polyhydroxyalkanoates (PHAs) are a class of biologically derived biopolymers with over 155 unique monomers [3]. The advantage of having many different monomers is that each possess different material characteristics and thus will be suitable for many potential applications [4]. One such PHA polymer is polyhydroxybutyrate (PHB), a short chain length (scl) polymer, which has a melting point and tensile strength similar to polypropylene and a Young's modulus comparable to polystyrene [5]. PHB is naturally produced in organisms such as Ralstonia eutropha, Alcaligenes latus, Burkholderia cepacia, and Bacillus sphaericus [6–9]. The three genes responsible for PHB production phbA, phbB, phbC, can be recombinantly expressed in laboratory strains of Escherichia coli [10].
Large scale aerobic production of PHB can be carried out using genetically engineered E. coli strains in bioreactors [11]. The advantages of using recombinant E. coli for the production of PHB include rapid growth, accumulation of PHB greater than 50 % of cell weight [12], and the ability to utilize inexpensive carbon substrates [13, 14].
Previous studies have demonstrated that PHB production using recombinant systems such as E. coli have been hindered upon scaling up in part due to the use of large amounts of oxygen required for high bacterial growth and PHB generation. The amount of required oxygen supplied through increased agitation or supplemental oxygen fed into a traditional bioreactor are potentially cost prohibitive for PHB production upon scale-up [15–19]. One of the major challenges in many aerobic bioreactor setups is the poor solubility of oxygen in the media. The solubility of oxygen in water is approximately 0.217 mmol/l at 35 °C, and with the addition of salts and other media components the solubility is further reduced [20]. Additionally, high cell density cultures (HCDC) could also reduce the available dissolved oxygen in a culture at high OD's [21].
A possible lower cost solution is to increase the relative surface area of air bubbles sparged into fermentor media. By reducing the bubble size, the oxygen transfer rate of the fermentor can be increased due to greater surface area. Furthermore, the velocity of the bubbles traveling from the bottom of a fermentor to the top is reduced, giving more time for oxygen transfer to the culture media. A microbubble dispersion (MBD) generator can reduce the size of a conventional sparged gas bubble from 3–5 mm to approximately 20–100 µm [20, 22]. Additionally, it has been suggested that microbubble sparged fermentors can be energy efficient up to 0.01 kW/m3 of fermentation capacity, providing lower overall operating costs [23].
Previous studies have utilized a MBD device in-line with a fermentor for recombinant product formation in Pichia pastoris, Saccharomyces cerevisiae, and Trichoderma reesei [20, 24, 25]. In the P. pastoris study, increase in cell growth and recombinant protein production were observed in the MBD system when compared to a standard sparged fermentation [24]. Trichoderma reesei was grown in a MBD system and demonstrated increase in cell mass [25]. Additionally, another study used a MBD system in-line with a 72 L fermentation vessel, demonstrating the versatile nature of the system for scale-up [26].
In this study, the objectives were to (1) demonstrate increased E. coli growth with a MBD system and (2) show increased PHB production from E. coli when MBD device was used compared to conventional air-sparged fermentation.
Results and discussion
E. coli growth using a MBD
PHB production analysis
All cultures showed increase in PHB accumulation through 12, 24, and 48 h respectively (Fig.
4
). Although, as illustrated in Fig.
1
, stationary phase was reached between 12 and 24 h for most experiments, bioreactors were run for 48 h as this allowed for accumulation of PHB. Previous studies have mentioned that PHB does not accumulate to significantly high levels during log phase of growth. Rather, acetyl-CoA is used for cell growth during exponential phase and then utilized for PHB production during the stationary phase, thus the motivation to culture for 48 h [
36
].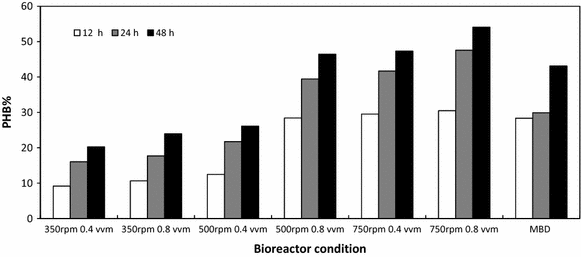 After 48 h of culturing, the average PHB % accumulation for conventional air-sparged experiments (0.4 vvm) at agitation rates of 350, 500, and 750 rpm, were 20.25, 26.12, and 47.33 %, respectively. At the same agitation rates with an increased air flow to 0.8 vvm the PHB % after 48 h was increased to 23.93, 46.46, and 54.08 %, respectively. For the 350 rpm bioreactor studies the difference between air sparged at 0.4 and 0.8 vvm did not provide a substantial increase in PHB production, whereas doubling the air flow rate for the 500 and 750 rpm agitation increased the PHB production significantly. The MBD bioreactor had an average PHB accumulation of 43.14 % 48 h post inoculation, which was similar to the 500 rpm agitation rate with 0.8 vvm air sparging and also outperformed the 350 rpm 0.8 vvm study. Accumulation of PHB to approximately 40–50 % after 48 h of culturing is similar to the results observed in shaker flask experiments in other studies with similar media composition and without pH or DO control [28, 30].
As discussed previously, oxygen limitations hindered both cell growth and PHB yields. This observation was also seen in prior studies, where oxygen limited fermentation experiments revealed reduced cell growth and lower PHB yields [37, 38]. Additionally, reduction in available oxygen could significantly affect native metabolic pathways in E. coli, including ATP generation, further limiting bacterial growth and hindering bioproduct generation [16]. In this study, the higher rpm experiments and MBD produced increased levels of PHB production compared to lower speed air-sparged fermentations, suggesting that oxygen limitations hindered cell growth and PHB generation.
Other fermentation based studies have used similar strains of XL1-Blue E. coli to produce PHB. One such study optimized media contents, maintained pH, used pure oxygen, and increased agitation speeds up to 1100 rpm. While this study produced high yields of PHB, the authors concluded that the scale-up of this system would not be cost effective due to considerable costs of using pure oxygen [27]. Combining a MBD approach with an optimized media used in the aforementioned study could potentially reduce the costs of bacterial fermentation to produce PHBs.
The results presented in this study provide justification for future work using the MBD generator in-line with a larger bioreactor for E. coli growth and PHB production. It has been reported that the power input per unit volume is approximately 1000 times higher in a laboratory based fermentation unit when compared to an industrial scale unit [20]. Scale-up from 1 to 50 L for S. cerevisiae fermentations using a MBD unit have been proven to be successful with a threefold reduction in power consumption using a MBD unit as compared to conventional air sparging [26]. It would be reasonable to suggest that E. coli grown in a 50 L MBD fed fermentor would give similar results. The next step would be to understand how the MBD unit would function upon scale-up and if a larger MBD system would be required for a larger scale fermentor. Furthermore, another consideration upon scale-up would be if any additional surfactants would be required to maintain microbubble size and if these additional surfactants affected E.coli growth and PHB yield.
Conclusions
The production of PHB using genetically engineered E. coli requires a large oxygen supply that results in excessive energy consumption and therefore makes the process less economically competitive. The major challenge is the poor solubility of oxygen in the fermentation media because the amount of energy input required for agitation and aeration becomes exceedingly high. The use of a MBD generator can increase oxygen mass transfer into the aqueous phase, further promoting E. coli growth and bioproduct generation. The DO and pH of the media were not controlled in these experiments, though future work could consist of understanding the effects of controlling DO and pH on cell growth and PHB yield. Perhaps maintaining the pH at a stable level could have further increased the yield of PHB produced in system. Furthermore, developing an understanding how the MBD system would function in an industrial fed-batch environment could allow for this system be implemented in the future. Production of other recombinant products could also be tested using the methods outlined in this study.
Declarations
Authors' contributions
KI, FAS, and AR conducted experiments and wrote the manuscript draft. FAA conceived and designed the experiments. RJP assisted with experiments and data analysis. CDM assisted with experimental design and manuscript revision. All authors read and approved the final manuscript.
Acknowledgements
The authors would also like to acknowledge Ashik Sathish, Bo Zhao, Brian Smith, and Jordan Morley for their assistance.
Competing interests
The authors declare that they have no competing interests.
Availability of data and materials
Data will be made available upon request from the corresponding author.
Ethics approval and consent to participate
Not applicable as study did not involve human subjects.
Funding
The authors would like to recognize the following groups for their funding and support: the Scientific and Technological Research Council of Turkey (TÜBITAK), the Turkey Council of Higher Education (YÖK), the Utah Science Technology and Research (USTAR) Program, and the Synthetic Biomanufacturing Institute (SBI).
Open AccessThis article is distributed under the terms of the Creative Commons Attribution 4.0 International License (http://creativecommons.org/licenses/by/4.0/), which permits unrestricted use, distribution, and reproduction in any medium, provided you give appropriate credit to the original author(s) and the source, provide a link to the Creative Commons license, and indicate if changes were made. The Creative Commons Public Domain Dedication waiver (http://creativecommons.org/publicdomain/zero/1.0/) applies to the data made available in this article, unless otherwise stated.
Authors' Affiliations
(1)
Department of Molecular Biology and Genetics, Karadeniz Technical University, Trabzon, Turkey
(2)
Department of Biology, Karadeniz Technical University, Trabzon, Turkey
(3)
Bioengineering Branch, Space Biosciences Division, NASA Ames Research Center, Ames, USA
(4)
Universities Space Research Association, Mountain View, USA
(5)
Department of Biological Engineering, Utah State University, Logan, USA