Erratum to: Severely deranged vital signs as triggers for acute treatment modifications on an intensive care unit in a low-income country
BMC Research Notes
2017
10:365
Received: 22 June 2017
Accepted: 22 June 2017
Published: 2 August 2017
Following publication of the original article [
1
] a request was made to replace the image file for Fig.
1
, which was found to be corrupt.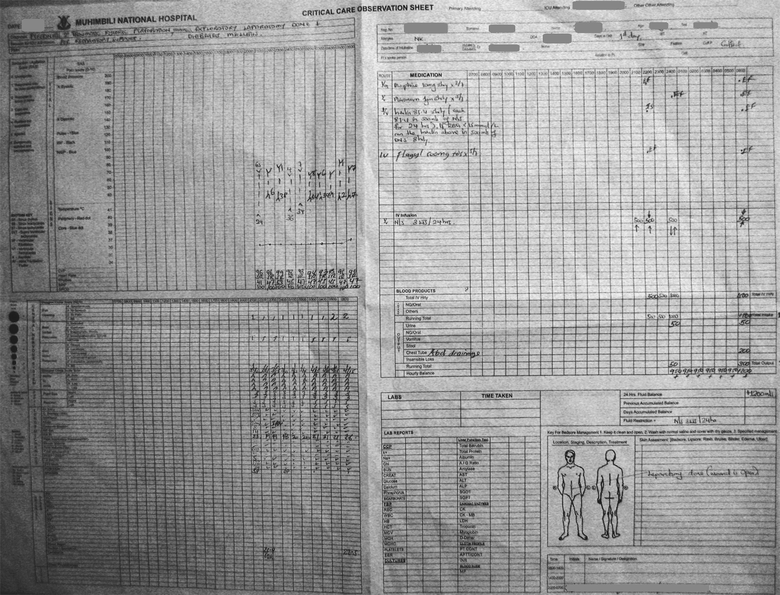 Publisher's Note
Springer Nature remains neutral with regard to jurisdictional claims in published maps and institutional affiliations.
Open AccessThis article is distributed under the terms of the Creative Commons Attribution 4.0 International License (http://creativecommons.org/licenses/by/4.0/), which permits unrestricted use, distribution, and reproduction in any medium, provided you give appropriate credit to the original author(s) and the source, provide a link to the Creative Commons license, and indicate if changes were made. The Creative Commons Public Domain Dedication waiver (http://creativecommons.org/publicdomain/zero/1.0/) applies to the data made available in this article, unless otherwise stated.
(1)
Centre for Clinical Research Sörmland, Uppsala University, Uppsala, Sweden
(2)
Department of Internal Medicine, Medicinkliniken, Nyköping Hospital, Sörmland County Council, 61185 Nyköping, Sweden
(3)
Department of Anaesthesia and Intensive Care, Muhimbili University of Health and Allied Sciences, Dar es Salaam, Tanzania
(4)
Department of Anaesthesia, Intensive Care and Surgical Services, Karolinska University Hospital, Stockholm, Sweden
(5)
Department of Physiology and Pharmacology, Karolinska Institutet, Stockholm, Sweden
(6)
Department of Anaesthesia and Intensive Care, Muhimbili National Hospital, Dar es Salaam, Tanzania
(7)
Department of Physiology and Pharmacology, Karolinska Institutet, Stockholm, Sweden
(8)
Global Health - Health Systems and Policy, Department of Public Health Sciences, Karolinska Institutet, Stockholm, Sweden