Research note
Open Access
Improving prevention, monitoring and management of diabetes among ethnic minorities: contextualizing the six G's approach
BMC Research Notes
2017
10:774
Received: 1 June 2017
Accepted: 19 December 2017
Published: 28 December 2017
Abstract
Objective
People from Black, Asian and Minority Ethnic (BAME) groups are known to have an increased risk of developing diabetes and face greater barriers to accessing healthcare resources compared to their 'white British' counterparts. The extent of these barriers varies by demographics and different socioeconomic circumstances that people find themselves in. The purpose of this paper is to present and discuss a new framework to understand, disentangle and tackle these barriers so that improvements in the effectiveness of diabetes interventions for BAME communities can be achieved.
Results
The main mediators of lifestyle behavioural change are gender, generation, geography, genes, God/religion, and gaps in knowledge and economic resources. Dietary and cultural practices of these individuals significantly vary according to gender, generation, geographical origin and religion. Recognition of these factors is essential in increasing knowledge of healthy eating, engagement in physical activity and utilisation of healthcare services. Use of the six G's framework alongside a community centred approach is crucial in developing and implementing culturally sensitive interventions for diabetes prevention and management in BAME communities. This could improve their health outcomes and overall wellbeing.
Keywords
Diabetes managementEthnic minoritiesSix G's frameworkBarriers to accessLifestyle behavioural change
Introduction
Health inequalities have existed within the UK for the past several decades with ethnic minority groups continuing to report a higher incidence of morbidity and mortality than the general population for a range of chronic diseases [1, 2]. Black, Asian and Minority Ethnic (BAME) groups have a higher risk of diabetes [3] and experience greater barriers in the healthcare-seeking process. The main barriers that have been identified include generational, geographical and gender differences within specific ethnic minority groups. Also, the presence of a profound language barrier, lack of culturally appropriate information and poorer knowledge are deemed to be other contributing factors [4]. The aims of this paper are: to discuss these underlying barriers specifically for the management of diabetes within BAME groups; and to provide a new framework to ease these barriers and improve the effectiveness of health interventions among BAME. There will be a particular focus on South Asians as they form the largest group amongst BAME within the UK [5].
Main text
The six G's framework
The proposed six G's framework (as shown in Fig.
1
) is a tool devised to be used by the healthcare professionals to enhance their client relationship with BAME communities and improve the effectiveness of health delivery services. Furthermore, it will enable new interventions to be developed that are consistent with their religious and cultural practices. This will allow the provision of additional support to individuals with long-term health conditions including diabetes to improve their overall wellbeing.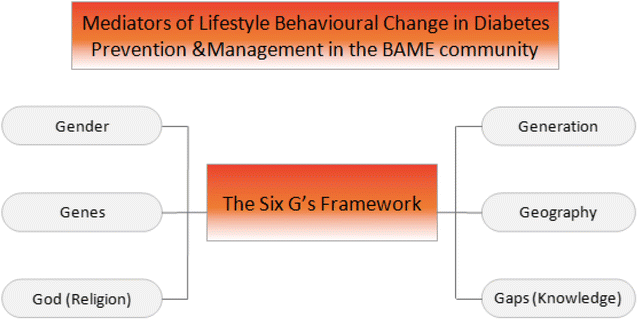 Implications for future practice
The increase in the incidence of chronic diseases particularly diabetes in ethnic minorities creates a serious challenge for healthcare providers. It is imperative that healthcare professionals, policy makers, and commissioners recognise the diversity of beliefs and cultural practices within these groups and ensure all interventions are tailored according to their specific ethnicity, age, religious beliefs and cultural needs. More importantly, adopting a community-centred approach is essential in improving their health and wellbeing. In a large clinical trial for South Asian people with diabetes, a successful community diabetes-specialist nurse/link worker intervention on dietary and lifestyle behavioural changes was specifically tailored to diverse participants in terms of gender, generation, religion, language and geographical origin [32].
Local projects working in partnership with places of worship should be initiated to increase awareness of the risks associated with their lifestyle practices and promote behavioural change. The benefits of this were demonstrated in a project by Apnee Sehat who worked alongside a Gurudwara to encourage lifestyle modifications. Participants reported that they made changes both at an individual and household level [33]. Furthermore, any dietary advice that is given should be culturally sensitive. For example, the older generation may require guidance on how to make amendments to traditional recipes which are still deemed to be acceptable by other household members. In contrast, the younger generation may benefit from more westernised interventions. Similarly, encouraging regular exercise and referral to gender-specific exercise classes/facilities by GPs particularly for BAME women may motivate them to engage in lifestyle modifications. There are notable examples of BAME community trained volunteers/health champions involvement in community engagement to promote physical activity through enjoyable exercise and health education which could be replicated elsewhere. In the Tandrusti Project of Dudley, after attending exercise and health educational classes, the BAME participants from diverse backgrounds (gender, generation, religion, income, and education) with long-term conditions including diabetes, had reported significant changes in blood pressure, obesity and other metabolism outcomes and recorded improvements in their health, fitness, self-esteem, quality of life and wellbeing as well as boosted their confidence in accessing health services independently [34].
Conclusion
It is paramount that all aspects of the six G's framework be implemented to reduce barriers and optimise outcomes and effectiveness of health interventions for ethnic minorities. The application of this framework has shown encouraging results for enhanced community engagement and active participation by BAME people in adapting healthy lifestyle changes and improvement in quality of life and wellbeing. This framework/tool could enhance cultural competence among healthcare professionals for better management of long-term health condition affecting ethnic minorities such as cardiovascular disease, cancer, stroke, and diabetes. It could also be integrated into the MRC guidance for development of complex interventions to improve health [35] through health behaviour change programmes specifically targeting BAME communities.
Limitations
The framework/tool is presented with healthcare service provider perspective which needs further testing and applicability in the wider settings.
Declarations
Authors' contributions
First author (AG) conceived the idea. Both authors together drafted the paper and reviewed the final manuscript before submission. Both authors read and approved the final manuscript.
Competing interests
The authors declare that they have no competing interests.
Availability of data and materials
Not applicable.
Consent for publication
The authors give consent for publication.
Ethics approval and consent to participate
Not applicable.
Funding
No external funds were received in support of this study.
Publisher's Note
Springer Nature remains neutral with regard to jurisdictional claims in published maps and institutional affiliations.
Open AccessThis article is distributed under the terms of the Creative Commons Attribution 4.0 International License (http://creativecommons.org/licenses/by/4.0/), which permits unrestricted use, distribution, and reproduction in any medium, provided you give appropriate credit to the original author(s) and the source, provide a link to the Creative Commons license, and indicate if changes were made. The Creative Commons Public Domain Dedication waiver (http://creativecommons.org/publicdomain/zero/1.0/) applies to the data made available in this article, unless otherwise stated.
Authors' Affiliations
(1)
Faculty of Health and Wellbeing, Sheffield Hallam University, Sheffield, UK
(2)
Brighton and Sussex Medical School, Brighton, UK