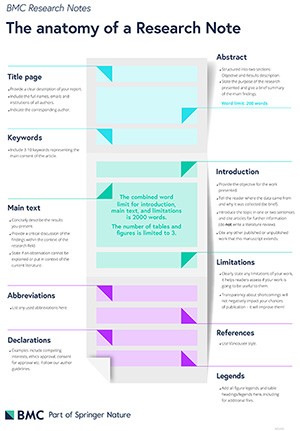 Research note is the main article type of BMC Research Notes and is suitable for
Extensions or updates to previously published research
The reporting of additional controls
Short descriptions of research projects that did not provide publishable results but represent valuable information regarding protocol and data collection
Additions to established (software) tools and experimental or computational methods, e.g. new functionality of user interface, improvements in performance or the release on a new platform
Replication studies
Null results
Data management plans
Authors must clearly acknowledge any work upon which they are building, both published and unpublished.
Manuscripts reporting results of a clinical trial must conform to CONSORT 2010 guidelines. Authors of randomized controlled trials should submit a completed CONSORT checklist alongside their manuscript, available at www.consort-statement.org.
Please note that pooled analyses of selected published research and bibliometric analyses will not be considered. Studies reporting descriptive results from a single institution or region will only be considered if analogous data have not been previously published in a peer reviewed journal and the conclusions provide distinct insights that are of relevance to a regional or international audience.
BMC Research Notes does not consider systematic reviews or meta-analyses. These should be published as full research articles in one of our BMC Series sister journals.
Additional criteria apply if your manuscript describes a software tool or data management plan. Please click on the respective link below to view these. These manuscripts should be submitted as a research note.
Image integrity and standards
Cropped gels and blots can be included in the main text if it improves the clarity and conciseness of the presentation. In such cases, the cropping of the blot must be clearly evident and must be mentioned in the figure legend. Corresponding uncropped full-length gels and blot must be included in the supplementary files. These uncropped images should indicate where they were cropped, be labelled as in the main text and placed in a single supplementary figure. The manuscript's figure legends should state that 'Full-length blots/gels are presented in Supplementary Figure X'. Further information can be found under 'Digital image integrity' which are detailed on our Standards of Reporting page.
Data sharing
BMC Research Notes strongly supports open research, including transparency and openness in reporting. Further details of our Data availability policy can be found on the journal's About page.
BMC Research Notes strongly encourages that all datasets on which the conclusions of the paper rely should be available to readers. We encourage authors to ensure that their datasets are either deposited in publicly available repositories (where available and appropriate) or presented in the main manuscript or additional supporting files whenever possible. Please see Springer Nature's data repository guidance. Where a widely established research community expectation for data archiving in public repositories exists, submission to a community-endorsed, public repository is mandatory. A list of data where deposition is required, with the appropriate repositories, can be found on the Editorial Policies Page.
Authors who need help depositing data may wish to contact our Research Data Support Helpdesk. The use of the service is optional and does not imply or guarantee that a manuscript will be accepted.
Preparing your manuscript
The information below details the section headings that you should include in your manuscript and the information required within each section. For a one-page summary of what a research note article should look like, please click here.
Please ensure you adhere to the word limits for research notes:
Abstract: 200 words
Introduction, main text and limitations together: 2000 words
List of abbreviation, declarations, references, figures, figure headings, figure legends, tables, table headings and table legends do not count towards the above stated word limits.
Please note that your manuscript must include a 'Declarations' section including all of the subheadings (please see below for more information).
For all research involving human subjects, written informed consent to participate in the study must be obtained from participants (or their parent or legal guardian in the case of children under 16). BMC Research Notes does not consider research where only verbal informed consent has been obtained.
Please limit the number of tables and figures in your manuscript to 3 in order to be consistent with a note article type. Additional figures and/or tables can be included as supplementary files.
Title page
The title page should:
Present a title that includes a clear description of what the manuscript reports
List the full names, institutional addresses and email addresses for all authors

If a collaboration group should be listed as an author, please list the group name as an author. If you would like the names of the individual members of the group to be searchable through their individual PubMed records, please include this information in the "Acknowledgements" section in accordance with the instructions below

Indicate the corresponding author
Abstract
The abstract should not exceed 200 words. Please minimize the use of abbreviations and do not cite references in the abstract. The abstract must include the following separate sections:
Objective: The purpose and objective of the research presented.
Results: A brief summary of the main findings.
If the data presented is a single observation or the side product of another research project then authors should state this in the abstract under objective.
Professionally produced Visual Abstracts
BMC Research Notes will consider visual abstracts. As an author submitting to the journal, you may wish to make use of services provided at Springer Nature for high quality and affordable visual abstracts where you are entitled to a 20% discount. Click here to find out more about the service, and your discount will be automatically be applied when using this link.
Keywords
Three to ten keywords representing the main content of the article.
Introduction
The introduction should be brief and provide the motivation/objective for the work presented in the manuscript, e.g.
Where does the data come from?
Why was the data obtained?
If the data presented is a single observation or the side product of another research project then authors should state this in the introduction. This will not negatively impact editorial assessment as BMC Research Notes aims to make single observations available to the scientific community.
We are not looking for a detailed and lengthy introduction to the topic and authors should instead cite relevant review articles. Authors should not provide a general review of the related literature but instead cite relevant work if the manuscript extends previously published or unpublished research.
For data management plans, the introduction should briefly summarize the research project for which the data management plan was written.
Main text
This should contain the body of the research note, and may also be broken into subsections with short and informative headings. Methods should be described in sufficient detail to allow repeatability. Authors should concisely describe the data or results they present and provide a critical discussion of the findings within the context of the research field. If an observation cannot be explained or put in context of the current literature then authors are encouraged to state that.
Limitations
BMC Research Notes considers scientifically valid manuscripts irrespective of the interest of a study or its likely impact. In order to ensure submissions to BMC Research Notes are of maximum benefit to the research community, authors should clearly state the limitations of their work.
Introduction, main text and limitations together must not exceed 2000 words.
List of abbreviations
If abbreviations are used in the text they should be defined in the text at first use, and a list of abbreviations should be provided.