Development of a nutrition and physical activity booklet to engage seniors
BMC Research Notes
2008
1:77
Received: 24 April 2008
Accepted: 04 September 2008
Published: 04 September 2008
Abstract
Background
This paper describes the development and process evaluation of an interactive booklet aimed at motivating older adults to improve their nutrition and physical activity.
Findings
The booklet was developed in consultation with seniors via focus groups, individual interviews and self administered questionnaires. The booklet was disseminated to a group of 114 seniors as the main component of a 12-week intervention program. Process evaluation was conducted during and at the end of the intervention period.
A large proportion of participants (86%) were engaged in the program in that they had, as a minimum, read the booklet. The majority of the participants found the booklet provided them with useful and interesting advice in an easy-to-read and informative manner. Three quarters (76%) reported the materials to be motivating and increased their awareness of nutrition and physical activity, while 79% intended to continue with changes to their physical activity and diet after the program concluded.
Keywords
Physical ActivityPhysical Activity GuidelinePhysical Activity ProgramPhysical Activity GoalNutritional Education Program
Background
Seniors are a growing percentage of the worldwide population. For example, the number of people aged over 65 years in the United Kingdom is expected to rise to 20% of the total population by 2021 [1]. Similarly, about a quarter of the Australian population will be over 65 years old by 2021 [2]. Strategies need to be identified that will engage older adults in programs to control their increasing rates of diabetes, cancers, cardiovascular diseases and mental health problems [3–5].
Obesity is increasing among elderly people especially in industrialised countries [6]. Studies in Sweden and the USA showed that the prevalence of obesity increased by about 10% in less that a decade [4, 6]. In Australia, more than 20% of people aged over 55 years are now obese, which puts them at higher risk for chronic diseases [7].
The rise in obesity levels is substantially due to a decreased energy expenditure in overall activity [3]. Participation in physical activity tends to decrease as people age [8]. Increase in physical activity can benefit a number of health outcomes such as heart disease, diabetes, some cancers, depression, osteoporosis and fall related injuries [3], as well as possibly reducing disability by up to five years and enhancing the quality of life [3, 9, 10].
Worldwide diet trends have shifted towards an increased energy intake (including fat and sugar). Fat levels consumed are now above the World Health Organisation's (WHO) recommended limit of 30% of daily energy intake. In the USA, only 35% of women and 39% of men aged over 60 years meet the fruit recommendations of two servings per day, while a mere 6% of men and women aged 60 years meet the vegetable recommendations of three servings per day [11]. Despite these significant deficiencies, many older people do not understand the need to change their diet [1].
Older people have different nutritional requirements from those of younger adults, yet few nutritional education programs have been specifically aimed at seniors [12]. Authorities recommend that more studies are needed to identify the determinants of healthy eating for seniors to improve the effectiveness of interventions[13].
Sedentary seniors are a difficult group to target and researchers have identified a need for alternative programs to face-to-face approaches to be trialled and evaluated. These alternative approaches include program delivery via telephone, internet, email, and post. The use of telephone with mailed intervention has been successfully used for maintenance of physical activity [14].
There is some evidence that a booklet on healthy eating and physical activity for sedentary seniors can encourage goal setting to improve these behaviours [1]. Specific health contracts written collaboratively by health professionals and seniors had positive impacts on exercise and physical activity behaviours [15].
When developing interventions for seniors, their special characteristics must be considered [16]. Including them in the program development and embracing their perceptions and experiences are likely to improve the success of interventions [17].
In this study, the Physical Activity and Nutrition for Seniors (PANS) program was developed based on a participatory action research (PAR) approach, in which a mailed booklet supported by telephone calls formed the main intervention. The objective of this paper is to describe the development and process evaluation of the interactive booklet.
Findings
The development of the PANS intervention was based on a PAR approach involving systematic investigation and collaboration with the target group [18]. The process helps ensure that health promotion interventions are more relevant to the target group's needs. In the PANS program, the seniors were engaged in the development of the intervention throughout the whole process from early formative research, discussing the intervention type and its implementation, commenting on the proposed intervention, testing it and finally participating in post program evaluation.
PANS intervention
PANS was a 12-week program aimed to improve the nutrition and physical activity levels of seniors through an interactive booklet, which contained advice and suggestions on how to set healthy goals. The intervention group was also provided with telephone support and motivational interviewing [19, 20]. Process evaluation was conducted during and at the end of the intervention, and the relevant data are presented in this paper. A survey was also conducted at both pre- and post-intervention to evaluate behavioural changes which are reported elsewhere [21].
Figure
1
summarizes the process adopted to develop and evaluate the PANS intervention, and to illustrate the central role played by the mailed booklet.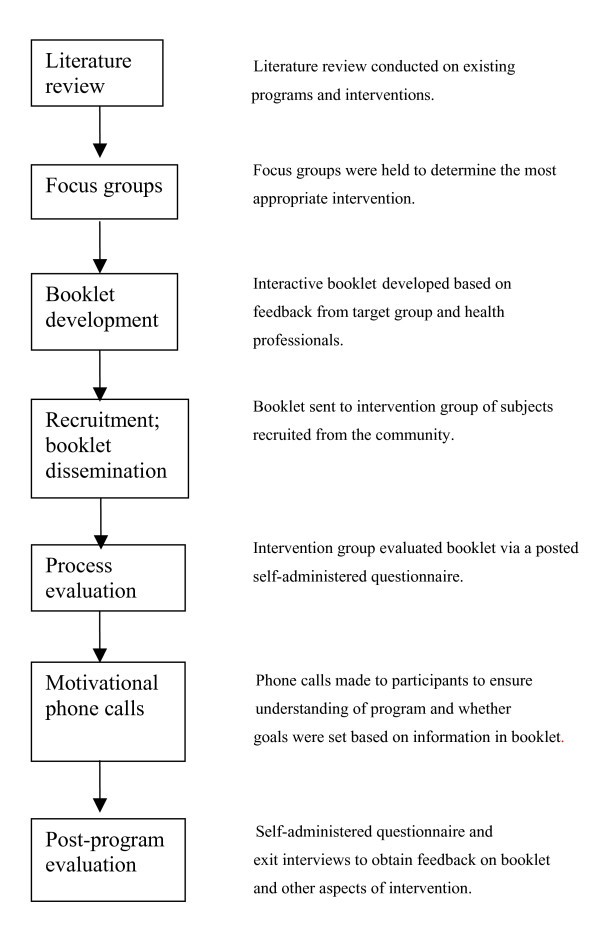 Program evaluation
Using a self administered questionnaire the participants were asked to describe significant changes in their health and fitness as a result of taking part in the 12 week intervention. Exit telephone interviews with a sample of the participants (n = 16) were also conducted at the conclusion of the PANS program. They were asked what aspects of the program they liked and disliked, and whether improvements could be made.
Results
A large proportion of the participants (86%) returned the questionnaire that rated specific features of the booklet. Results, which were positive, are summarized in Table
1
. The majority of seniors found the booklet interesting, agreed that it contained useful advice and that it encouraged them to think about their level of physical activity and nutrition. Qualitative responses included: "I found the suggested mix of foods interesting and handy to have as an ongoing reference"; "The portions of food was interesting, I will have to get my physical activity to a better level"; "The booklet prompted me to use it for myself and my husband"; "It made me look at what I had become slack on"; "The booklet gave me a greater understanding about physical activity"; "It reminded me of certain foods I need to eat".
Table 1
Booklet feedback results
| Comment | % Agree |
| --- | --- |
| Useful advice in booklet | 98 |
| Suitability for age group | 98 |
| Interesting information in booklet | 96 |
| Attractive booklet | 94 |
| Easy to understand | 95 |
| Encouraged me to think about nutrition/physical activity | 99 |
Responses to the post-program evaluation survey were also very positive overall. Common responses included feeling fitter, having more energy and being more aware of their own health and fitness. As illustrated by the results of the survey in Table
2
, the seniors found the program and materials motivating and appropriate. A majority of them (86%) claimed to have read the entire booklet. They did use the information provided to set nutritional and physical activity goals to suit individual needs.
Table 2
Post-program evaluation results
| Responses | % |
| --- | --- |
| Read through the booklet | 86 |
| Booklet feedback form did encourage me to read the booklet | 70 |
| Found the program and materials motivating | 76 |
| Did not take a long time to read the booklet | 72 |
| Feel healthier since starting the program | 54 |
| Became more aware of health and well-being | 76 |
| More likely to do something about my health and well-being | 64 |
| Walk more often | 57 |
| Am generally more active | 57 |
| Could get more done in a day | 49 |
| Will continue to be more active when the program concludes | 78 |
| Will be more active in 6 months time | 58 |
| Will be more active in 12 months time | 51 |
| Will continue to maintain a healthy diet when program concludes | 78 |
| Will still maintain a healthy diet in 6 months time | 79 |
| Will still maintain a healthy diet in 12 months time | 78 |
| Had set some nutritional goals | 43 |
| Had reached some of these nutritional goals over the last 12 weeks | 42 |
| Had set some physical activity goals | 35 |
| Had reached some of these physical activity goals over the last 12 weeks | 33 |
| Became involved in new activities | 25 |
| Have changed diet since starting program | 41 |
Feedback from the exit interviews indicated that seniors were positive about the booklet (Figure
5
).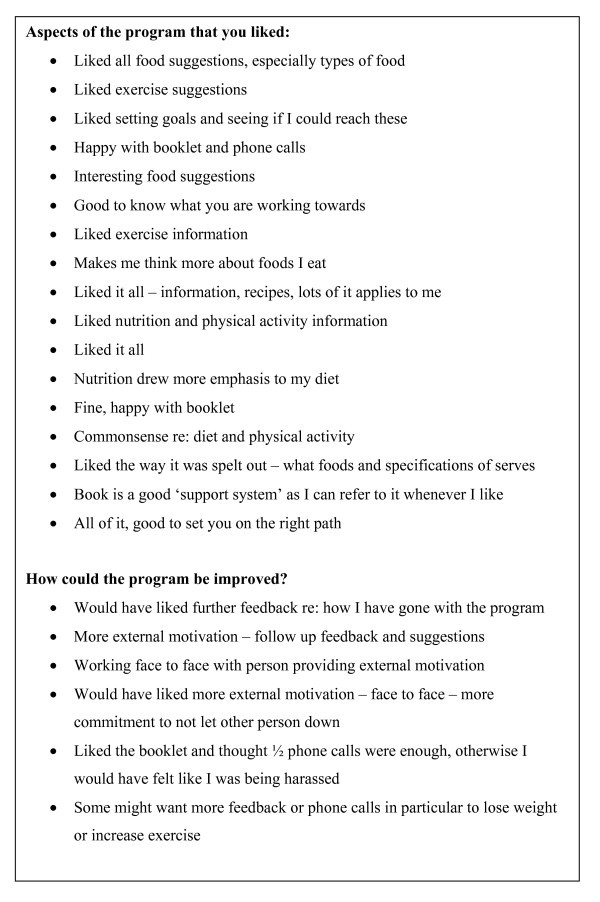 Discussion and conclusion
That many seniors are physically inactive and overweight is a compelling reason for the development of physical activity and nutrition interventions tailored to their specific circumstances [4–8]. The challenge is to get this target group exposed to a sufficient dose of an intervention that will induce and maintain behaviour change [9].
The literature has reported many programs that improve physical activity levels of participating seniors. But most of these involve group participation or attendance at recreation or other venues. While there has been an increase in home-based physical activity programs for younger age groups, few are reported for seniors [14, 19]. This is particularly so for combined physical activity and nutrition programs [1, 11, 12, 20]. It has been suggested that booklets can be used effectively for people older than 65 years in order to encourage them to set goals for increased participation in physical activity and improved diets [1].
The steps undertaken as described in this paper provide guidelines useful for ensuring health promotion materials developed for seniors are relevant [9, 12]. This process also helps ensure that the target group will receive a significant dose of the intervention, and thus increases their chances of behaviour change.
Declarations
Acknowledgements
The authors are grateful to Christina Pollard, Sonia White, Kelly Kennington and Choon-Cheong Leong for their contributions to the project. The project was financially supported by the ATN Centre for Metabolic Fitness.
Authors' Affiliations
(1)
School of Public Health, Curtin University of Technology, Perth, Australia
(2)
Centre for Behavioural Research in Cancer Control, Curtin University of Technology, Perth, Australia
(3)
National Heart Foundation, Western Australia Division, Subiaco, Australia
Copyright
© Howat et al; licensee BioMed Central Ltd. 2008
This article is published under license to BioMed Central Ltd. This is an Open Access article distributed under the terms of the Creative Commons Attribution License (http://creativecommons.org/licenses/by/2.0), which permits unrestricted use, distribution, and reproduction in any medium, provided the original work is properly cited.