Expression analysis of flavonoid biosynthesis genes during Arabidopsis thaliana silique and seed development with a primary focus on the proanthocyanidin biosynthetic pathway
BMC Research Notes
2010
3:255
Received: 27 April 2010
Accepted: 7 October 2010
Published: 7 October 2010
Abstract
Background
The coordinated activity of different flavonoid biosynthesis genes in Arabidopsis thaliana results in tissue-specific accumulation of flavonols, anthocyanins and proanthocyanidins (PAs). These compounds possess diverse functions in plants including light-attenuation and oxidative stress protection. Flavonoids accumulate in a stimulus- and/or development-dependent manner in specific parts of the plant. PAs accumulate in the seed coat (testa).
Findings
We describe the biological material and the preparation of total RNA for the AtGenExpress developmental silique and seed series. AtGenExpress ATH1 GeneChip expression data from the different stages were reanalyzed and verified using quantitative real time PCR (qPCR). We observed organ-specific transcript accumulation of specific flavonoid biosynthetic genes consistent with previously published data and our PA compound accumulation data. In addition, we investigated the regulation of PA accumulation in developing A. thaliana seeds by correlating gene expression patterns of specific flavonoid biosynthesis genes with different seed embryonic developmental stages and organs and present two useful marker genes for isolated valve and replum organs, as well as one seed-specific marker.
Conclusions
Potential caveats of array-based expression data are discussed based on comparisons with qPCR data. Results from ATH1 microarray and qPCR experiments revealed a shift in gene activity from general flavonoid biosynthesis at early stages of seed development to PA synthesis at late (mature) stages of embryogenesis. The examined PA accumulation-associated genes, including biosynthetic and regulatory genes, were found to be exclusively expressed in immature seeds. Accumulation of PAs initiates at the early heart stage of silique and seed development. Our findings provide new insights for further studies targeting the PA pathway in seeds.
Keywords
Seed Coat
Seed Development
Flavonoid Biosynthesis
qPCR Experiment
Silique Length
Background
Flavonoids are aromatic amino acid-derived secondary metabolites with a multitude of roles in plants. For example, they act as antimicrobial agents, light protection pigments, feeding deterrents against pathogens and herbivores [1] and are, among other pigments, crucial for flower coloration, attracting insects for pollination and seed dispersal [2]. Flavonoids are subdivided into several classes, with three major ones in Arabidopsis thaliana: flavonols, anthocyanins, and proanthocyanidins (PAs, condensed tannins) [reviewed in [3]]. Flavonols contribute to UV-protection [4, 5], while the red and purple anthocyanin pigments play a role in light-attenuation and serve as antioxidants [reviewed in [6]]. PAs are also effective antioxidants [7], and, in A. thaliana, responsible for the brown color of seed coats (testa) [reviewed in [3]] subsequent to their oxidation [8, 9].
Mature seeds consist of the embryo, the end product of embryogenesis, surrounded by the seed coat [reviewed in [10]]. During embryogenesis, the fertilized egg cell (zygote) divides and differentiates into the following main stages: four cell stage, globular stage, heart stage, torpedo stage, walking-stick stage, curled cotyledon stage, and green cotyledon stage [[11], reviewed in [12]]. Recent studies have shown that silique and seed development are highly coordinated processes which involve embryogenesis and endosperm development, as well as the maternal development of the seed coat and siliques hulls [13, 14]. The testa of A. thaliana seeds mainly consist of the inner and outer integument. PAs exclusively accumulate in the innermost inner integument (the endothelium cell layer), the micropylar area and the chalazal bulb of A. thaliana seeds [9, 15, 16]. Mutants defective in PA accumulation, referred to as transparent testa (tt[17, 18]), have yellow to pale brown colored seeds [15].
Figure
1
presents a simplified, schematic representation of the flavonoid biosynthesis pathway in
A. thaliana
with a main focus on PA biosynthesis. These metabolites are synthesized in a series of enzymatic steps beginning with chalcone synthase (CHS), which synthesizes naringenin chalcone from 4-coumaroyl-CoA and malonyl-CoAs. Activities of the enzymes chalcone isomerase (CHI), flavanone 3-hydroxylase (F3H), and flavonoid 3'-hydroxylase (F3'H) result in the synthesis of dihydroflavonols. The enzyme dihydroflavonol 4-reductase (DFR) reduces dihydroflavonols to leucoanthocyanidins which are in turn converted to anthocyanidins by the activity of leucoanthocyanidin dioxygenase (LDOX). Anthocyanidins form a branching point in the flavonoid biosynthesis synthesizing anthocyanins (via glycosylation by UDP-dependent glucosyltransferases (UGTs)) or epicatechin (by the enzyme anthocyanidin reductase (ANR; BANYULS, BAN [
19
])). Epicatechin is the precursor of PAs [
19
], formed via the involvement of different enzymes including glutathione S transferase (GST), a multidrug and toxic compound extrusion-type transporter (MATE), a P-type H
+
-ATPase (AHA10), and a laccase-like (LAC). Genes encoding these proteins are collectively referred to as PA biosynthetic genes, although, for instance, the transporter is relevant for localization and not synthesis. Steps in late PA synthesis have yet to be elucidated [
20
].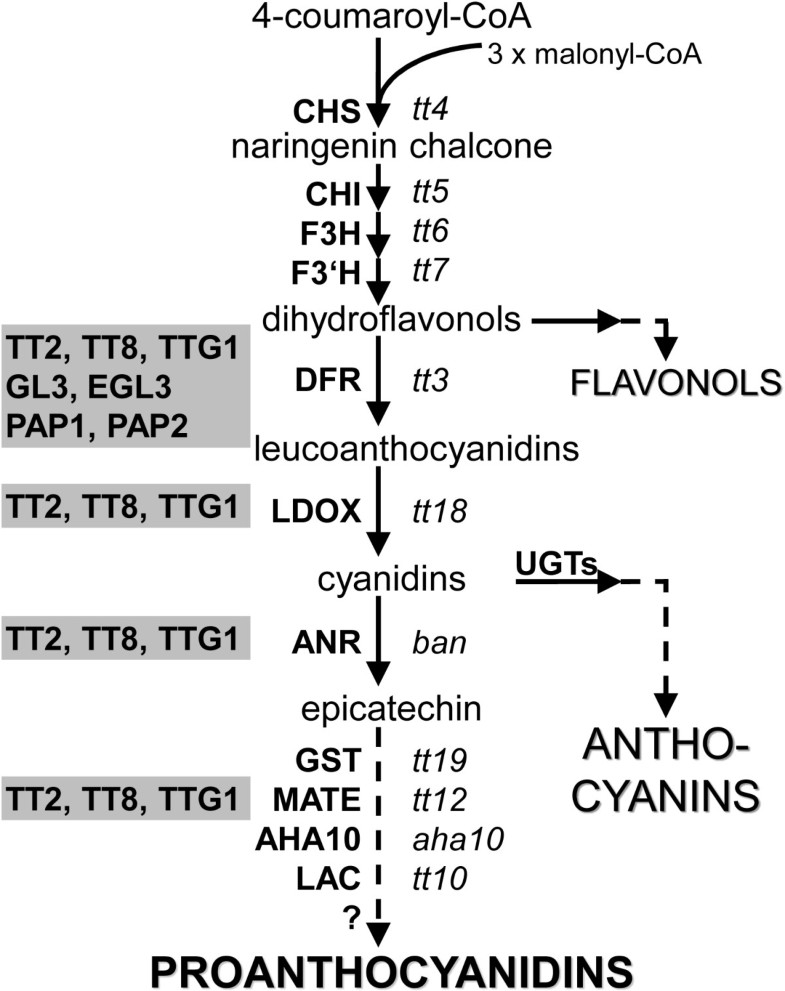 The expression of flavonoid biosynthesis genes is regulated by a hierarchy of different transcription factors (TFs), as reviewed in Lepiniec et al.[3]. The accumulation of PAs and anthocyanin compounds in A. thaliana is mainly regulated at the level of transcription by a heterotrimeric complex, composed of the WD40 protein TRANSPARENT TESTA GLABRA1 (TTG1), a basic helix-loop-helix (bHLH), and a R2R3-MYB (MYB) TF, which interacts with target promoters of flavonoid biosynthesis genes [reviewed in [21]]. In A. thaliana seeds, PA biosynthesis is known to be under the control of TTG1, TT8 (bHLH42), and TT2 (MYB123) [22–24]. In addition, the zinc-finger protein TT1 has been shown to be involved in seed-specific PA accumulation [25]. Anthocyanin biosynthesis is mainly regulated by TTG1, which interacts with several bHLHs (GLABRA3 (GL3), ENHANCER OF GLABRA3 (EGL3), TT8) and the R2R3-MYBs (PRODUCTION OF ANTHOCYANIN PIGMENT1 (PAP1, MYB75), PAP2 (MYB90), MYB113, and MYB114) [26].
Flavonoid accumulation has been widely used to study gene regulation in plants due to tissue-specific regulation of flavonoid biosynthesis genes in response to a variety of stress conditions [reviewed in [27]], as well as during development [reviewed in [28]]. Here, we present expression profiles of flavonoid biosynthesis genes during silique and seed development in A. thaliana. We relate expression data of flavonoid-, and PA biosynthesis genes in particular, with specific seed developmental stages. Finally, our organ-specific transcript data (from silique hulls and isolated seeds) provides useful markers for tissue-specific gene expression studies.
Declarations
Acknowledgements
CKK would like to thank the International NRW Graduate School in Bioinformatics and Genome Research for providing financial support. The authors wish to thank Ute Tartler, Melanie Kuhlmann, and Andrea Voigt for assistance with plant growth and harvest. We also thank Thomas Altmann, Lutz Nover, and Detlef Weigel for organizing the AtGenExpress consortium on which we rely on. We would like to acknowledge Oliver Jahns, Micheal Dondrup, and Jochen Blom for excellent technical support, as well as Helge Küster for critical reading and providing useful suggestions to improve the manuscript. A special thank to Divya Chandran for critical reading of the manuscript and language improvement.
Authors' Affiliations
(1)
Bielefeld University, Department of Biology, Genome Research, Bielefeld, Germany
(2)
International NRW Graduate School in Bioinformatics and Genome Research, Bielefeld University, Bielefeld, Germany
Copyright
© Weisshaar et al; licensee BioMed Central Ltd. 2010
This article is published under license to BioMed Central Ltd. This is an open access article distributed under the terms of the Creative Commons Attribution License (http://creativecommons.org/licenses/by/2.0), which permits unrestricted use, distribution, and reproduction in any medium, provided the original work is properly cited.