Research article
Open Access
Rapid phylogenetic and functional classification of short genomic fragments with signature peptides
BMC Research Notes
2012
5:460
Received: 21 June 2012
Accepted: 8 August 2012
Published: 28 August 2012
Abstract
Background
Classification is difficult for shotgun metagenomics data from environments such as soils, where the diversity of sequences is high and where reference sequences from close relatives may not exist. Approaches based on sequence-similarity scores must deal with the confounding effects that inheritance and functional pressures exert on the relation between scores and phylogenetic distance, while approaches based on sequence alignment and tree-building are typically limited to a small fraction of gene families. We describe an approach based on finding one or more exact matches between a read and a precomputed set of peptide 10-mers.
Results
At even the largest phylogenetic distances, thousands of 10-mer peptide exact matches can be found between pairs of bacterial genomes. Genes that share one or more peptide 10-mers typically have high reciprocal BLAST scores. Among a set of 403 representative bacterial genomes, some 20 million 10-mer peptides were found to be shared. We assign each of these peptides as a signature of a particular node in a phylogenetic reference tree based on the RNA polymerase genes. We classify the phylogeny of a genomic fragment (e.g., read) at the most specific node on the reference tree that is consistent with the phylogeny of observed signature peptides it contains. Using both synthetic data from four newly-sequenced soil-bacterium genomes and ten real soil metagenomics data sets, we demonstrate a sensitivity and specificity comparable to that of the MEGAN metagenomics analysis package using BLASTX against the NR database. Phylogenetic and functional similarity metrics applied to real metagenomics data indicates a signal-to-noise ratio of approximately 400 for distinguishing among environments. Our method assigns ~6.6 Gbp/hr on a single CPU, compared with 25 kbp/hr for methods based on BLASTX against the NR database.
Conclusions
Classification by exact matching against a precomputed list of signature peptides provides comparable results to existing techniques for reads longer than about 300 bp and does not degrade severely with shorter reads. Orders of magnitude faster than existing methods, the approach is suitable now for inclusion in analysis pipelines and appears to be extensible in several different directions.
Keywords
Signature PeptideReference GenomeReference DatabasePhylogenetic DistancePhylogenetic Profile
Background
As of this writing, DNA sequencers routinely produce more than 2 Gbp of data per hour, with the high-quality region of reads as short as 75 bp. Analytical methods that can keep up with this flow rate are urgently needed. Analysis is especially difficult for shotgun metagenomics data from environments such as soil where the diversity of sequences is high [1, 2] and where sequences from close relatives are not to be found in reference databases (e.g. [3]). Insight into microbial communities and their dynamics would be desirable for a number of important applications in medicine, agriculture, ecology, and industry [4].
The first step in most sequence analyses is finding a suitable answer to the question, "How close is this sequence to something seen before?". The notion of closeness implied in the question is a phylogenetic distance, which is most properly answered by a phylogenetic algorithm. Unfortunately the computational expense of such algorithms, coupled with the intractability of making the relevant alignments and trees for genes that may have large numbers of paralogs, make this approach infeasible at present except for a small fraction of gene families. The most common alternative is to find a proxy for phylogenetic distance in a more-readily-computed sequence similarity score as produced by the program BLAST [5] and its relatives. Yet the relationship between sequence similarity and phylogenetic distance is skewed by rates of acceptance of mutations that can range over many orders of magnitude over a length scale of tens of bases due to differences in functional constraints experienced by different parts of the gene [6]. Proteins from families of broadly-conserved genes and those parts of enzymes near an active site have significantly higher sequence identity than average [7]. The nature of current shotgun metagenomics data, with short reads from randomly-selected regions of genes, tends to accentuate the problem of transforming similarity scores to something resembling phylogenetic distances through injecting a noise term that can be difficult to remove by post-processing (e.g., [8–10]). This problem exists even for close matches, but is exacerbated as similarity declines since the underlying sequence alignment may also be called into question.
A variety of methods to classify shotgun metagenomic reads have been proposed, primarily based on protein families or gene clusters. These include partial assembly and hidden-Markov-model searches [11] of protein families [12, 13]; finding the closest neighbors in either nucleotide or protein space using a variety of similarity scores [8, 14]; and finding shared sub-strings of variable length via suffix trees [15]. Other alternatives to similarity scores include short-seed [16] and sub-HMM [17] methods. Phylogenetic analysis is typically the next step after classification, using Least Common Ancestor [8], nearest-neighbor [14, 15], or hierarchical scoring [9] to assign phylogeny to the sequences identified in the classification step. Because of the numerous pitfalls in designing a computer algorithm to define functionally meaningful protein families [18], many classification pipelines require continual curation of protein families, which involves multiple-sequence alignment and the computation of a phylogenetic tree for each family, in the hope of identifying orthologous genes [12, 19]. Such efforts are labor-intensive and limited by the paucity of biochemical validation of gene function. Another solution is to restrict analysis to a small number of well-behaved 'housekeeping' genes [20–22]. However, using this approach results in discarding the vast majority of sequence reads.
Exact amino acid k-mer matches with k in the range 3–6 have been employed to speed identification of homologous regions of genes for the purposes of constructing a multiple sequence alignment [23, 24]. In this work, we are considering higher values of k, in order to identify homologous genes by comparing entire bacterial genomes. We begin by comparing the genomes of two divergent bacteria and observing that random matches dominate for k < 8, while for k = 10, an average of only about one random match is expected between the genomes. Such 10-mer matches are evidently long enough to specifically discriminate a portion of a conserved gene from other genes or organisms, while sufficiently short as to be present in both reference genomes and soil metagenomics data sets.
Results
We begin by justifying our choice of k = 10 as the match length long enough to be specific, yet short enough to be prevalent in environmental samples. Building on this observation, we identify all 20 million strings of amino acids of length 10 which are shared by at least two reference genomes from distinct genera of bacteria. We denote these as orthogenomic signature peptides, and they serve as the foundation for the rest of our analysis. We then develop one algorithm to establish the correct phylogenetic placement of these signature peptides, another to classify metagenomic reads matched by signature peptides, and a final algorithm to functionally profile reads through use of an externally defined database. The use of fixed-length strings allows us to exploit standard index-based information retrieval techniques developed for web search engines.
Discussion
We have shown how finding fragments of DNA reads that code for proteins can be reduced to the simple and rapid operations of 6-frame translation followed by k-mer matching to signature peptides. Matching is intrinsically simpler than construction of local alignments, and many implementations of fast matching algorithms such as hash maps exist. Once the set of matches is obtained, assignment of phylogeny can be accomplished by a graph operation (greatest common descendant) that is fast compared with the translation and match steps. Any classification scheme that associates sequences with class can be subsumed by our method and the results counted; we have demonstrated functional classification with SEED, but other schemes such as KEGG, GO, Pfam, or any number of specialized classification schemes could have been used as well. Speeds of classification are such that a typical desktop computer running our analysis could easily keep up with the output of a next-gen DNA sequencer.
The perceived importance and practical difficulties of assigning phylogeny and function to metagenomic reads have spurred a significant amount of recent work exploring methods to reduce the size of the database against which local alignments must be performed as well as methods to estimate the appropriate specificity with which to assign a particular metagenomic read. We discuss here how our method relates to published work in these areas, explain how we tested specificity and sensitivity, and discuss extensibility of our method.
Speed compared to existing methods
The 250,000-fold speedup we obtain in comparison to running BLASTX against the NR database results as the result of three strategies: speeding up local alignment as much as possible, reducing the size of the reference database as much as possible, and pre-computing the phylogenetic relationships as much as possible. The first two of these strategies have been previously implemented by other analysis tools in one form or another.
It is possible to speed up homology searches with respect to BLAST by seeding the search with exact matches that are longer than the BLAST default of 3 residues. BLAT [42] uses 4-residue seeds and reports a 50-fold speedup with respect to BLASTX, while RAPSearch2 [43] uses 6-residue seeds and reports as 20–90 fold speedup when searching the NR database with little or no reduction in sensitivity or specificity. Figure 1 shows that the number of seeds that need to be considered drops by a factor of 5000 when comparing 6-mer to trimer seeds. It also shows that, depending on phylogenetic distance, between 90 and 99% of the matches identified by 6-mers are noise, in the sense of the term described in Figure 1. One way of thinking about our work is that we have extended the seed length from 3 residues to its practical limit of 10 residues, beyond which sensitivity drops off markedly. At that length the seed is the alignment, eliminating the need for further explicit local alignments. Even when running BLASTX against a database with the same 403 complete bacterial genomes we used, and assuming the upper-end 100-fold speedup described in [43], our method still exhibits a 160-fold higher throughput.
Another strategy for reducing search-space is to differentiate homologous protein matches with the synonymous nucleotides, typically at the third position of codons. As we observed with the synthetic data shown in Figure 6, this strategy increases the rate of BLAST search by approximately fifty, without a great cost in sensitivity. However, using this strategy does seem to increase the extent to which the presence of a near-neighbor in the reference database influences the sensitivity with which reads are assigned. Because codon usage can be discerned with relatively short genomic fragments without searching for amino acid homology, it is possible to do 'compositional binning' to provide a phylogenetic classification in the absence of a gene-homology search [44–46]. Given the desire of most researchers to exploit the observed homology of proteins from different organisms in their analysis, and the significant unpredictability of nucleotide patterns across the phylogenetic tree, it seems unlikely that these methods can be significantly improved. It is certainly possible to identify 'signature oligonucleotides' in the same manner as we have done for signature peptides, and one can easily imagine applications, such as looking for known pathogens, where nucleotide signatures will be valuable.
Analysis of the synthetic data shown in Figure 6 showed that the ability of BLASTX to assign the genomic data from soil bacteria did not degrade much when utilizing the same database of organisms that we used to generate our signature list, although throughput increased by approximately 60-fold. The results of the 16S comparison to completed genomes in Figure 8 provide a good indication as to why; the database is not well representative of soil bacteria. This observation supports our decision to place a minimum phylogenetic distance across which a peptide has to be observed in order to qualify as a signature peptide. Similar reasoning was behind efforts to seek out phylogenetically divergent bacteria for sequencing, in order to produce a Genomic Encyclopedia of Bacteria and Archaea [47]. Although this effort was just getting under way as our work began, we incorporated the forty genera of bacteria that were only available from this source into our reference set of genomes, and these organisms are indicated in Additional file 7.
Search-space can also be restricted by performing the phylogenetic classification within each protein family [48] or utilizing only a sub-set of 'housekeeping genes' for phylogenetic classification [20]. Neither of these two methods is particular rapid at identifying the subset of genes corresponding to a particular protein family. Because the signature peptides carry a functional assignment as well as a phylogenetic one, it is possible to perform a more detailed phylogenetic analysis on, for example, only the RNA polymerase genes; we showed that there were 2200 such fragments in the pair of MDE samples. Once this down-select is performed, it is possible to use complex tree-building algorithms, curated alignments, and assess quality scores of the metagenomic reads to obtain a detailed understanding of how the organisms in the metagenomic sample relate to those in another sample or the reference database. With the signature peptides, however, it is also possible to utilize past performance of particular signatures to screen for those which provide reliable phylogenetic assignments.
Sensitivity and specificity
Our strategies of using a length of 10 residues for matches and using a minimum phylogenetic distance cutoff, thereby eliminating need for a local alignment step and reducing the size of the signature list by 95%, appear to be novel and require demonstration that they do not adversely impact specificity and sensitivity. Testing for specificity is best done with two divergent and well-annotated genomes. We chose E. coli and B. subtilis and the results are provided in Figure 3 and Additional file 1. Given the practical value of even 5-mer peptides in rapidly identifying particular genes from thousands of complete genomes (data not shown), it is perhaps not surprising that 10-mer exact matches exhibit a great specificity. A test of the specificity of signature peptides on metagenomics data showed that they disagreed with BLASTX on ~350 base pair reads in only one case out of 2200 for the case of the RNA polymerase proteins.
The question of specificity of phylogenetic placement is somewhat ill-posed, and arguably depends on the type of data analyzed and the purpose of the experiment. By comparing our methods to three other representative methods in Figure 6, we have demonstrated they are comparable to one another in their ability to accurately place reads from a novel organism on an existing phylogeny. In Figure 10, we propose a different metric for the specificity of placement of metagenomic reads: How well can the phylogeny and function count vectors differentiate among metagenomes (signal) in comparison to their repeatability for replicates (noise)? Figure 10 demonstrates a signal-to-noise ratio of 400 for the phylogeny vector and 30 for the SEED function vector. We did not perform this calculation for alternative methods, but it appears the signature peptides will be valuable when used in this manner.
Perhaps more surprising, and definitely more subtle, is that the sensitivity of our method is comparable to BLASTX against NR, as demonstrated with synthetic data from organisms novel to the set of reference genomes in Figure 6, and metagenomics data in Table1. The modest decrease in sensitivity of approximately 25 percent is largely explained by the observation from Figure 3 that 20% of the genes in a typical genome do not contain 10-mers matching to another genome in our reference set of genomes. That the decreased sensitivity is due to the discarding of more variable (in the sense of gene inventory) proteins is supported by the relatively small variation of sensitivity observed among the four novel organisms presented in Figure 6, especially in comparison to BLASTN. Some understanding of why 10-mer exact matches have a high probability of matching a gene from a divergent organism when a cursory glance at a pairwise sequence alignment suggests such matches would be rare is provided by Figure 2. Genes that contain a signature peptide tend to have more than one scattered throughout the gene and typically match to multiple organisms. Once all the pairwise comparisons are made across hundreds of reference genomes, a pretty thorough sampling of possibility space is obtained. Support for the idea that possibility-space is well-sampled is found in the observation from the FACE data results that 83% of matching reads contained multiple signature peptides. Figure 11 suggests an explanation for why so many genes contain signature peptides might be that root-level signature peptides preferentially lie near the active sites of enzymes, where only a limited set of amino acid sequences are sufficiently adept at interacting with small molecules for the gene to propagate, along the lines suggested in [7].
The impact of sequencing errors on our method is relatively straightforward to understand. Because our method requires an exact match to an amino acid 10-mer, and because the number of signatures (3x107) is so much smaller than possibility space (1013), the dominant effect of introducing errors is a simple decrease in sensitivity given by the likelihood of the sequencing error occurring within all of the signatures in the read.
Extensibility
The software package BLAST was released over twenty years ago [5] at a time when sequence databases were much smaller and simple identification of sequence homology was quite valuable. Since that time, both the implementation and interpretation of BLAST has undergone significant evolution, the size of reference databases has increased by many orders of magnitude, and the types of questions asked of sequencing projects has changed significantly. Indeed, it would be possible to implement a process quite similar to our own within the space of allowed options of BLAST and a modest amount of additional post-processing. Nevertheless, a shift from interpretation of similarity scores of local alignments to phylogenetic identification of significant matches not only significantly speeds the analysis process, but makes feasible several new types of analyses. We explore some of them here.
Curation and refinement of signature peptide lists, whether with additional layers of algorithms, with manual intervention, or both, is certainly possible and attractive. The list of reference genomes could be expanded in resolution (to the species level) and extended to the other kingdoms of life. Signature peptides could be identified that are likely to be indicative of leaves on the tree, rather than nodes. Signatures derived from mobile elements such as plasmids could be identified as such and indicated as an attribute of the respective signature peptides. The 22% of the reads with conflicting phylogenetic signatures can be analyzed further to reassign signatures on the tree and thereby increase the specificity of classification where appropriate. The network of genes sharing a signature peptide can be subjected to analysis aimed at simplifying the graph structure by associating signature peptides with domains rather than with entire proteins.
Using the SEED functional classification scheme allowed us to compare broad categories of protein function, but much more work is needed on functional signature classifications that efficiently capture variances in real data while preserving connections with small molecules and pathways. Additional algorithms could be derived to extract 'niche' signatures from multiple metagenomics samples or sequencing data which is derived from a small group of organisms which cannot readily be separated. This information could be combined with curated databases of protein families and co-localization of signature peptides on either reference genomes or long-read metagenomics data. While much of the above is being explored within the context of BLAST and hidden Markov models, the signature-peptide formalism naturally lends itself to extension in areas such as these.
A recent example that exploits the ability of signature-based analysis to distinguish inheritance from horizontally transfer was used to shed insight on the nature of virulence in enteric bacteria [49]. This ability of signature-based methods to be embedded in more sophisticated algorithms, plus our method's local signatures and large phylogenetic radius of convergence, make the method particularly well-suited to a wide range of currently intractable sequence analysis problems.
Finally, signature peptides may be useful as physical objects in addition to being search terms. Peptide 10-mers are suitable to use as antigens for developing immunochemical assays of microbial community dynamics, though processing may be needed to make the corresponding protein fragments accessible to antibody binding. The amino-acid composition and positional dependence in signature peptides becomes significantly different from random selections of peptides from the genomes involved as the signature placement nears the root (not shown). The nature of these differences suggests that some root-level signature peptides may play a role in formation of hydrophobic pockets that bind small molecules. If true, signature peptides may be the minimal functional units that form the starting point for evolution, and may also be useful as fragments that are diagnostic of possible protein interactions with a given small molecule.
Conclusions
We have demonstrated that metagenomics reads can be accurately assigned both phylogeny and function entirely by a matching to a sorted list of 10-mer signature peptides. We also developed and utilized algorithms to identify the signature peptides, to assign individual signatures to nodes of a phylogenetic tree and categories of protein function, and to assign individual metagenomic reads both a phylogeny and function. Our software runs on a desktop-class computer, identifying protein fragments and classifying them for phylogeny and function at a rate of ~6.6 Gbp per hour on a single core, over 250,000 times the throughput of BLASTX run against the NR database [40] and about twice the rate of current sequencer output. We demonstrated our process on shotgun metagenomic reads on soil samples from five diverse ecological sites, with two field replicates from each location. We observed a sensitivity comparable to analysis performed at MG-RAST with an E-value cutoff of 10-10, a repeatability between field replicates of better than 99.9%, and a signal to noise ratio for distinguishing ecosystems of approximately 400. Having such a rapid alternative to conventional homology searches for phylogenetic and functional classification of short reads of DNA seems likely to impact bioinformatic applications beyond its immediate application to metagenome analysis.
Methods
Sample collection and sequencing
Sample collection and preparation was carried out as previously described [34, 50]. Sequencing was carried out on a 454 Genome Sequencer Titanium system at the LANL Joint Genome Institute. 454 sequencing is known to suffer from spurious near-duplication of reads [51, 52]. We used the program 454ReplicatesFilter [51] v20090611 with default parameters to identify and remove on average 12% (ranging between 4% and 21% per sample) of reads. 16S rRNA sequencing was done on an Applied Biosystems 3730xl instrument and analysis was performed at the Ribosomal Database Project website using RDP release 10 update 24 [53].
Reference genomes and phylogenetic tree calculation
A list of reference bacterial genomes is included as Additional file 7. Bacterial genomes were downloaded from NCBI (completed) and JGI (draft) in June of 2009. A phylogenetic tree was calculated based on the concatenated amino acid sequences of the beta and beta-prime subunits of the RNA polymerase. An initial multiple sequence alignment was calculated using MUSCLE [23], followed by iterative manual curation of the alignment with BioEdit [54] based on the known three-dimensional structure, and tree building with a maximum likelihood method employing a minimal model of protein functional pressure (RIND [55] and WEIGHBOR [56]). We placed the root of the tree at the long branch connecting gram-positive and gram-negative bacteria, in accord with current understanding of bacterial evolution [57]. the resulting tree (Additional file 2 and Additional file 3) compares well to those in the literature [58] and with 16S rRNA-based trees; it disagrees from the less-detailed NCBI taxonomy (where available) in only a handful of cases. Using this tree, the number of genomes was manually pruned from the total available genomes at that time to a reference set of 403 genomes that were separated from one another by a minimum evolutionary distance of 0.015 as calculated by RIND. This distance corresponds approximately to the distinctions conferred by genus names. Subsequent analysis used only the connectivity, not the distances in this tree.
Signature production
Calculation of signature peptides was carried out in version 0.8 of a program suite consisting of Python 2 and Java 1.6 code we call Sequedex. Biopython [59] v1.54 and Forester [60] v0.970 were used to manipulate phylogenetic data in PhyloXML. Protein sequences from genomes and putative peptide fragments from metagenomes were treated as documents, broken into overlapping k-mer terms, and indexed by Lucene [61] v2.4.1 with a custom k-mer tokenizer that allowed k to be specified at run time.
Figure
12
shows the process of signature generation.
k
-mer terms from every protein sequence in each of the reference genomes were merged into a single index. Terms that did not appear in more than one leaf were discarded, leaving only orthogenomic terms. Each orthogenomic term was assigned to the internal node on the phylogenetic tree that was the least common ancestor of the leaf nodes in which the term appeared. Terms from a single organism thus can be associated with any of the internal nodes along the path from the leaf node containing the organism to the root of the tree.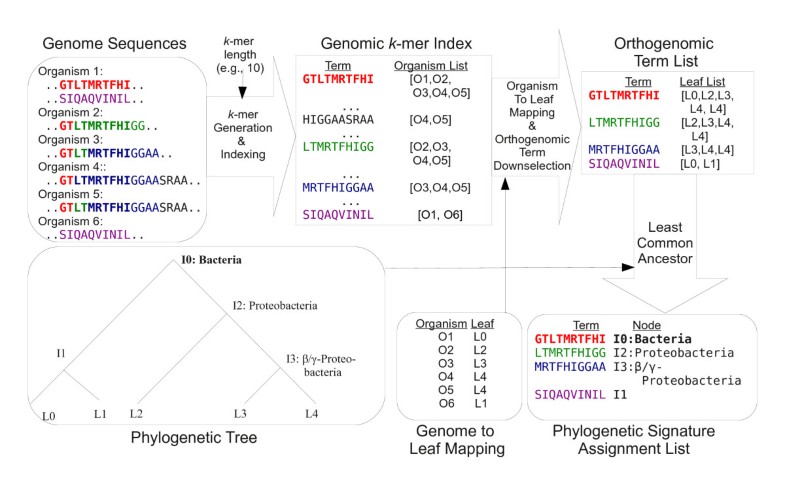 Production of putative protein fragments
Figure
13
shows the process of metagenome phylogenetic analysis. Six-frame translation to amino-acid space was carried out with the EMBOSS [
62
] utility transeq, with default parameters. Each frame was broken into putative peptide fragments (starting with either the upstream read boundary or the first residue after a stop codon, ending with either a stop codon or the downstream read boundary), subject to a minimum length restriction of 15 residues. This length restriction served to decrease the number of putatitve peptides to be searched without a serious decrease in sensitivity. Ambiguous residues were treated as stop codons.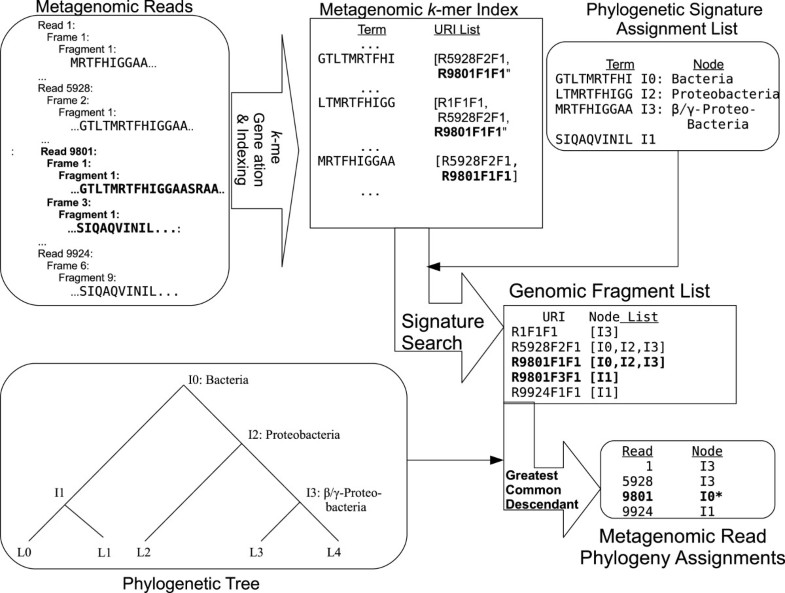 Matching and phylogenetic assignment of reads
Each putative protein fragment was broken into overlapping 10-mer peptides which were then matched against the list of signature peptides. Fragments that contained one or more signatures were thereby identified and lists of node assignments from the signatures were built up for each read. In most cases, the list of node assignments was a subset of the internal nodes along a single path from the leaf to the root (monophyletic). In this case, the read is assigned to the most specific node found (the node that is farthest from the root). The possibility exists, however, of a read arising from an organism whose protein domain inventory differs from those in the reference genomes in such a way that nodes from more than one path from leaf to root will be found (non-monophyletic). In this case, we assign the read to the node that is the least common ancestor of those nodes that are farthest from the root. Phylogeny assignment calculations are faster than the translation and matching steps.
For all the analysis presented here, matching was done via the index structure produced by Sequedex and Lucene. However, since none of the analysis relied on the additional information in the index beyond which signature peptides matched and since indexing was the slowest step in the process (~0.2 Gbp/hr) we wrote code to do the search without having to make an index which we call Sequescan. Sequescan reproduces the results of the index-based Sequedex, but it processes data (as of version 0.1) at a rate of approximately 6.6 Gbp/hr (from FASTA file to classification) on a single core of a Intel Core i7 machine with a fixed memory requirement of <6 GB. The processing rate per CPU and memory usage of Sequescan seems to be approximately independent of read length and is independent of number of processes up to at least 4. We are writing a multi-threaded version of Sequescan that we expect to be available at time of publication for free download as listed below.
Generation of synthetic data
Synthetic data were created from complete genomes of Shigella flexneri 2a and Dehalogenomonas lykanthroporepellens BL DC 9 uid48131 as well as the four draft genomes used to generate Figure 6, using MetaSim v.95 [63] with no error model, no paired ends, and fixed read length.
Functional assignment of reads
Functional assignment of metagenomic reads is done by collating the functional assignments of the matching signatures. To this end, we looked for signatures that could be found in sequences from the 1088 subsystems of the SEED database [39–41], downloaded in January of 2010. Signatures were assigned to all subsystems that matched. On average, 69% of bacterial reads in any sample were assigned to one or more SEED subsystems. A single read is assigned to n subsystems by computing the union over all reading frames of the intersection of subsystems associated with each reading frame for which orthogenomic signatures were found. Each assigned subsystem is then allotted 1/n counts for this read. For Figure 9, SEED subsystems were hierarchically grouped into the 28 high-level categories found in the SEED file 'subsystems2role'.
Availability
Free software to produce the phylogenetic and functional profiles described here for arbitrary metagenomics or synthetic data sets will be made available at http://sequedex.lanl.gov.
Declarations
Acknowledgements
We thank Tom Brettin, Patrick Chain, John Dunbar, Paul Fenimore, Will Fischer, Peter Hraber, Carla Kuiken, Blaire Steven, Leonard Thatch, and Hans Frauenfelder, for insightful discussions; Susannah Tringe at the DOE Joint Genome Institute, Walnut Creek, for technical help with sequencing; Cliff Han for the draft soil genomes used in Figure 6, Aaron Darling for a helpful review of the manuscript, and Gary Resnick, Frank Alexander, Alan Bishop, and Bill Priedhorsky for their support. This work was supported by the Laboratory Directed Research and Development Program of Los Alamos National Laboratory under U.S. Department of Energy Contract No. W-7405-ENG-36. Metagenomic sequencing of soils from the FACE and OTC sites was supported by a US DOE/BER Science Focus Area grant to CRK (2009LANLF260), and was conducted by the US DOE Joint Genome Institute. Research at the FACE sites is supported by the OBER, U.S. Department of Energy. Metagenomic data sets are available on the IMG/M site (http://img.jgi.doe.gov/cgi-bin/m/main.cgi) with IMG submission IDs for MDE 1,2: 1023, 1091; NCD 1,2: 1089, 1088; CREO 1,2: 966, 1021; CRUST 1,2: 1022, 1090; ORNL 1,2: 1024, 1025.
Authors' Affiliations
(1)
Physics Division, MS D454, Los Alamos National Laboratory, Los Alamos, USA
(2)
Theoretical Division, MS K710, Los Alamos National Laboratory, Los Alamos, USA
(3)
Computer, Computational, and Statistical Sciences Division, MS B256, Los Alamos National Laboratory, Los Alamos, USA
(4)
Bioscience Division, MS M888, Los Alamos National Laboratory, Los Alamos, USA
Copyright
© Berendzen et al.; licensee BioMed Central Ltd. 2012
This article is published under license to BioMed Central Ltd. This is an Open Access article distributed under the terms of the Creative Commons Attribution License (http://creativecommons.org/licenses/by/2.0), which permits unrestricted use, distribution, and reproduction in any medium, provided the original work is properly cited.