Sharing and re-use of phylogenetic trees (and associated data) to facilitate synthesis
BMC Research Notes
2012
5:574
Received: 27 April 2012
Accepted: 24 August 2012
Published: 22 October 2012
Abstract
Background
Recently, various evolution-related journals adopted policies to encourage or require archiving of phylogenetic trees and associated data. Such attention to practices that promote sharing of data reflects rapidly improving information technology, and rapidly expanding potential to use this technology to aggregate and link data from previously published research. Nevertheless, little is known about current practices, or best practices, for publishing trees and associated data so as to promote re-use.
Findings
Here we summarize results of an ongoing analysis of current practices for archiving phylogenetic trees and associated data, current practices of re-use, and current barriers to re-use. We find that the technical infrastructure is available to support rudimentary archiving, but the frequency of archiving is low. Currently, most phylogenetic knowledge is not easily re-used due to a lack of archiving, lack of awareness of best practices, and lack of community-wide standards for formatting data, naming entities, and annotating data. Most attempts at data re-use seem to end in disappointment. Nevertheless, we find many positive examples of data re-use, particularly those that involve customized species trees generated by grafting to, and pruning from, a much larger tree.
Conclusions
The technologies and practices that facilitate data re-use can catalyze synthetic and integrative research. However, success will require engagement from various stakeholders including individual scientists who produce or consume shareable data, publishers, policy-makers, technology developers and resource-providers. The critical challenges for facilitating re-use of phylogenetic trees and associated data, we suggest, include: a broader commitment to public archiving; more extensive use of globally meaningful identifiers; development of user-friendly technology for annotating, submitting, searching, and retrieving data and their metadata; and development of a minimum reporting standard (MIAPA) indicating which kinds of data and metadata are most important for a re-useable phylogenetic record.
Keywords
EvolutionPhylogenyData sharingBioinformaticsPhyloinformaticsStandards
Findings
Re-use of scientific data underlying published research may take many different forms, including study replication, aggregating the data with other data of the same type, and integrating it with data of other types. In some instances, the form of re-use is unanticipated by the initial researcher (re-purposing). Re-use of data is critical to the distinctively self-policing and progressive nature of science, allowing scientists to evaluate and build on the work of others.
Various environmental and technical factors may be assumed to influence sharing and re-use of scientific data: it may be facilitated by software tools and community infrastructure such as public archives; it is guided by institutional policies and informed by educational practices; and it is encouraged (or discouraged) by cultural attitudes. The roles of these factors are apparent in regard to prevailing practices for sharing of DNA and RNA sequence data. Unrestricted sharing was stimulated enormously by journal policies requiring archiving in GenBank [1] as a condition of publication. Software tools and instructions from the resource-provider (e.g., Entrez [2]) make it easy to locate and retrieve archived sequence records. The retrieved records are available in formats readable by many kinds of software, and these records include metadata (e.g., species sources, publication links) vital for interpretation.
The result has been an explosion in scientific productivity in the form of systematic and synthetic research based on re-used sequence data. A similar story could be told in regard to macromolecular structure data in PDB [3]. Note that this explosion in sharing of "data" is not based on the narrow "empirical observation" sense of "data" (i.e., raw data such as sequence traces or crystal diffraction patterns), but implicates synthetic and computed results (1D sequences and 3D structures) crucial to the conclusions of a scientific study.
An explosion in synthetic evolutionary science is also conceivable [4] given similar advances in sharing of comparative data. Evolutionary comparative analysis, which puts comparative data in an evolutionary context, is used throughout biology, in biodiversity studies, systematics, genomics, molecular evolution, and so on. The use of evolutionary comparative analysis is widespread because it represents the appropriate type of statistical analysis to use when comparing entities (e.g., genes, proteins, organisms) that are non-independent samples related by descent-with-modification from common ancestors, i.e., related by evolution. Through comparative evolutionary analysis, biologists infer trees that provide a natural hierarchical classification, and they make functional inferences about molecular, morphological and behavioral traits.
Comparative evolutionary analysis involves several types of re-useable information, illustrated in Figure
1
(modified from [
5
]). A phylogenetic tree representing the evolution of a set of entities— called OTUs (Operational Taxonomic Units)— is computed by specialized software, often using an input matrix of "character-state data" consisting of compared traits for the OTUs. Frequently the input matrix is a sequence alignment, i.e., the compared traits (characters) are aligned residues in a sequence, but it may also be a matrix of non-sequence characters, or a mixture of the two. Some comparative studies focus on inferring the correct phylogeny for a set of OTUs, while others focus more on using phylogenetic analysis to test hypotheses or to make inferences about compared traits.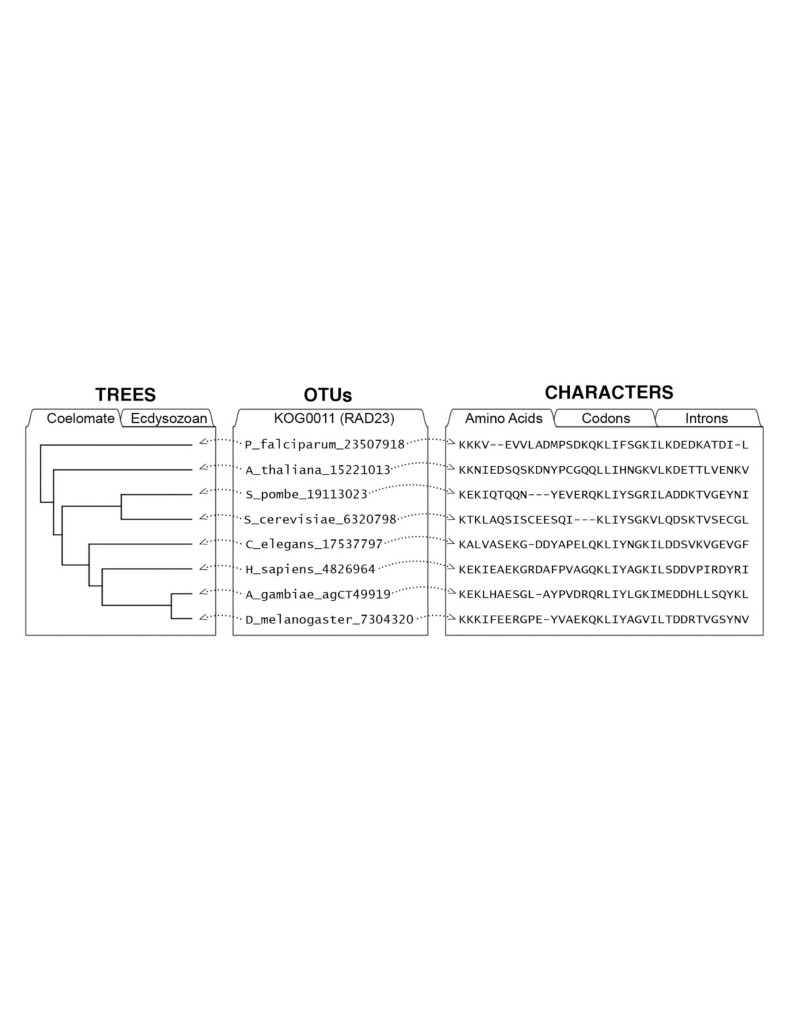 All of the data from comparative studies are potentially re-usable, from raw observations, to homologized (aligned) characters, to phylogenies and other inferred results. However, in order to be re-used successfully, a scientific result must be stored, discovered, accessed, decoded, interpreted and evaluated— and each of these steps may pose barriers due to lack of the knowledge and the technology that promotes sharing and re-use.
How often are phylogenies (and associated data) re-used? For what purposes are they re-used? Which research areas rely most on re-used data? What are the most important barriers faced by users? The answers to these questions are not known at present. This lack of knowledge makes it difficult for end-users, technology developers, and policy-makers to make the kinds of strategic decisions that would facilitate sharing and re-use of phylogenies and associated data.
To address this deficit of knowledge, we have carried out initial reviews of current practices in publishing and archiving phylogenetic trees; relevant policies of journals and funding agencies; data formats for representing trees and aligned data; and the barriers to re-use experienced by phylogeny users.
We find that re-usable trees are available for only a small fraction of an estimated 7700 studies reporting new phylogenies in 2010: the vast majority of recently published trees are available only as graphic image files, often behind paywalls. Even when re-usable trees are available, they often lack externally meaningful identifiers for OTUs, and nearly always lack methods information sufficient for prospective re-users to evaluate their suitability. Phylogeny-related research depends heavily on the re-use of archived sequences. However, re-use of alignments and trees is increasingly important, particularly the use of extremely large "megatrees" that cover a broad taxonomic group. Scientific users interested in data re-use experience a variety of barriers including lack of archiving, paywalls, scrambled names, untraceable OTUs, incompatible formats, and so on. Current policies are unlikely to alter this situation significantly in the absence of broader community engagement to raise the frequency of archiving, increase the use of machine-processable names, improve the discoverability of archived records, and develop standards and technology to allow the kinds of annotations that users need to evaluate archived results. Nevertheless, the evolutionary research community appears poised to confront these challenges [6].
Availability of supporting data
Supporting data (http://dx.doi.org/10.5061/dryad.h6pf365t) have been deposited in the Dryad Repository, including: (1) a README file describing the contents of each file, (2) user stories regarding barriers to re-use, and (3) spreadsheets (in Excel and CSV format) with the results of the several literature surveys described here.
Declarations
Acknowledgements
We thank Brandon Chisham, Nico Cellinese, Katy Frederick, Travis Gallagher, Ian Major, Ryan W. Norris, Anne O'Connor, Enrico Pontelli, Ramona Walls and Jeremy Wright for sharing experiences of phylogeny users. We thank Biodiversity Standards (TDWG) for supporting the 2010 phylogenetic standards workshop in Woods Hole, MA, and we thank Nico Cellinese and Hilmar Lapp for organizing the workshop. We thank Ryan Scherle for help understanding Dryad, and Bill Piel for answering many questions about TreeBASE. The identification of specific commercial software products is for the purpose of specifying a protocol, and does not imply a recommendation or endorsement by the National Institute of Standards and Technology.
Authors' Affiliations
(1)
Biochemical Science Division, NIST, Gaithersburg, USA
(2)
Department of Ecology & Evolutionary Biology, University of Tennessee, Knoxville, USA
(3)
NMNH, Smithsonian Institution, Washington, USA
(4)
Department of Biology and Biochemistry, University of Bath, Bath, UK
(5)
Department of Biology, Marshall University, Huntington, USA
(6)
Center for Evolutionary Medicine and Informatics, Biodesign Institute and School of Life Sciences, Arizona State University, Tempe, USA
(7)
Department of Ecology and Evolutionary Biology, Yale University, New Haven, USA
(8)
NCB Naturalis, Leiden, the Netherlands
Copyright
© Stoltzfus et al.; licensee BioMed Central Ltd. 2012
This article is published under license to BioMed Central Ltd. This is an Open Access article distributed under the terms of the Creative Commons Attribution License (http://creativecommons.org/licenses/by/2.0), which permits unrestricted use, distribution, and reproduction in any medium, provided the original work is properly cited.