Research article

Open Access
Invasion of Solanum tuberosum L. by Aspergillus terreus: a microscopic and proteomics insight on pathogenicity
BMC Research Notes
2014
7:350
Received: 10 February 2014
Accepted: 4 June 2014
Published: 10 June 2014
Abstract
Background
Aspergillus terreus is one of the most harmful filamentous fungal pathogen of humans, animals and plants. Recently, researchers have discovered that A. terreus can cause foliar blight disease in potato (Solanum tuberosum L.). We used light and scanning electron microscopy, and performed proteomics analysis in an attempt to dissect the invasion process of A. terreus in this important crop.
Results
Microscopic study revealed that invasion of leaf tissue is marked by rapid germination of A. terreus phialidic conidia (PC) by 4 h after inoculation. By 8 h after inoculation, primary germ tubes from PC differentiated into irregular protuberance, often displayed stomata atropism, and failed to penetrate via the epidermal cells. Colonization of leaf tissues was associated with high rate of production of accessory conidia (AC). These analyses showed the occurrence of a unique opposing pattern of AC, tissue-specific and produced on melanized colonizing hyphae during the infection of leaf tissue. A significant proteome change hallmarked by differential expression of class I patatin, lipoxygenase, catalase-peroxidase complex, and cysteine proteinase inhibitor were observed during tuber colonization. These proteins are often involved in signal transduction pathways and crosstalk in pathogenic responses.
Conclusion
A. terreus abundantly produced AC and multipolar germinating PC to invade potato leaf tissue. Additionally, A. terreus differentially induced enzymes in potato tuber during colonization which facilitates rapid disease development.
Keywords
Opposing accessory conidia
Proteome
Multipolar conidia germination
Stomata atropism
Lipoxygenase
Class I patatin
Scanning electron microscopy
Background
The genus Aspergillus, a member of the phylum Ascomycota, includes over 185 known species [1]. Aspergillus terreus Thom (Deuteromycotina) belongs to the group of filamentous fungi which produces two types of asexual conidia viz., 1) the ultra-small size phialidic conidia (PC), mainly produced at the tips of conidiophores, and 2) the globose-hyalinated accessory conidia (AC), which emerges laterally from hyphae. Although A. terreus is beneficial for industrial production of lavastatin, gliotoxin and bioethanol [2], the pathogen causes severe damages in agriculture and human health [3]. Disturbingly, there is prediction that 4% of all patients who die in hospitals die of invasive aspergillosis [4]. A. terreus causes severe loss to important crops worldwide, and destroying over 125 million tons of rice (Oryza sativa L.), wheat (Triticum aestivum), potato (Solanum tuberosum L.), maize (Zea mays) and soyabean (Glycine max L.) every year [3, 5].
Despite the vast studies on invasive aspergillosis [6–9], the mode of colonization of plant host by Aspergillus species is poorly understood. Nonetheless, it has been proposed that injuries on plant tissues are prerequisite for successful colonization [10, 11]. At the farm level, host genotype, soil type, drought conditions and high level insect activities are important factors that determine the dissemination and development of Aspergillus diseases [12]. On a putative host, A. terreus produces toxic metabolites such as territrem A, territrem B and territrem C [13], which enhance pathogenicity. Recently, A. terreus is shown to cause root rot diseases in wheat and Lolium species [14]. In potato, foliar blight caused by A. terreus amounts to 30-60% of the total leaf surface [15, 16], but the infection process is not elucidated. Therefore, we set as objective to study the infection process of potato by A. terreus.
Results and discussion
Phylogenetic placement of the studied strain
By comparing at the level of
calmodulin
(
Cmd
) locus, our strain of
A. terreus
(GenBank® accession number KC305600) with reference strains available at NCBI nucleotide data base, a total of 109 patterns out of a total of 729 sites were found and 670 sites were without single nucleotide polymorphism (92.48%). Based on the
Cmd
locus, our strain of
A. terreus
(GenBank® accession number KC305600) showed 98% identity with
A. terreus
(GenBank® accession number EU147532) but failed to cluster with other strains (Figure
1
). Closely related strains to
A. terreus
(GenBank® accession number KC305600) were all singletons (or unclustered strains) suggesting divergent evolution (Figure
1
). Further information associated with phylogenetic placement of the studied
A. terreus
is available in Dryad Digital Respository as
http://dx.doi.org/10.5061/dryad.590j0
. This strain (GenBank® accession number KC305600), hereinafter designated as
A. terreus,
produced small aseptate phialidic conidia (2.1–2.3 μm diameter), with 2–3 deep grooves that tapered into a hornlike projection (Figure
2
A). Clinical strain previously described based on scanning electron microscopy (SEM) micrograph [
6
] had no hornlike projection and no deep grooves.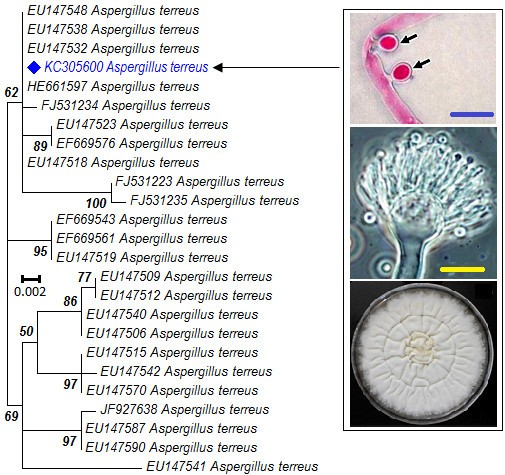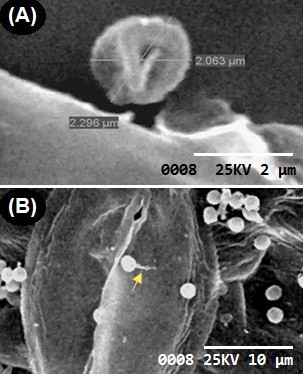 The infection process
Strikingly, using clinical isolates, Deak et al.[20] reported that AC morphology varies among strains and remains fairly consistent for any given strain. In contrast; it is found herein that opposing AC not reported before is produced by A. terreus during invasion on potato cv. Kufri Jyoti leaf tissue (Figure 8). Another question arises as to why opposing AC developed during potato leaf colonization are not observed on the potato tuber? Wilson et al.[21] suggested that a pathogenic fungus could receive morphological and chemical signals from host plant which are direct consequence of fungal invasion. According to Lass-Flörl et al.[22], host characteristics as well as inoculum size could affect A. terreus virulence. Based on these previous studies [21, 22], we concluded that the opposing AC is produced as a function of specific host tissue signal.
A. terreus AC was demonstrated to have significant amount of metabolic activity [20]. Thus, AC ultimately excretes waste metabolic products which might be toxic to the host. Often, fungi and fungal spores are able to colonize and infiltrate into the matrices of agricultural crops and produce mycotoxins causing damage [13, 23]. A. terreus generally produces toxic metabolites on host [4, 5, 9]. As shown (Figure 5), A. terreus spores (i.e. PC and AC) does not penetrate the leaf tissue during invasion. However, A. terreus abundantly produced AC during colonization (Figures 6, 7, 8 and 9). Collectively, there is likelihood that waste metabolites produced from AC might negatively affect the host defense leading to the development of disease. A. terreus is often explored as a bioagent for pest control [19, 24]. Nevertheless, A. terreus is an efficient cellulase producer [25, 26]. Cellulase is a key virulent factor for most phytopathogenic fungi [26, 27]. We suggest that the foliar disease (Additional file 1: Figure S1B) akin to previous study [15], might be due to cellulolytic activity, and the discharge of toxic metabolic waste from the propagation of A. terreus since no direct penetration was observed (Figure 5). Inoculum size and host characteristics are also suggested to affect A. terreus virulence in animal models [22]. Additionally, because the amount of AC increased during the infection process (Figures 6 and 8), it can be concluded that A. terreus inoculum equally increases during colonization. Also, the abundant production of AC colonization indicates it plays a key role in A. terreus pathogenicity on potato leaf. Elsewhere, it was reported that the production of AC induces heightened inflammatory responses in a pulmonary model, and also participates in interaction with macrophages [7, 28]. As shown in this study, abundant production of AC is associated with successful colonization of potato leaf.
Analysis of proteome changes during colonization
In order to understand the mechanism by which
A. terreus
interact with potato host, one dimensional SDS-polyacrylamide gel electrophoresis (1-D) was used. The changes in leaf and tuber proteins of potato cv. Kufri Jyoti were studied. No significant change in leaf proteins at different time points was observed (Figure
10
), and because of this, we focused on significant proteome changes in tuber slices.
A. terreus
rapidly invaded potato cv. Kufri Jyoti tuber slices rendering it difficult to quantify the rate of colonization (Figure
11
). Qualitatively,
A. terreus
produced an effuse whitish colony (of average diameter 20 mm) by 48 h after inoculation on potato slices (Figure
11
A). By 96 h after inoculation,
A. terreus
completely colonized potato cv. Kufri Jyoti tuber slices (of sizes 6 cm × 0.75 mm × 0.75 mm), and produced a brownish-white appearance (Figure
11
B).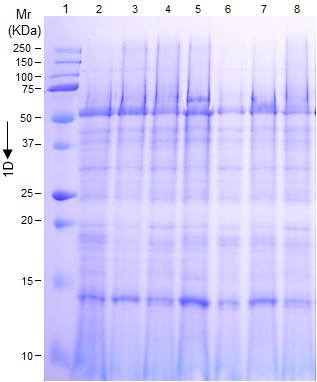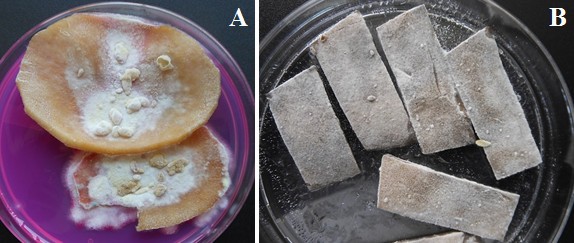 We observed a significant proteome change by 96 h only, after inoculation of
A. terreus
on tuber slices using 1-D analysis (Figure
12
A). Additionally, crude proteins obtained at 96 h after inoculation of tuber was further separated by two dimensional SDS-polyacrylamide gel electrophoresis (2-D) for high resolution (Figure
12
B, C). Herein, only proteins from
A. terreus
interaction with potato tuber were identified and discussed (Figure
12
D: Table
1
). Based on matrix-assisted laser desorption/ionization time-of-flight/time-of-flight tandem mass spectrometry (MALDI-TOF/TOF MS/MS), spot-1 was identified as potato lipoxygenase (pLOX). It is worth mentioning that LOX is an enzyme whose catalytic activity depends on a non-heme iron prosthetic group at the catalytic site. LOX plays a crucial role in the production of reactive oxygen species (ROS) during pathogen attack [
29
]. Spot-2 was identified as cysteine proteinase inhibitor (pCPI). Generally, pCPI plays multifarious roles which include degradation of storage proteins, turnover of stressed or damaged proteins, and programmed cell death associated with hypersensitive reaction in the case of pathogen attack [
30
,
31
]. Spot-3 was identified as a catalase-peroxidase (CATP) complex secreted by
A. terreus
during infection. This enzymatic complex generally scavenges hydrogen peroxides and ROS [
31
]. The production of pLOX and CATP complex by potato and
A. terreus
, respectively; strongly suggests functional interactive antagonism during invasion. Spot-4 was identified as patatin precursor, non-sucrose-inducible (PPSI) of potato. Spot-5 was identified as class I patatin of potato having lipase activity. Spot-6 was identified as a transporter protein expressed by
A. terreus
, as a result, this peptide spot did not match with any peptide spot on control tuber slice (Figure
12
B, C). Noteworthy, most of the conspicuous untagged spots on the 2-D gels (Figure
12
B, C) were identified as fragments of patatin (data not shown). Overall, results suggest most of the identified differentially expressed proteins on colonized potato tuber had enzymatic activities as well as defense related putative functions (Figure
12
D: Table
1
). Worth noting, results from MALDI-TOF/TOF MS/MS analysis produced some variations in experimental and theoretical
pI
and Mr values (Table
1
). Such variations are common in mass peptide fingerprinting analysis [
18
,
32
,
33
]. It is suggested that variations can be due to post translational modifications such as ubiquitination, sumoylation, glycosylation, alternative splicing, endoproteolytic cleavage, and ecological niche of the host [
18
,
32
,
33
]. It might be possible that proteolytic degradation occurred in this study based on the evidence that pCPI was up-regulated (Table
1
).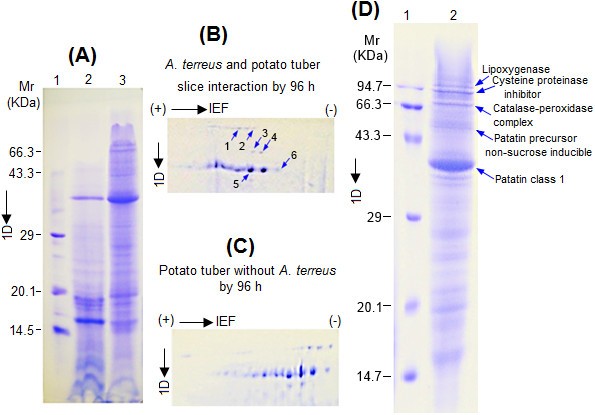 Table 1
Identified differentially expressed proteins following interaction of Aspergillus terreus with potato tuber
| aSp | bDiff. exp. | Protein identity | Accession | Source | cExp. pI/dThr. pI | eSc. | fCov. | gF.exp. | Putative function |
| --- | --- | --- | --- | --- | --- | --- | --- | --- | --- |
| 1 | Up-regulated | Lipoxygenase | O22507 | Solanum tuberosum L. | 6.31/6.49 | 100 | 50 | 2.1 | Defense/disease |
| 2 | Up-regulated | Cysteine proteinase inhibitor | S38742 | Solanum tuberosum L. | 7.69/7.78 | 100 | 56 | 2.9 | Defense/disease |
| 3 | Non-matching | Catalase-peroxidase | Q96VT4 | Aspergillus nidulans | 6.06/5.89 | 62 | 45 | - | Defense/disease |
| 4 | Up-regulated | Patatin precursor non-sucrose-inducible | S51596 | Solanum tuberosum L. | 7.69/7.90 | 108 | 70 | 1.8 | Metabolism |
| 5 | Up-regulated | Patatin class 1 | T07592 | Solanum tuberosum L. | 5.32/5.18 | 60 | 45 | 1.5 | Metabolism |
| 6 | Non-matching | Transport protein USO1 | Gi/28881127 | Neurospora crassa | 5.17/5.07 | 57 | 30 | - | Transport |
As a whole, how pLOX, pCPI, CATP and PPSI interacts during A. terreus invasion on potato tuber is not known and requires further investigation. Nevertheless, it might be possible that once potato tuber senses A. terreus; class I patatin having lipase activity is differentially up-regulated, which mobilizes lipid reserves. This might trigger the induction of pLOX which performs lipid peroxidation and produces reactive oxygen species (ROS). These ROS can negatively affect the fungal development [31]. Nonetheless, A. terreus could circumvent pLOX ROS-mediated defence by overexpressing CATP to neutralize ROS and arrest host programmed cell death. Therefore, a type of functional antagonism is observed between pLOX and CATP. Nonetheless, the neutralizing effect possibly triggers potato tubers to express pCPI to carry out a global proteolytic reaction for all stressed proteins at the infection site. Although the potato tuber might appear to defend itself by expressing a plethora of defence-related enzymes, abundant expression of pLOX appears crucial since it can inhibit fungal development [34, 35]. An interesting approach to study plant–A. terreus– human interactions was conceived, and brought insights on the host shifting virulence of A. terreus[6]. Lass-Flörl et al.[9] also showed that potted plants infected with A. terreus present near patients in a hospital, latter on caused lethal infections in nine patients subjected to myloblative chemotherapy. This shows A. terreus is a harmful pathogen [3, 8, 16] and should be studied using plant and animal models in order to understand its mechanism of colonization.
Conclusion
To conclude, abundant production of accessory conidia on potato leaf and differential expression of enzymes on potato tuber slices are crucial for successful colonization of potato crop. Our data contributes towards A. terreus intractable pathogenicity of A. terreus in host plants.
Abbreviations
PC:

Phialidic conidia
AC:

Accessory conidia
BIC:

Bayesian information criterion
AICc:

Akaike information criterion, corrected
ML:

Maximum likelihood
SEM:

Scanning electron microscopy
1-D:

One dimensional SDS gel electrophoresis
Mr:

Molecular mass
pI:

Isoelectric pH
IEF:

Isoelectric focusing
2-D:

Two dimensional SDS gel electrophoresis
CBR:

Coomassie brilliant blue R250
IPGs:

Immobilized pH gradient strips
MALDI-TOF/TOF MS/MS:

Matrix assisted laser desorption/ionization-time of flight/time-of-flight tandem mass spectrometry.
Declarations
Acknowledgements
This research was jointly supported by the Academy of Sciences for Developing World (TWAS), Trieste, Italy and the Department of Biotechnology, Government of India (Program No. 3240223450). The authors thank DK Hore, RC Rashmi and N Mazumder for proofreading the manuscript. The University Science Instrumentation Centre, Burdwan University for some of the SEM micrographs.
Disclaimer
The findings and conclusions in this article are those of the authors and do not necessarily represent the views of funding organisation.
Authors' Affiliations
(1)
Institute of Bioresources and Sustainable Development (IBSD), Imphal, India
(2)
Department of Biotechnology, The University of Burdwan, West Bengal, India
(3)
Department of Biochemistry, University of Yaoundé I, Yaoundé, Cameroon
(4)
Department of Biotechnology, Haldia Institute of Technology, Haldia, India
(5)
Regional Centre of Institute of Bioresources and Sustainable Development (RCIBSD), Gangtok, India
Copyright
© Louis et al.; licensee BioMed Central Ltd. 2014
This article is published under license to BioMed Central Ltd. This is an Open Access article distributed under the terms of the Creative Commons Attribution License (http://creativecommons.org/licenses/by/4.0), which permits unrestricted use, distribution, and reproduction in any medium, provided the original work is properly credited. The Creative Commons Public Domain Dedication waiver (http://creativecommons.org/publicdomain/zero/1.0/) applies to the data made available in this article, unless otherwise stated.