Animal Ca2+ release-activated Ca2+ (CRAC) channels appear to be homologous to and derived from the ubiquitous cation diffusion facilitators
BMC Research Notes
2010
3:158
Received: 5 June 2009
Accepted: 3 June 2010
Published: 3 June 2010
Abstract
Background
Antigen stimulation of immune cells triggers Ca2+ entry through Ca2+ release-activated Ca2+ (CRAC) channels, promoting an immune response to pathogens. Defects in a CRAC (Orai) channel in humans gives rise to the hereditary Severe Combined Immune Deficiency (SCID) syndrome. We here report results that define the evolutionary relationship of the CRAC channel proteins of animals, and the ubiquitous Cation Diffusion Facilitator (CDF) carrier proteins.
Findings
CDF antiporters derived from a primordial 2 transmembrane spanner (TMS) hairpin structure by intragenic triplication to yield 6 TMS proteins. Four programs (IC/GAP, GGSEARCH, HMMER and SAM) were evaluated for identifying sequence similarity and establishing homology using statistical means. Overall, the order of sensitivity (similarity detection) was IC/GAP = GGSEARCH > HMMER > SAM, but the use of all four programs was superior to the use of any two or three of them. Members of the CDF family appeared to be homologous to members of the 4 TMS Orai channel proteins.
Conclusions
CRAC channels derived from CDF carriers by loss of the first two TMSs of the latter. Based on statistical analyses with multiple programs, TMSs 3-6 in CDF carriers are homologous to TMSs 1-4 in CRAC channels, and the former was the precursor of the latter. This is an unusual example of how a functionally and structurally more complex protein may have predated a simpler one.
Keywords
Comparison ScoreSevere Combine Immune DeficiencyCation Diffusion FacilitatorCRAC ChannelOrai Channel
Background
Antigen stimulation of immune cells triggers Ca2+ entry through Ca2+ release-activated Ca2+ (CRAC) channels, promoting an immune response to pathogens [1]. Cells from patients with one form of the hereditary Severe Combined Immune Deficiency (SCID) syndrome are defective in Store-Operated Ca2+ (SOC) entry and CRAC channel function [2]. The genetic defect in these patients appears to be in a protein called Orai1, which contains four putative transmembrane segments (TMSs) [3]. SCID patients are homozygous for a single missense mutation in Orai1 (TC# 1.A.52.1.1), and expression of wild-type Orai1 in SCID T cells restores SOC influx and the CRAC current. Orai1 is an essential component of the CRAC channel complex [4, 5].
Human Orai1 has homologues in all animals with sequenced genomes, and these channel proteins have been identified largely in animals. They interact with Stromal Interaction Molecule 1 (STIM1) to form the functional channel complex [5–8]. One study concluded that Orai1 forms a homotetramer [9]. Coupling of STIM1 to SOC entry depends on its movement in the endoplasmic reticulum (ER) [10].
Orai1 and TRPC1 are core components of CRAC and SOC channels, respectively [3, 11]. Mutations of acidic residues in TMSs 1 and 3 and in the I-II loop of Orai1 decrease Ca2+ flux and increase Cs+ flux [12]. STIM1, a Ca2+-sensor of luminal Ca2+ content in the ER, interacts with and mediates store-dependent regulation of both channels. TRPC1+ Stim1-dependent SOC requires functional Orai1 [13]. Stim1 triggers activation of CRAC channels in the surface membrane after Ca2+ store depletion [11, 14].
Although CRAC channels have been characterized only from animals, homologues may be present in unicellular eukaryotes such as the choanoflagellates [15]. A limited distribution in eukaryotes is implied. However, CDF antiporters are ubiquitous, being found in profusion in bacteria, archaea and eukaryotes [16]. They transport heavy metals including cobalt, cadmium, zinc and possibly nickel, copper and mercuric ions. There are 10 mammalian CDF paralogues [17].
Most members of the CDF family possess six putative transmembrane spanners with N- and C-termini on the cytoplasmic side of the membrane [18]. These proteins exhibit an unusual degree of sequence divergence and size variation (300-750 residues), and eukaryotic proteins exhibit differences in cell localization. Some (e.g., ZnT2-7) catalyze heavy metal uptake from the cytoplasm into various intracellular organelles while others (e.g., ZnT1) catalyze efflux from the cytoplasm across the plasma membrane into the extracellular medium [19–21].
At least two metal binding residues have been identified in the E. coli homologue, YiiP (TC #2.A.4.1.5), and one plays a role in H+ binding as well [19]. The two Zn2+/Cd2+ binding residues are two interacting conserved aspartyl residues (Asp-157 and Asp-49) at the dimer interface of the homodimer [22]. The β-carboxyl groups in these two residues were suggested to form a bimetal binding center [21–23].
Lu and Fu [24] have reported the x-ray structure of YiiP in complex with zinc at 3.8 angstrom resolution. YiiP is a homodimer held together in a parallel orientation through four Zn2+ ions at the interface of the cytoplasmic domains. The two transmembrane domains swing out to yield a Y-shaped structure. In each protomer, the cytoplasmic domain adopts a metallochaperone-like protein fold. The transmembrane domain features a bundle of six transmembrane helices and a tetrahedral Zn2+ binding site located in a cavity that is open to the membrane outer leaflet and the periplasm. The generalized transport reaction for CDF family members involves heavy metal:H+ antiport.
Conclusions
We have shown that the Orai Ca
2+
channel proteins of animal CRAC channel complexes are homologous to the ubiquitous metal:H
+
antiporters of the CDF family. Our results lead us to suggest that the evolutionary process involved loss of TMSs 1-2 in the primordial CDF carrier, leaving TMSs 3-6 (TMSs 1-4 of Orai). The relative values for the comparison scores when hairpin structures of Orai channels were compared with corresponding hairpin structures of CDF carriers lead to a single preferred prediction for the evolutionary pathway taken, namely that the pathway by which the Orai channel arose from a CDF carrier involved genetic deletion of the first hairpin structure of CDF carriers. The alternative route, direct duplication of the primordial 2 TMS hairpin structures is not favored by the data (Figure
5
). Using a total of seven programs for constructing sequence comparisons [
38
], we conclude that overall, the order of sensitivities and reliabilities for these programs is: IC/GAP = GGSEARCH and GLSEARCH > HMMER, LALIGN and PairwiseStatSig > SAM.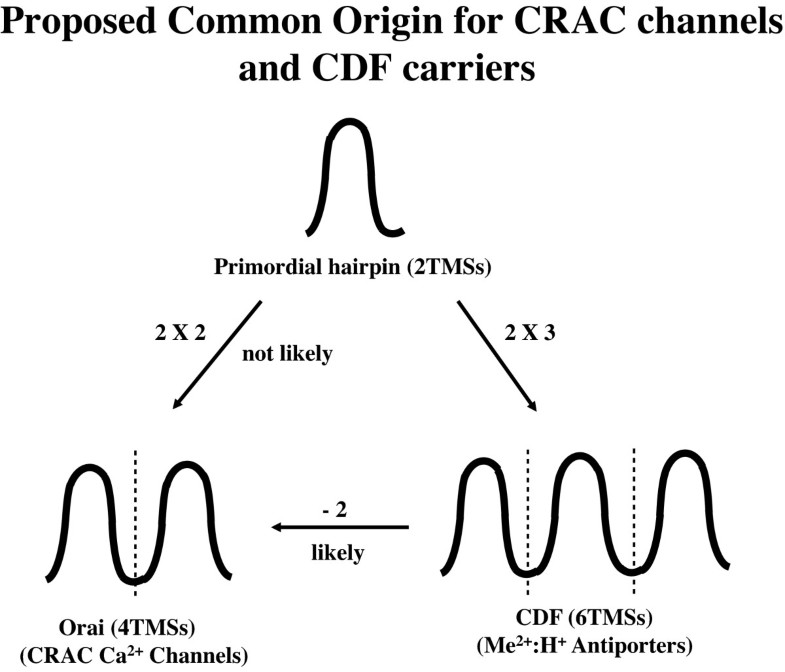 Table
3
compares the properties of CDF carriers (left) with CRAC channels (right). (1) While the former are carriers, the latter are simple channels. (2) While the former are ubiquitous in all domains of life and are found in both plasma and intracellular membranes of eukaryotes, the latter occur specifically at the plasma membrane/endoplasmic reticular junction of animal (and possibly a few other eukaryotic) cells. They presumably arose late in eukaryotes and have not been detected in prokaryotes. (3) Although CDF carriers have 6 TMSs while Orai channels have 4, both consist of 2 TMS repeat units, and both have their N- and C-termini inside; they thus have the same orientation in the membrane. (4) While CDF carriers exhibit tremendous size and sequence variation, suggestive of an ancient origin, CRAC channels show relatively little variation, consistent with a more recent origin. Their restricted organismal distribution compared to the ubiquitous CDF carriers is in agreement with this conclusion. (5) Finally, a pair of acidic residues in both proteins appears to function in cation binding. All of these observations are consistent with the proposed evolutionary pathway.
Table 3
Comparisons of CDF Carriers with Crac Channels1.
| CDF (2.A.4) | Crac-C (1.A.52) |
| --- | --- |
|    1. Secondary Carriers: catalyze Me2+:H+ antiport. | Channels: catalyze bidirectional Ca2+ flux. |
|    2. Ubiquitous; in plasma and intracellular membranes of eukaryotes. | Present only in eukaryotes; at the plasma membrane/endoplasmic reticulum junctions. |
|    3. 6 TMSs; N- and C-termini inside; dimeric. | 4 TMSs; N- and C-termini inside; tetrameric. |
|    4. Much size and sequence divergence. | Little size and sequence divergence. |
|    5. Two aspartates are critical for Me2+ binding. | Two glutamates are critical for Ca2+ binding. |
The consequences of our observations are of great importance. For the first time, structural modeling of CRAC channels, based on the known 3-d structure of CDF carriers [24], is possible. Moreover, limited extrapolation of functional and mechanistic data is now feasible. We hope that the bioinformatic analyses reported will greatly accelerate our understanding of the structure-function relationships of CRAC and CDF proteins.
Declarations
Acknowledgements
We thank Jeeni Criscenzo and Carl Welliver for assistance in the preparation of this manuscript, Bin Wang, Ming Ren Yen and Elliot Hung for independent confirmation of some of the results displayed in Table 2, and the NIH (GM077402) for financial support.
Authors' Affiliations
(1)
Division of Biological Sciences, University of California at San Diego, La Jolla, USA
Copyright
© Saier et al; licensee BioMed Central Ltd. 2010
This article is published under license to BioMed Central Ltd. This is an Open Access article distributed under the terms of the Creative Commons Attribution License http://creativecommons.org/licenses/by/2.0, which permits unrestricted use, distribution, and reproduction in any medium, provided the original work is properly cited.