Research article
Open Access
Evaluation of two sets of immunohistochemical and Western blot confirmatory methods in the detection of typical and atypical BSE cases
BMC Research Notes
2011
4:376
Received: 20 October 2010
Accepted: 29 September 2011
Published: 29 September 2011
Abstract
Background
Three distinct forms of bovine spongiform encephalopathy (BSE), defined as classical (C-), low (L-) or high (H-) type, have been detected through ongoing active and passive surveillance systems for the disease.
The aim of the present study was to compare the ability of two sets of immunohistochemical (IHC) and Western blot (WB) BSE confirmatory protocols to detect C- and atypical (L- and H-type) BSE forms.
Obex samples from cases of United States and Italian C-type BSE, a U.S. H-type and an Italian L-type BSE case were tested in parallel using the two IHC sets and WB methods.
Results
The two IHC techniques proved equivalent in identifying and differentiating between C-type, L-type and H-type BSE. The IHC protocols appeared consistent in the identification of PrPSc distribution and deposition patterns in relation to the BSE type examined. Both IHC methods evidenced three distinct PrPSc phenotypes for each type of BSE: prevailing granular and linear tracts pattern in the C-type; intraglial and intraneuronal deposits in the H-type; plaques in the L-type.
Also, the two techniques gave comparable results for PrPSc staining intensity on the C- and L-type BSE samples, whereas a higher amount of intraglial and intraneuronal PrPSc deposition on the H-type BSE case was revealed by the method based on a stronger demasking step.
Both WB methods were consistent in identifying classical and atypical BSE forms and in differentiating the specific PrPSc molecular weight and glycoform ratios of each form.
Conclusions
The study showed that the IHC and WB BSE confirmatory methods were equally able to recognize C-, L- and H-type BSE forms and to discriminate between their different immunohistochemical and molecular phenotypes. Of note is that for the first time one of the two sets of BSE confirmatory protocols proved effective in identifying the L-type BSE form. This finding helps to validate the suitability of the BSE confirmatory tests for BSE surveillance currently in place.
Keywords
Bovine Spongiform EncephalopathyBovine Spongiform Encephalopathy CasePrPSc DepositionAtypical Bovine Spongiform EncephalopathyBovine Amyloidotic Spongiform Encephalopathy
Background
Transmissible spongiform encephalopathies (TSEs), or prion diseases, are fatal neurological disorders in both animals and humans. TSEs include bovine spongiform encephalopathy (BSE) in cattle, scrapie in sheep and goats, transmissible mink encephalopathy (TME) in mink and Creutzfeldt-Jakob disease (CJD) in humans. The agent of TSEs has been ascribed to an infectious protease-resistant isoform of the normal host encoded cellular prion protein (PrPC), termed pathological prion protein (PrPSc) [1].
BSE was first detected in the United Kingdom (UK) in 1986 [2], where the disease grew to epidemic proportions in the cattle population, with approximately 184,600 cases diagnosed [3]. An estimated 3 million cattle may have been infected. Worldwide, about 7,900 BSE cases have been reported outside the UK, including Canada, Japan and the United States (U.S.) [4].
Passive and active surveillance programs were developed to monitor cattle populations for the presence of BSE. Under passive surveillance, cattle showing clinical symptoms consistent with BSE must be tested for the disease. Active surveillance programs require BSE testing by rapid screening tests at the abattoir of apparently healthy cattle of a certain age and of fallen/dead stock.
A major public health concern due to its transmissibility to humans, BSE is thought to be the cause of the fatal human prion disorder variant Creutzfeldt-Jakob disease (vCJD) [5, 6]. Besides transmission among cattle and to humans, BSE can cross the species barrier to other species such as small ruminants [7, 8], exotic ungulates [9], and felids [10].
The origin of BSE remains an enigma: one hypothesis is that the disease was acquired by the cattle population through the consumption of meat and bone meal (MBM) derived from scrapie-affected sheep and goats or from BSE-infected cattle [11, 12]. The efficiency of MBM feeding bans, which subsequently led to a worldwide decline in BSE among the cattle population, supports a food related spread of the disease.
Another hypothesis is that BSE may have arisen as a sporadic [13, 14] or genetic [15, 16] disease of cattle, which was then amplified by food-borne recycling of MBM containing central nervous system (CNS) tissues from BSE-infected cattle.
It was once thought that BSE was the result of a single prion strain. The disease presented with an identical clinical and pathological phenotype in cattle [17], with homogenous and consistent PrPSc molecular features and deposition patterns in the brainstem, independently of the geographical origin of the BSE isolates detected [18–21] or breed or route of inoculation in cases of experimental transmission [22]. In transmission studies using mouse models, the BSE strain was characterized by similar incubation time, biochemical features, lesion profile and PrPSc distribution regardless of origin [23, 24]. But as diagnostic techniques were further refined and the BSE epidemic continued to decline, "atypical" cases of the disease, mainly in older cattle, began to be reported from around the world. The new variants were classified as low (L-) or high (H-) type based on differences in the molecular size of the PrPSc unglycosylated protein band visualized on Western blot (WB) assays as compared to classical BSE (C-type BSE) [21].
Research into more detailed characterization of PrPSc deposition throughout the brain of BSE-affected cattle uncovered the first example of atypical L-type BSE in Italy in 2004 [25]. Two older animals were found to be affected by a variant form of BSE, classified as L-type, based on WB analysis demonstrating faster electrophoretic mobility of PrPSc unglycosylated moiety. WB analysis also revealed a dominant monoglycosylated PrPSc glycoform profile for these two atypical cases. Brain samples from three additional Italian BSE-affected cattle were noted to display the same molecular features and were subsequently confirmed as atypical L-type cases.
Immunohistochemical analysis of brain sections revealed differences in the distribution and features of PrPSc immunoreactivity between the C-type BSE and the Italian L-type BSE cases. Specifically, in three Italian L-type BSE cases out of the five described so far, PrPSc was found to be more abundant in the forebrain than in the brainstem where PrPSc deposition was predominant in the C-type BSE cases. Unexpectedly, PrPSc deposition in three out of these five Italian L-type BSE cases occurred in an unusual pattern referred to as amyloid plaques, which is seldom reported in the literature for C-type BSE [26]. Availability of only the brainstem area for the fourth Italian L-type BSE case precluded full characterization for PrPSc plaques. At the time of this writing, the fifth L-type BSE case was undergoing characterization studies for PrPSc plaque deposits.
On the basis of the unique neuropathological feature of PrPSc amyloid plaques, the new L-type variant was named bovine amyloidotic spongiform encephalopathy (BASE).
The discovery of the Italian case occurred concomitantly with the detection of a second atypical BSE variant, the H-type, reported in France in 2004 [27]. H-type cases were characterized by a higher molecular weight of the unglycosylated fraction of PrPSc than C-type BSE and by strong labelling with P4 [28] and 12B2 [29] monoclonal antibodies. Both antibodies are directed to an N-terminal epitope that is still present after proteinase K (PK) cleavage of H-type BSE and also scrapie, but not of C-type or L-type BSE-derived PrPSc.
Immunohistochemical studies on the brainstem from cases confirmed as H-type from Germany [30] and the U.S. [16, 31] showed that the prevalent PrPSc deposition pattern was less intense, intraneuronal and intraglial, unlike that of C-type BSE, which is more intense, with mainly granular and linear tract deposition patterns. At present, approximately 61 atypical BSE cases have been detected worldwide [as of March 2011].
In Italy, where both active and passive surveillance systems for BSE are in place, five out of 145 BSE cases detected to date were identified as BASE (L-type) variants. No H-type cases have been detected in Italy so far. However, the IHC and WB BSE confirmatory protocols in place in Italy (hereafter referred to as horse radish peroxidise [HRP] and whole homogenate extraction [WHE] methods) have proved successful in identifying PrPSc deposition in H-type BSE cases from Germany [30] and other European countries, respectively [21].
In non-European countries, and the U.S. in particular, current BSE surveillance programs focus on "high-risk cattle" defined as cattle displaying clinical symptoms consistent with BSE or fallen stock. U.S. surveillance has detected three BSE cases: one C-type and two H-type BSE have been identified [31]. The efficacy of the U.S. IHC and WB BSE confirmatory protocols (hereafter referred to as alkaline phosphatase [AP] and scrapie associated fibrils extraction [SAFE] methods, respectively) to identify L-type BSE forms has not yet been tested. The purpose of this study was to evaluate Italian and U.S. IHC and WB BSE confirmatory protocols in order to assess their suitability to detect C-, H- and L-type BSE cases. Tissue samples of classical and atypical BSE cases from Italy and the U.S., age-matched when possible, were tested by both the IHC or the WB methods used in each of the two countries.
Results
Immunohistochemical examination
Description of the PrPSc deposition patterns
Nine different PrPSc deposition patterns for the classical and atypical BSE cases were identified. The PrPSc deposition types, as described elsewhere [32, 20], were:
- punctate type consisting of powdery and diffuse PrPSc staining throughout the neuropil;
- granular type characterized by granular PrPSc accumulations in the neuropil;
- coalescing type seemingly arising from the merging of granular PrPSc deposits to form amorphous or mesh-like masses;
- glial type with PrPSc deposits branching out from the nucleus of a glial cell on its processes, conferring it a stellate appearance;
- intraneuronal type with fine punctate PrPSc immunoreactivity throughout the neuronal cytoplasm;
- perineuronal type consisting in thread-like PrPSc deposits around individual neuronal perikarya and neurites;
- intraglial type with fine, punctate PrPSc immunoreactivity adjacent to the glial nuclei;
- linear tract characterized by PrPSc deposits along neuronal processes;
- plaques consisting of dense, generally rounded accumulations of PrPSc, unicentric or occasionally multicentric, that may present a pale core surrounded by a dark border.
Comparative analysis of PrPSc deposition using AP and HRP methods
C-type BSE
The Italian C-type BSE (16193/02) obex tissue section stained by the AP method resulted in an overall marked intensity grade for PrP
Sc
. Moderate-to-marked punctate and granular, as well as intraneuronal and perineuronal type PrP
Sc
deposition patterns were evident in the hypoglossal nucleus, dorsal motor nucleus of the vagus nerve (DMNV) (Figure
1A
), nucleus of the solitary tract (NST), nucleus of the spinal tract of the trigeminal nerve (NSTV), reticular formation and olivary nucleus. Mild-to-marked coalescing and linear tract type PrP
Sc
deposition was present in the reticular formation. In serial sections of the obex very similar results were obtained with the HRP method, with no detectable differences in PrP
Sc
distribution, deposition pattern or staining intensity (Figure
1B
).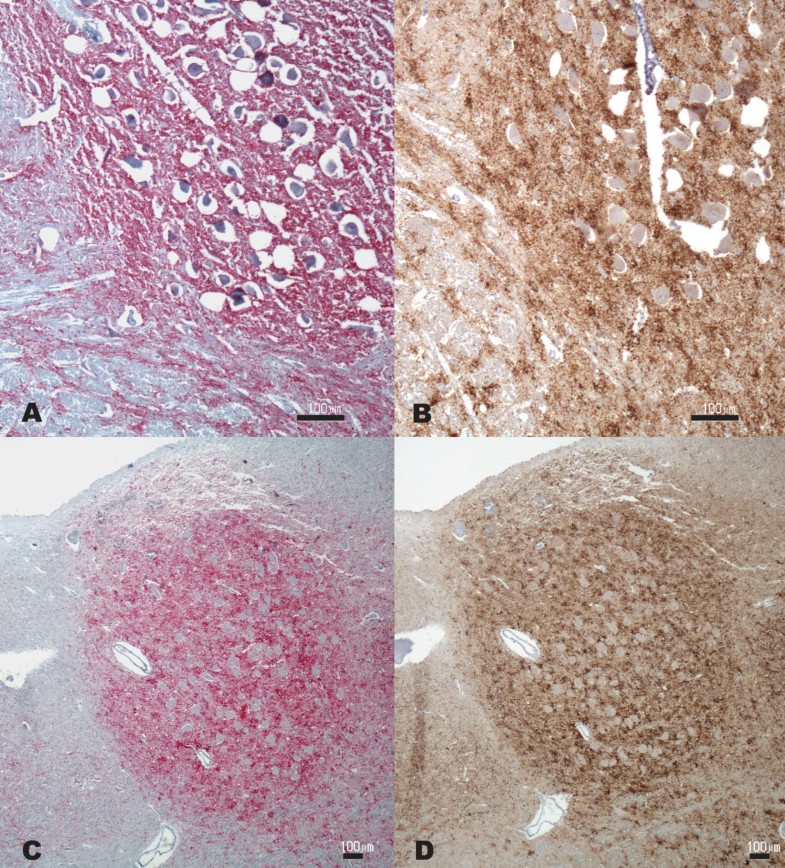 The U.S. C-type BSE case (B5330-7 D) examined under the AP protocol contained overall moderate-to-marked PrPSc immunoreactivity. There was moderate punctate, granular, intraneural and perineuronal type PrPSc deposition in all the nuclei of the obex (Figure 1C). Glial, granular and linear tract PrPSc deposition patterns were mainly detected in the reticular formation.
The HRP protocol applied to serial sections of the U.S. C-type BSE case stained with the same neuroanatomical PrPSc distribution as seen under the AP protocol. Furthermore, PrPSc deposition patterns and related intensity for all the target nuclei appeared similar to the corresponding obex sections stained under the AP protocol (Figure 1D).
H-type BSE
The H-type BSE case (B14842) showed overall moderate PrP
Sc
immunoreactivity when stained under the AP protocol. PrP
Sc
was mainly detected at the level of the DMNV, NST, NSTV and the reticular formation, primarily appearing as punctate and granular deposits with areas of intraglial deposition (Figure
2A
). Intraneuronal and perineuronal PrP
Sc
deposition was present in the DMNV and the reticular formation (Figure
2C
).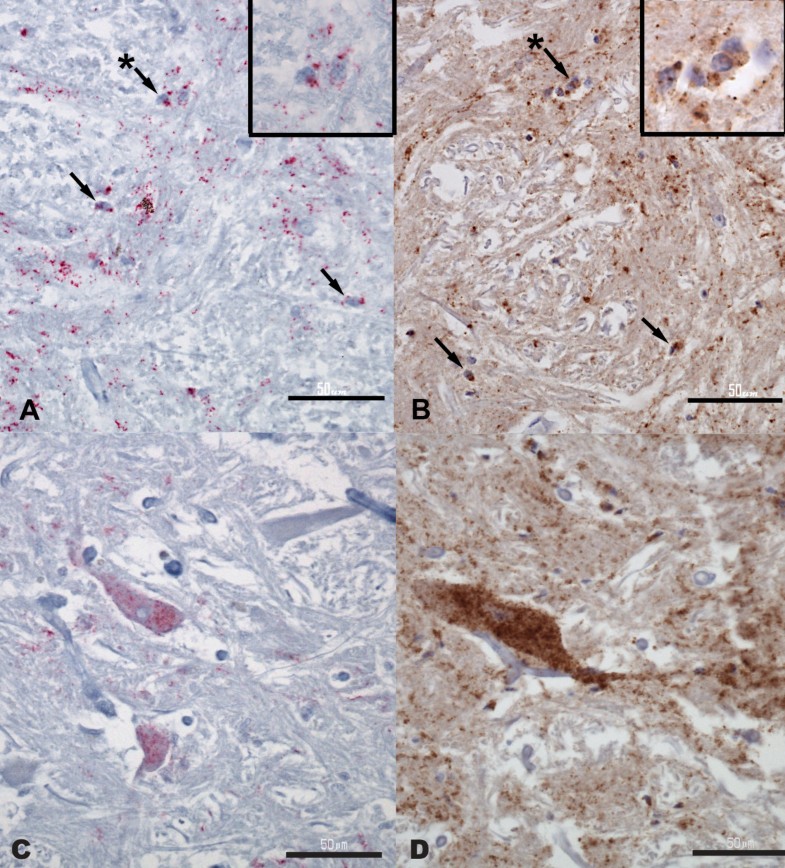 Serial tissue sections of the same case stained under the HRP protocol revealed more widespread PrPSc distribution and moderate-to-marked immunolabelling intensity. PrPSc was detected through the whole tissue section. Interestingly, the HRP method revealed more intraglial (Figure 2B) and intraneuronal (Figure 2D) deposition patterns, with a higher degree of staining intensity than the AP method.
L-type BSE
The L-type BSE (BASE) (12966/07) obex tissue sections examined under the AP protocol contained mild-to-moderate PrP
Sc
immunoreactivity. The prevalent PrP
Sc
deposition pattern was the punctate and granular type, which was mildly present in the hypoglossal and olivary nucleus and moderately present at the level of the DMNV, NST, NSTV, and reticular formation. Intraneuronal type PrP
Sc
deposition was identified in some neurons of the hypoglossal nucleus, DMNV, NSTV, reticular formation and olivary nuclei. Perineuronal type PrP
Sc
immunoreactivity of moderate intensity was identified in the DMNV (Figure
3A
), reticular formation and the olivary nuclei. Linear tract type PrP
Sc
deposits were present at the level of the reticular formation. Also present in the reticular formation were several larger aggregates of staining or plaques ranging from 5 to 25 μm in diameter. The majority of the plaques appeared as unicentric structures, but some were characterized by the presence of a pale core surrounded by a dark radial periphery.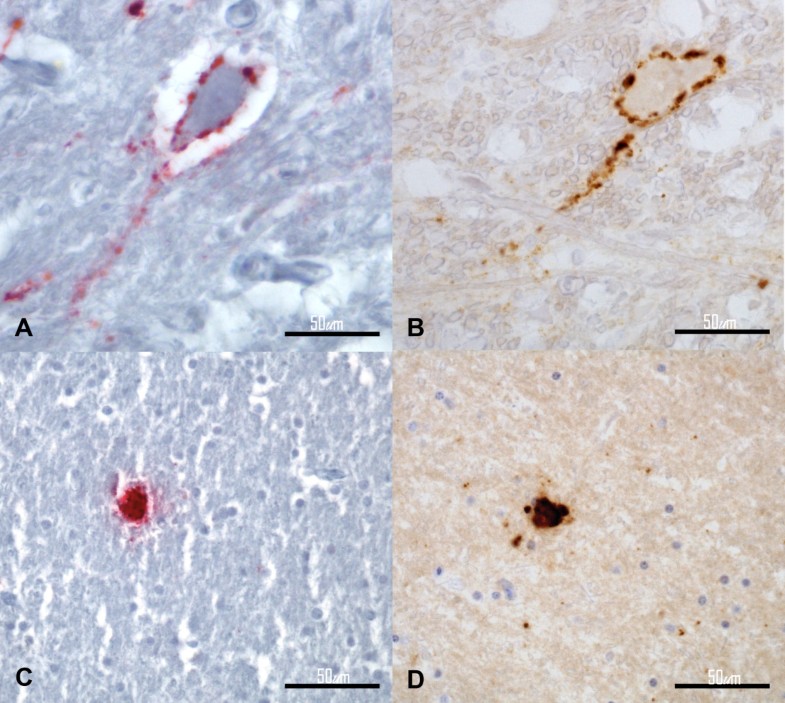 The results obtained on the serial obex tissue sections of the BASE case stained according to the HRP method were comparable in terms of PrPSc distribution, staining intensity and deposition pattern (Figure 3B).
The frontal cortex of the BASE case stained under the AP protocol contained moderate punctate, granular type PrPSc deposition along the most superficial region of the cortex. In the deeper regions of the gray matter, a mild granular PrPSc deposition pattern was present. A similar pattern with moderate staining intensity was present along the transition zone between the gray and white matter. In the white matter there were granular PrPSc deposits and scattered PrPSc positive plaques that appeared as dense unicentric or multicentric, dark red, round structures (Figure 3C).
Serial tissue sections of the frontal cortex from this animal stained using the HRP procedure revealed a similar distribution of PrPSc deposits, including the PrPSc pattern types described above and comparable immunoreactivity intensity. The plaques appeared as dense, unicentric, dark brown, round structures, some of which displaying a pale core surrounded by a dark radial periphery (Figure 3D).
Western blot analysis
The obex tissue derived from a healthy bovine and used as control for PK digestion tested negative with both extraction methods. The WHE and SAFE extraction methods were both able to clearly identify classical and atypical BSE cases on subsequent WB analyses. When the 6H4 mAb was employed, which is directed against the protease-resistant core of the prion protein, all BSE samples (C-, H-, L-type BSE cases) tested positive (Figure
4A
). In contrast, when the P4 mAb was used, which is directed against the N-terminus of the protease-resistant core of PrP, only the H-type BSE sample was recognized (Figure
4B
) by both extraction methods. The density comparison between the signals obtained with P4 and 6H4 mAbs showed a P4/6H4 ratio of at least 1.2 for both methods in the H-type BSE sample. These findings were due to the different PK cleavage site for the three BSE types, as previously described by Jacobs et al. (21).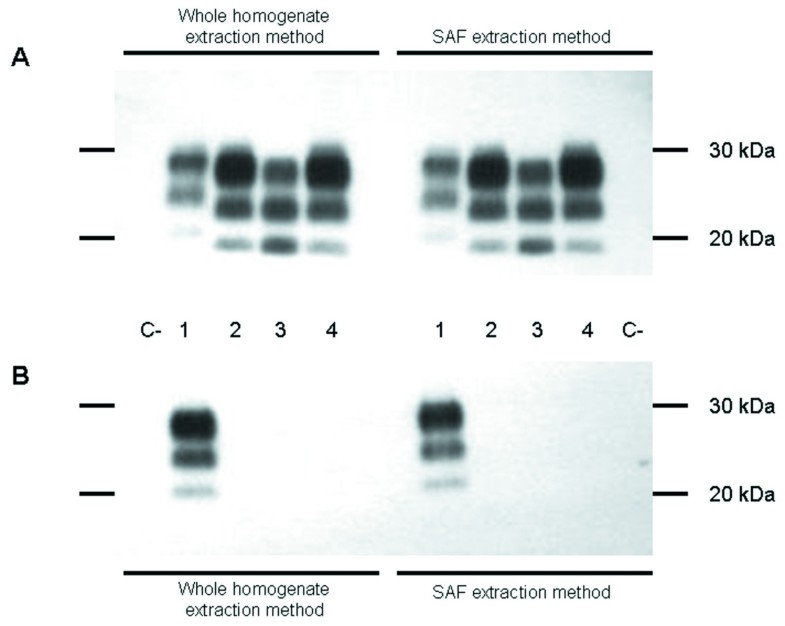 In addition, the glycoform ratio of the different BSE samples was determined after staining with the 6H4 mAb. As shown in Figure
5
, the L- and H-type BSE cases showed a lower proportion of the di-glycosylated and a higher proportion of the mono-glycosylated band than the C-type BSE cases according to both extraction methods. Specifically, the L-type BSE exhibited an equal or slightly inverted ratio between the mono- and the di-glycosylated PrP isoform, which is a characteristic feature of L-type BSE (Figure
5
).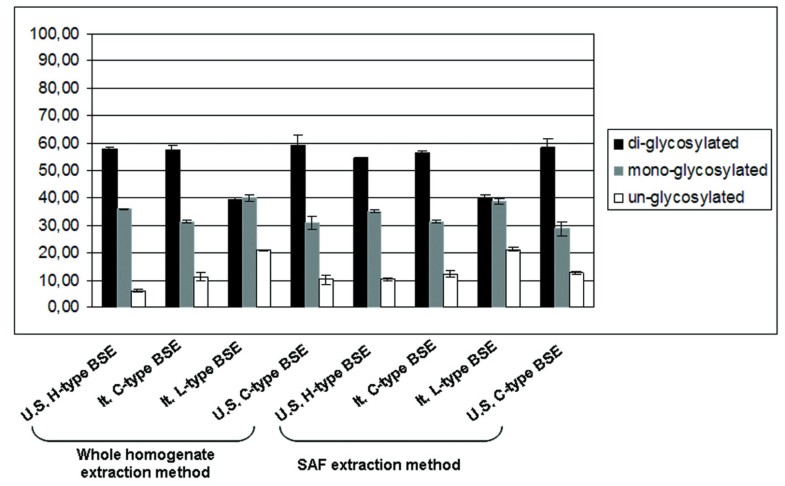 Discussion and conclusions
The aim of this study was to evaluate the suitability of IHC and WB confirmatory tests routinely used in the U.S. and Italy for the diagnosis of classical and atypical BSE. In contrast to C-type BSE cases, which have progressively declined worldwide after the implementation of feed bans, atypical BSE (L- and H-type BSE) cases have been increasingly detected since 2004, and are postulated to arise as sporadic and genetic forms of the disease [14–16]. Most likely, the incidence of atypical BSE cases will be constant over time [14], as occurs in sporadic and genetic cases of human prion diseases [33]. The existence of atypical forms of BSE will require maintaining the current active surveillance systems for BSE; the misguided proposal many countries have put forward to progressively limit them could result in such cases being missed. Nonetheless, the feed bans on specified risk materials will continue to provide effective barriers for protecting public health.
All atypical BSE cases detected worldwide so far have been correctly identified by currently approved BSE rapid tests [34, 35]. However, it should be noted that L-type BSE (BASE), the only BSE variant phenotypically characterized in detail to date [25], may contain significantly less PrPSc immunoreactivity in the obex region than C-type BSE. Since the obex is the target tissue for the diagnosis of all BSEs, it is necessary to evaluate the sensitivity of rapid testing and confirmatory diagnostic techniques currently in place for atypical forms. In the future, it may be necessary to re-evaluate whether the obex is the best tissue for detecting atypical BSE cases.
One aim of the present study was to assess the effectiveness of the U.S. BSE confirmatory methods to detect L-type BSE. The results indicate that the AP and SAFE BSE confirmatory protocols are fully adequate to identify the presence of PrPSc in the L-type atypical BSE forms. The efficacy of the AP and SAFE confirmatory methods to detect C- and H-type BSE has already been shown [16, 31].
When the AP protocol was applied to obex and frontal cortex tissue sections of an Italian L-type BSE (BASE) case, PrPSc was detected with the same neuroanatomical distribution, deposition pattern and staining intensity as the HRP method. More specifically, the AP method revealed, at both the obex and frontal cortex, a characteristic neuropathologic trait of the Italian L-type BSE form, i.e., the presence of PrPSc aggregates in the form of plaques. Another peculiar feature described in cattle affected by natural [30] and experimental [36] L-type BSE is the presence of a perineuronal PrPSc deposition pattern which is not associated with intraneuronal PrPSc deposits. This PrPSc pattern was also detected by both the HRP and AP methods in the Italian L-type BSE case in this study. It has been hypothesized that the perineuronal PrPSc deposits could indicate different PrPSc trafficking and propagation in L-type BSE forms [36].
This comparative study also confirmed the reliability of the HRP and WHE confirmatory protocols in the diagnosis of the H-type BSE form not reported in Italy to date. Previous investigations performed on H-type samples obtained from other European countries revealed that the HRP technique was successful in detecting H-type BSE cases [30].
Under both the HRP and AP protocols, the U.S. H-type BSE case displayed a similar PrPSc deposition pattern of the granular, intraneuronal, and intraglial type. At present, only the obex and not a complete brain from an H-type BSE naturally affected cow has been available for analysis. In the obex region of H-type BSE cases, intraglial PrPSc deposition seems to be a peculiar immunohistochemical feature, as described in cases from Germany [30] and Sweden [37]. It is a less common feature for C- and L-type BSE cases [20, 25]. Importantly, the intraglial pattern identified in a Swedish H-type BSE case was revealed only with antibodies (F99/97.6.1 and R145) directed against the C-terminus portion of the PrPSc molecule [37]. In contrast, the detection of severe granular intracellular labelling in German H-type BSE with the use of core-specific mAb 12F10 has also been reported [30].
The U.S. H-type BSE case examined here had more intense and defined PrPSc immunoreactivity of intraneuronal and intraglial distribution when tested using the HRP as compared to the AP method. This was surprising, since the AP protocol employs a ten-fold higher concentration of the primary F99/97.6.1 antibody as compared with the one employed by the HRP protocol. Moreover, as compared to the HRP method, the higher incubation temperature (37°C) at which the AP staining protocol occurs in the Ventana NexES carousel ought to confer a more efficient binding of the primary antibody to the tissue antigens. However, such preferable conditions in the AP method could partially be negatively influenced by a possible prozone-like effect due to the higher concentration of the primary antibody employed. The formation of antibody aggregates might limit their penetration into the cells and restrict binding to intracytoplasmatic antigenic sites [38]. Furthermore, it can not be excluded that the overall shorter incubation times of the AP protocol as compared to the HRP method might reduce the antibody-antigen interaction. These assumptions aside, the discrepancy between the AP and the HRP methods in the amount of PrPSc detected in the H-type case seems more likely to be related to the different length of the formic acid treatment performed on tissue sections after deparaffinization.
The HRP protocol utilizes a 25-min formic acid incubation, whereas the AP protocol limits formic acid exposure to 5 min. To perform immunohistochemical analysis on formalin-fixed tissues, a demasking step in formic acid is often used to expose antigenic sites to the binding by antibodies [39]; this step seems to be particularly critical to disclose the intracellular PrPSc component in H-type BSE cases. The PrPSc molecule characterizing H-type BSE probably requires prolonged exposure to formic acid to be properly demasked in formalin-fixed tissues and to be revealed, mainly by employing C-terminal antibodies, as intraneuronal and intraglial PrPSc deposits.
By contrat, a shorter demasking time in formic acid, i.e., 5 min as employed in the AP protocol, does not seem to affect the detection of the PrPSc plaque deposits, which may be a unique feature of L-type BSE cases. This finding suggests that in L-type BSE isolates the length of incubation time in formic acid is not a very critical step to disclose PrPSc deposits, perhaps indicating that L-type PrPSc most likely establishes weaker interactions with formalin and can therefore be more easily demasked than H-type PrPSc from formalin-fixed, paraffin-embedded tissue sections.
In summary, we found that comparative testing of an automated immunostaining protocol, with the use of the Ventana NexES Autostainer System, and a manual IHC method in the detection of PrPSc in various BSE cases revealed absolute concordance in correctly identifying BSE-positive samples and in discriminating among C-, H- and L-type forms of BSE. Both the HRP and the AP BSE confirmatory methods differentiated three different phenotypes of the disease, referred to as C-, H- and L-type forms, each appearing to be characterized by quite distinct features of PrPSc deposition. Both methods revealed granular and linear tract PrPSc deposits as a distinguishing feature of C-type BSE cases, whereas intraglial and intraneuronal PrPSc deposition patterns appeared as the most representative trait of H-type BSE, and the presence of PrPSc deposits organized as plaques was only detected in the L-type BSE (BASE) case.
In contrast to the IHC protocols, the WHE and the SAFE procedures for WB methods are almost identical. Both are, in fact, based on the enrichment of samples according to scrapie associated fibrils (SAF) immunoblotting methods derived from the World Organization for Animal Health (OIE) recommended protocol. The minor differences between the two protocols, for example, the use of different homogenization buffers or the sonication step, do not seem to affect results in terms of specificity and sensitivity to detect BSE cases. Furthermore, the fact that under both the WHE and SAFE protocols a higher amount of tissue equivalents (i.e., 10 mg) than that normally used for medium positive cases (i.e., ~ 500 μg) had to be loaded per lane is not to be ascribed to the sensitivity of the methods but simply to the need to display as best as possible the low signal intensity known to characterize the PrPSc moieties of some of the BSE cases under examination. Previous similar attempts to maximise at WB analysis the PrPSc signal intensity of slightly positive BSE samples by loading even higher amounts of tissue equivalents per lane (i.e., 38 mg) than the quantity employed here have also been reported (27).
Our findings show that both the SAFE and WHE methods were able to detect all three BSE forms (C-, H- and L-type). The WHE and SAFE methods identified and differentiated the specific molecular weights and glycoform ratios associated with the three BSE forms. As regards the H-type BSE in particular, it is noteworthy that both the SAFE and WHE methods clearly detected this atypical form, even when an antibody such as P4 was employed, which is known to be inferior for application to bovine PrP compared to other antibodies such as 12B2 (29) or 6H4. The results provide reliable evidence that the SAFE method can recognize and differentiate L-type BSE in the current surveillance program.
The present study proved that both Italy and the U.S. employ efficient diagnostic techniques to detect and differentiate the three different BSE forms (C-, H- and L-type) known to date. Furthermore, this finding suggests that the current Italian and U.S. confirmatory methods for BSE might also be appropriate to disclose novel forms of the disease should they ever occur.
Declarations
Acknowledgements
The authors thank Sharon Lund, Kevin Hassal, Deborah Clouser and Caterina Lucia Florio, Paola Gazzuola, Sabrina Nodari, Antonio Longo for their excellent technical assistance. This research was funded by the ARS Specific Cooperative Agreement No. 58-3625-4-F217 "Study of atypical BSE".
Authors' Affiliations
(1)
CEA, Istituto Zooprofilattico Sperimentale del Piemonte, Liguria e Valle d'Aosta, Turin, Italy
(2)
United States Department of Agriculture, Animal and Plant Health Inspection Service (APHIS), National Veterinary Services Laboratories (NVSL), Pathobiology Laboratory, Ames, USA
(3)
Virus and Prion Research Unit, National Animal Disease Center, United States Department of Agriculture, Agricultural Research Service (ARS), Ames, USA
(4)
M. D. Anderson Cancer Center, Department of Veterinary Medicine and Surgery - Unit 63, 1515 Holcombe Boulevard, Houston, USA
(5)
K224B Mosier Hall College of Veterinary Medicine, Kansas State University, Manhattan, USA
Copyright
© Hall et al; licensee BioMed Central Ltd. 2011
This article is published under license to BioMed Central Ltd. This is an open access article distributed under the terms of the Creative Commons Attribution License (http://creativecommons.org/licenses/by/2.0), which permits unrestricted use, distribution, and reproduction in any medium, provided the original work is properly cited.