Research article

Open Access
GP0.4 from bacteriophage T7: in silico characterisation of its structure and interaction with E. coli FtsZ
BMC Research Notes
2016
9:343
Received: 21 January 2016
Accepted: 6 July 2016
Published: 13 July 2016
Abstract
Background
Proteins produced by bacteriophages can have potent antimicrobial activity. The study of phage-host interactions can therefore inform small molecule drug discovery by revealing and characterising new drug targets. Here we characterise in silico the predicted interaction of gene protein 0.4 (GP0.4) from the Escherichia coli (E. coli) phage T7 with E. coli filamenting temperature-sensitive mutant Z division protein (FtsZ). FtsZ is a tubulin homolog which plays a key role in bacterial cell division and that has been proposed as a drug target.
Results
Using ab initio, fragment assembly structure modelling, we predicted the structure of GP0.4 with two programs. A structure similarity-based network was used to identify a U-shaped helix-turn-helix candidate fold as being favoured. ClusPro was used to dock this structure prediction to a homology model of E. coli FtsZ resulting in a favourable predicted interaction mode. Alternative docking methods supported the proposed mode which offered an immediate explanation for the anti-filamenting activity of GP0.4. Importantly, further strong support derived from a previously characterised insertion mutation, known to abolish GP0.4 activity, that is positioned in close proximity to the proposed GP0.4/FtsZ interface.
Conclusions
The mode of interaction predicted by bioinformatics techniques strongly suggests a mechanism through which GP0.4 inhibits FtsZ and further establishes the latter's druggable intrafilament interface as a potential drug target.
Keywords
ab initio modelling
Homology modelling
Docking
FtsZ
Drug design
Background
Resistance to antibiotics has become a source of great public concern recently, compounded by the slow emergence of new antibiotics [1]. One possible solution may be phage therapy. Bacteriophages (referred to hereafter as phages) are among the simplest and most abundant types of microorganisms [2], and have been used therapeutically for close to a century. With the advent of antibiotics, the use of phages therapeutically has decreased in the western world. However, as resistance to antibiotics becomes a pressing issue, phages are once again being seen as a way to combat disease [3, 4].
There are several advantages to the therapeutic use of phages; they affect highly specific targets that minimise collateral damage [5], they can target bacterial strains resistant to antibiotics, and they can be used to supplement the effects of antibiotics [6]. Phages are, however, not without problems. For example, the delivery of phages is a major challenge, with the immune system presenting a large hurdle [3] and the use of phages as a delivery method requires accurate diagnosis of the disease-causing bacteria and therefore slows down treatment.
Study of phage-host interaction can also inform small molecule drug discovery by revealing new drug targets and pinpointing their weaknesses. Proteins in phages have naturally evolved to find effective methods to disrupt bacteria. Furthermore, in multi-protein complexes involved in processes such as cell regulation, small numbers of amino acids form hotspots which contribute most of the free energy during interactions [7]. By studying how phage proteins disrupt the protein–protein interfaces, we can identify potential hotspots and target them when designing drugs. Such drugs would dispense with the specificity limitation of the original phage since they can be designed to target broadly conserved bacterial mechanisms potentially rendering unnecessary the diagnosis of the specific pathogenic bacterium [8, 9].
Upon infection of bacteria, phages take over the host resources through the actions of proteins expressed early in the infection. One such protein from the Escherichia coli phage T7 is gene protein (GP) 0.4. GP0.4 directly inhibits the filamenting temperature-sensitive mutant Z division protein (FtsZ) of E. coli by preventing its assembly into protofilaments both in vivo and in vitro [10].
FtsZ is a tubulin homologue that plays a key role in the division of bacteria cells [11–13]. Much like tubulin, purified FtsZ binds and hydrolyses GTP [13]. GTP binding induces the FtsZ to polymerise into one of two polar protofilament conformations; straight or gently curved [11–15]. Between FtsZ monomers, an active site is formed which hydrolyses the GTP, and remains accessible to the GTP-rich cytoplasm [13, 15]. Therefore GTP binding can be rapidly restored allowing protofilaments to consist of mostly FtsZ-GTP subunits resistant to depolymerisation [13]. The FtsZ protofilaments associate laterally to form bundles or sheets [11, 13]. As the protofilaments bundle together they form the Z ring at the site of cytokinesis. Once assembled, the Z ring plays a crucial role in recruiting downstream proteins essential for cell division [12, 13]. Therefore the inhibition of FtsZ polymerisation prevents the division of the bacteria [10].
The exact mechanism through which GP0.4 interacts with FtsZ is unknown. However, a mutation in FtsZ that introduced a six nucleotide insertion (TCGGCG) overcame the toxicity of GP0.4 [10]. Here, using a suite of structural bioinformatics methods, we predict the structure of GP0.4 ab initio and determine a mode of interaction with FtsZ in accord with available data. The results suggest that the FtsZ protofilament interface is targeted in different ways by phage proteins for antimicrobial purposes or by the bacteria's own proteins for regulatory purposes. These results add weight to the notion that this pocket is a druggable interface.
Results and discussion
ab initio modelling of GP0.4
Since fragment-based ab initio modelling can benefit from consideration of homologous sequences, rather than focusing exclusively on the target, a BLAST [
16
] search with GP0.4 was done and identified four complete, non-redundant homologues in other phages (Fig.
1
), none of which had been characterised.

Fragment-based ab initio modelling was done locally using ROSETTA [
19
–
24
] and remotely at the QUARK server [
27
] producing ten models (cluster centroids) each for GP0.4 itself (UniProt accession P03776), and homologues in
Yersinia
phage YpsP-R (I6Q992),
Salmonella
phage Vi06 (E1XU80), and
Citrobacter
phage CR8 (W6PPJ7). In order to look for consensus among the 100 model set, clustering was carried out based on pairwise TM scores obtained from the ProCKSI server [
40
]. TM scores are a well-established method to quantitatively measure the structural difference between two proteins [
41
] and range between 0 and 1: randomly chosen structures have an average score of 0.17 while a score of over 0.5 is considered as indicating that the two proteins have the same fold. Figure
2
shows GP0.4 and homologue models (nodes) linked by lines indicating a shared TM score of >0.6. This produced two clusters of note, one considerably larger than the other.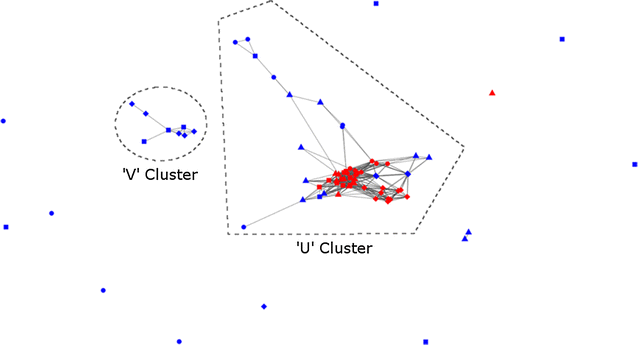 The larger cluster, containing 'U'-shaped models was made up of QUARK predictions for GP0.4 and homologues from phages YpsP-R, Vi06 and CR8, along with Rosetta models for Vi06 and YpsP-R. The smaller and therefore less favoured cluster contained Rosetta models for GP0.4 and the CR8 homologue which were 'V'-shaped. From each cluster, the GP0.4 model which made the most links to other structures was selected as a representative model for further analysis (Fig.
3
). GROMACS [
28
–
32
] molecular dynamics was used to test the stability of these models and found both stabilize at low structural deviation (<1.75 Å rmsd on Cα atoms) from the starting structure within 5 ns. Similarly, model quality assessment with ProSA [
34
,
35
] and QMEAN [
36
–
39
] did not favour one model or the other: within each cluster structures were found with ProSA scores as low as −4.36 and QMEAN scores as high as 0.734, within the range seen for experimental protein structures of a similar size. Furthermore, searches of the PDB using PDBeFOLD [
68
] and DALI [
69
] did not identify any significantly similar structures to either of the two GP0.4 models.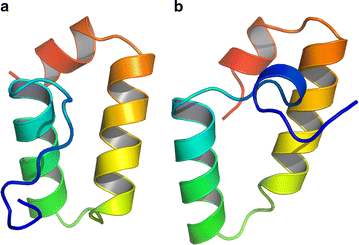 Conclusions
Characterising the targets and inhibitory mechanisms of phage proteins is a valuable route to the discovery and validation of new potential drug targets. Here we bring a range of structural bioinformatics methods to bear on the interaction between phage GP0.4 and its bacterial target FtsZ. We provide evidence that GP0.4 adopts a 'U' shaped conformation that inserts into a cleft between helices 1, 5 and 7 on FtsZ. The hypothesis is strongly supported by data obtained for a GP0.4-resistant FtsZ mutation [10]. The presence of GP0.4 bound to this region, as shown in Fig. 6, would physically interfere with assembly of the FtsZ filament. The importance of this FtsZ–FtsZ interface was further demonstrated by MciZ, a regulatory protein that binds to the opposite side of the interface to inhibit bacterial cell division. The druggable nature of the broad intrafilament FtsZ interface should encourage future drug design.
Declarations
Authors' contributions
AJS carried out the experiments. DJR conceived and supervised the work. Both authors read and approved the final manuscript.
Acknowledgements
Not applicable.
Competing interests
The authors declare that they have no competing interests.
Availability of data and material
Modelled structures are available on request from the authors.
Consent for publication
Not applicable.
Ethics approval and consent to participate
Not applicable.
Open AccessThis article is distributed under the terms of the Creative Commons Attribution 4.0 International License (http://creativecommons.org/licenses/by/4.0/), which permits unrestricted use, distribution, and reproduction in any medium, provided you give appropriate credit to the original author(s) and the source, provide a link to the Creative Commons license, and indicate if changes were made. The Creative Commons Public Domain Dedication waiver (http://creativecommons.org/publicdomain/zero/1.0/) applies to the data made available in this article, unless otherwise stated.
Authors' Affiliations
(1)
Institute of Integrative Biology, University of Liverpool, Liverpool, UK