Validation of reference genes for quantitative RT-qPCR studies of gene expression in Atlantic cod (Gadus morhua l.) during temperature stress
BMC Research Notes
2011
4:104
Received: 10 December 2010
Accepted: 5 April 2011
Published: 5 April 2011
Abstract
Background
One important physiological response to environmental stress in animals is change in gene expression. To obtain reliable data from gene expression studies using RT-qPCR it is important to evaluate a set of possible reference genes as normalizers for expression. The expression of these candidate genes should be analyzed in the relevant tissues during normal and stressed situations. To find suitable reference genes it was crucial that the genes were stably expressed also during a situation of physiological stress. For poikilotermic animals like cod, changes in temperature are normal, but if the changes are faster than physiological compensation, the animals respond with typical stress responses. It has previously been shown that Atlantic cod show stress responses when elevation of water temperature is faster than 1 degree/day, for this reason we chose hyperthermia as stress agent for this experiment.
Findings
We here describe the expression of eight candidate reference genes from Atlantic cod (Gadus morhua l.) and their stability during thermal stress (temperature elevation of one degree C/day for 5 days). The genes investigated were: Eukaryotic elongation factor 1 alpha, ef1a; 18s ribosomal RNA; 18s, Ubiquitin conjugate protein; ubiq, cytoskeletal beta-actin; actb, major histcompatibility complex I; MHC-I light chain, beta-2 -microglobulin; b2m, cytoskeletal alpha-tubulin; tba1c, acidic ribosomal phosphoprotein; rplp1, glucose-6-phosphate dehydrogenase; g6pd. Their expression were analyzed in 6 tissues (liver, head kidney, intestine, spleen, heart and gills) from cods exposed to elevated temperature and compared to a control group. Although there were variations between tissues with respect to reference gene stability, four transcripts were more consistent than the others: ubiq, ef1a, 18s and rplp1. We therefore used these to analyze the expression of stress related genes (heat shock proteins) induced during hyperthermia. We found that both transcripts were significantly upregulated in several tissues in fish exposed to increased temperature.
Conclusion
This is the first study comparing reference genes for RT-qPCR analyses of expression during hyperthermia in Atlantic cod. ef1a, 18s, rplp1 and ubiq transcripts were found to be well suited as reference genes during these experimental conditions.
Keywords
Reference GeneHeat Shock ProteinHead KidneyStress GroupCandidate Reference Gene
Findings
A good reference gene should be expressed in detectable amounts without too much variation between tissues. We have investigated the expression stability of eight genes, commonly used as reference genes, for internal control in experiments. Five of these genes (Eukaryotic elongation factor 1 alpha, ef1a; 18s ribosomal RNA; 18s, Ubiquitin conjugate protein; ubiq, cytoskeletal beta-actin; actb, acidic ribosomal phosphoprotein; rplp1, are in common with the previous study [1] and three genes have not been tested before in cod. The experimental conditions in this setting were tissue samples from wild Atlantic cod exposed to hyperthermia.
The chosen genes have different tasks in the cell; ubiq is a protein involved with degradation of cellular proteins, tba1c and actb are both parts of the cytoskeleton. b2m is part of the MHC I complex on cell surface. rplp1, ef1a and 18s are all involved in protein synthesis. Acidic ribosomal proteins are conserved phosphoproteins involved in the translation process and may therefore be co-regulated with ef1a[2]. Glucose-6-phosphate dehydrogenase (g6pd) is a cytosolic enzyme that takes part in the pentose phosphate pathway. In this selection of genes it is possible that some co-regulation may occur, and it is important to keep this in mind when evaluating the geNorm results. The stress response induced by hyperthermia was confirmed by expression analysis of two heat shock proteins, HSP70 and HSP90AA.
Materials and methods
Atlantic cod (size 300-500 g) were obtained from fish traps in the Oslofjord and kept in 0.3 m3 tanks with running seawater. The animals were divided in two experimental groups containing five wild fishes in each group. The fish in the heat stress group were kept in a pool of water in which the temperature was elevated with 1 degree each day, during a period of 5 days. The starting temperature was 11°C and after five days of heating the water temperature was 17°C. The fish in the control group were kept in a similar tank with stable temperature to minimize the differences in general stress from animal housing.
Fish were killed after 5 days and tissue samples were taken from heart, spleen, head kidney, small intestine, gills and liver and put directly into RNA-later and frozen (-20°C) until further analysis. All animal experiments were conducted in accordance with the Norwegian Animal Welfare Act of 1977, and the Regulation of Animal Experimentation of 1996.
Results
Figure
1A
and
1B
show box plots of raw Cp values displaying mean and 95% confidence intervals of the 8 candidate genes across all tissues in both control (A) and thermal stress group (B). The transcripts with lowest variation in control were
ef1a
,
ubiq
and
18s
(range 3, 8 for all 3). The other transcripts all had a Cp range above 5. In the stress group,
18s
,
ubiq
and
actb
were the only 3 genes with Cp-range below 5.
18s
and
ubiq
were therefore the only genes with low level of variance in both groups. To analyze the data further, we used the tree software packages developed for analysis of reference gene stability; geNorm, Normfinder and Bestkeeper. These programs use different algorithms to determine the most stable reference gene, and should be used together for identification of the most stable genes or gene combinations.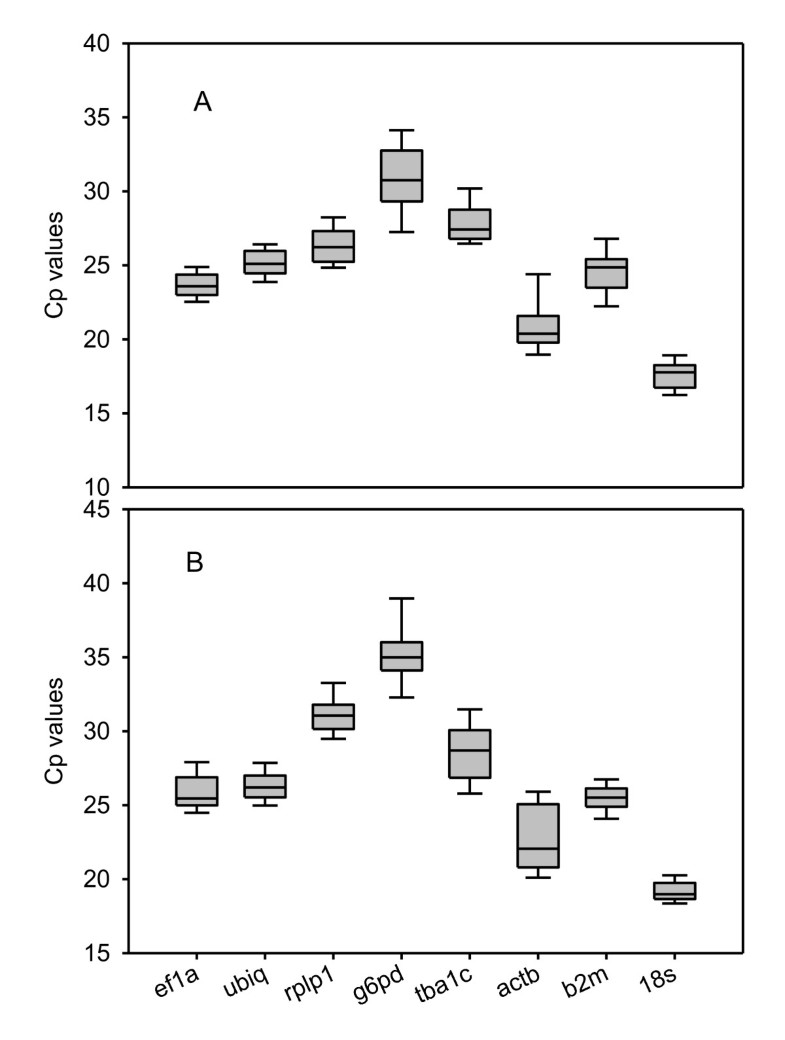 Discussion
Previous studies on hyperthermia in cod have shown that both acute and long term exposure to elevated temperatures induce stress responses in cod [14, 15] including changes in gene expression [15]. Olsvik et al has investigated suitable reference genes for wild populations of Atlantic cod with focus on gene stability in fish living in contaminated areas. Using geNorm and Normfinder they found that ubiq (ubiquitin) and rplp1 (called arp in their article) was the most suitable reference genes for wild populations [1, 16]. Similarly, during ontogeny in cod larva, ubiq (ubiquitin) was also found to be the most stable reference gene [16]. Optimally, genes from different biological pathways should be selected to minimize the effects of genes co-regulation [6]. The reference genes used in this trial were chosen on the basis of sequence availability for the cod genome and previous studies in cod [1] and other species [17–20]. If the genes chosen are included in the same biological pathway this may interfere with the analysis. This is because the software performs pair wise comparisons of gene expression across the various samples. Co-expressed genes will therefore most probably have similar expression patterns. If the genes are co-regulated in the same pathway geNorm tend to assign good score because it uses a pair wise comparison approach. This is important to keep in mind when interpreting the results. In this situation a model-based evaluation like Normfinder would be a better choice.
When comparing the results from geNorm, Normfinder and Bestkeeper, rplp1 and ubiq were the genes ranked with the highest expression stability by all the three methods. These results are in line with previously tested reference genes from Atlantic cod [1]. In six tissues from four different populations of cod, ef1a, rplp1 and ubiq (in addition to three ribosomal proteins) were found to be the most stable reference genes. The poor performance of the widely used actb and g6pd is in line with studies in other fish species [17, 20, 21].
However, it is important to take into consideration that reference genes that are stable in one species under one type of stress may be induced or repressed in other species during the same conditions [20]. Both hsp70 and hsp90 were induced relative to the most stable reference genes identified in this study. Although hyperthermia induced expression of hsp70 has been shown in many species [22, 23], it has also previously been demonstrated that a rise in temperature of 1°C/day from 11 to 16.5°C does not increase western blot detectable hsp70 in Atlantic cod [24]. The reason for this discrepancy between protein and mRNA from two comparable studies is uncertain, but there are at least 2 isoforms of hsp70 where one is constitutive and one is stress induced [25].
Conclusions
This is the first study that evaluates a suitable set of reference genes during hyperthermia in Atlantic Cod. From different types of software analyses at least 2-3 reference genes should be used and the most suitable reference genes under these experimental conditions were 18s, ef1a, rplp1 and ubiq.
Declarations
Acknowledgements
The study was supported by Norwegian Research Council grant 185244/S40.
Authors' Affiliations
(1)
Department of Pharmaceutical Biosciences, School of Pharmacy, University of Oslo, BlindernOslo, Norway
(2)
Institute of Biology, University of Oslo, Blindern, Norway
Copyright
© Gjøen et al; licensee BioMed Central Ltd. 2011
This article is published under license to BioMed Central Ltd. This is an Open Access article distributed under the terms of the Creative Commons Attribution License (http://creativecommons.org/licenses/by/2.0), which permits unrestricted use, distribution, and reproduction in any medium, provided the original work is properly cited.