Research article

Open Access
Bisquinolinium compounds induce quadruplex-specific transcriptome changes in HeLa S3 cell lines
BMC Research Notes
2012
5:138
Received: 15 November 2011
Accepted: 13 March 2012
Published: 13 March 2012
Abstract
Background
Guanosine rich sequences capable of forming G-quadruplex (G4) motifs are enriched near the gene transcription start site (TSS) in the human genome. When probed at the single gene level, G-quadruplex motifs residing in promoter regions show substantial effects on gene transcription. Moreover, further changes in transcription levels are noticed when G4-motifs are targeted with G-quadruplex-specific small molecules.
Results
Global studies concerning general changes of the transcriptome via targeting promoter-based G-quadruplex motifs are very limited and have so far only been carried out with compounds displaying weak selectivity for quadruplex sequences. Here we utilize two G-quadruplex-specific bisquinolinium derivatives PhenDC3 and 360A and investigate their effects on the expression of the HeLa S3 transcriptome. Our results show wide-spread changes in the transcriptome with specificity for genes with G-quadruplex motifs near their transcription start sites (TSS). Using real-time PCR we further confirmed the specificity of PhenDC3 and 360A as potent molecules to target G-quadruplex-regulated genes.
Conclusions
Specific effects on quadruplex-containing genes have been observed utilizing whole-transcriptome analysis upon treatment of cultured cells with quadruplex-selective bisquinolinium compounds.
Keywords
Transcription Start Site
Loop Length
Hypergeometric Test
Kernel Density Plot
Quadruplex Formation
Background
G-quadruplex motifs are four-stranded DNA conformations adopted by certain guanosine-rich sequences [1] abundant in the human genome [2, 3]. Interestingly, these G-quadruplex motif-forming sequences show a pronounced positional bias and consequently a wide range of biological functions have been predicted for G-quadruplex motifs, including roles in transcription [4–6], translation [7, 8], replication [9], nucleosome positioning [10, 11], CpG methylation [12], recombination [13] and splicing [14]. Due to their high over-representation near transcription start sites (TSS) [15], the role of G-quadruplex motifs as transcriptional regulators has been studied most intensively (reviewed in [16–19]). The first experimentally verified biological function for a G-quadruplex motif was the transcriptional regulation of the c-MYC gene [20, 21]. Similar modulatory effects in transcription have since been demonstrated for quadruplex motifs in the promoter regions of c-MYB[22], VEGF[23], c-KIT[24], KRAS[25], HRAS[26], PDGFR-β[27] and BCL-2[28] expression. In several studies a small molecule specific to G-quadruplex motifs was used to demonstrate that quadruplex formation in vivo results in a perturbation of transcription (reviewed in [19, 29, 30]). However, since more than 55% of the genes in the human genome harbor at least one potential G-quadruplex motif 1 kb up- or downstream of the TSS [5], it is of interest to investigate whether addition of quadruplex-interacting compounds affects transcription of many or most of these genes.
Using the G-quadruplex-stabilizing molecule TMPyP4 [31], Verma et. al. [5] and Mikami-Terao et. al. [32] showed genome-wide effects on transcription in HeLa S3 and K562 cells, respectively. However, the specificity of the observed effects can be questioned because TMPyP4 is reported to show only poor selectivity for G-quadruplex motifs compared to e.g. duplex DNA [33]. The two studies identified a rather small set of affected genes at prolonged (48 h) treatment using high (100 μM) concentrations of TMPyP4. In these studies, only 69 [5] and 87 [32] perturbations of mRNA levels were observed. Moreover, porphyrin molecules were reported to have cytotoxic effects starting at 50 μM [34, 35] and are photoactive [36, 37], potentially resulting in harmful side-effects. More recently, using a single-chain antibody specific to G-quadruplex motifs, Fernando et. al. [38] determined 1,767 significant differentially expressed genes in a HGC-27 cell line. It should be noted that the choice of the cell line has very likely a strong impact on the outcome of whole-transcriptome examinations as described here. For example, a direct comparison of differentially expressed genes upon compound incubation between two cell lines in our opinion makes only sense if the compared genes are indeed expressed in both cell lines. Hence the immediate comparison of transcripome datasets between different cell lines will result in many apparent contradictions that might result from different expression states of the genes in different cell lines. In a further study, G-quadruplex motifs were selectively pulled down from HT1080 cells using a biotinylated bisquinolinium derivative [39]. However, in the latter study, an assignment of preferential genomic location for G4-motifs was not achieved, thereby limiting the insights gained regarding the in vivo-function of G-quadruplex formation. In conclusion, further genome-wide studies of transcriptional changes mediated by quadruplex-specific compounds are needed in order to judge the extent to which G-quadruplexes influence transcription.
In the present work we investigate genome-wide effects on transcription in a HeLa S3 cell line via stabilizing G-quadruplex motifs using the quadruplex-selective bisquinolinium compounds PhenDC3 and 360A (Figure
1A-B
). Both molecules derived from the triazine derivative 12459 [
40
] and have been extensively studied for their G-quadruplex specificity both
in vitro
[
41
–
43
] and
in vivo
[
44
–
47
]. In addition we used the bisquinolinium compound 8979A as a control as this compound also contains two quinolinium residues (see Figure
1C
) but is known for its poor affinity and selectivity for DNA G-quadruplex motifs [
43
]. Of the 24,651 genes probed in this work by a transcriptome array, 2,212 and 526 genes significantly changed their expression when treated with PhenDC3 or 360A, respectively. Of these, 81.5% and 70% had at least one G-quadruplex motif near their TSS. We confirmed the specificity of the target G-quadruplexes by real-time PCR for 8 individual genes.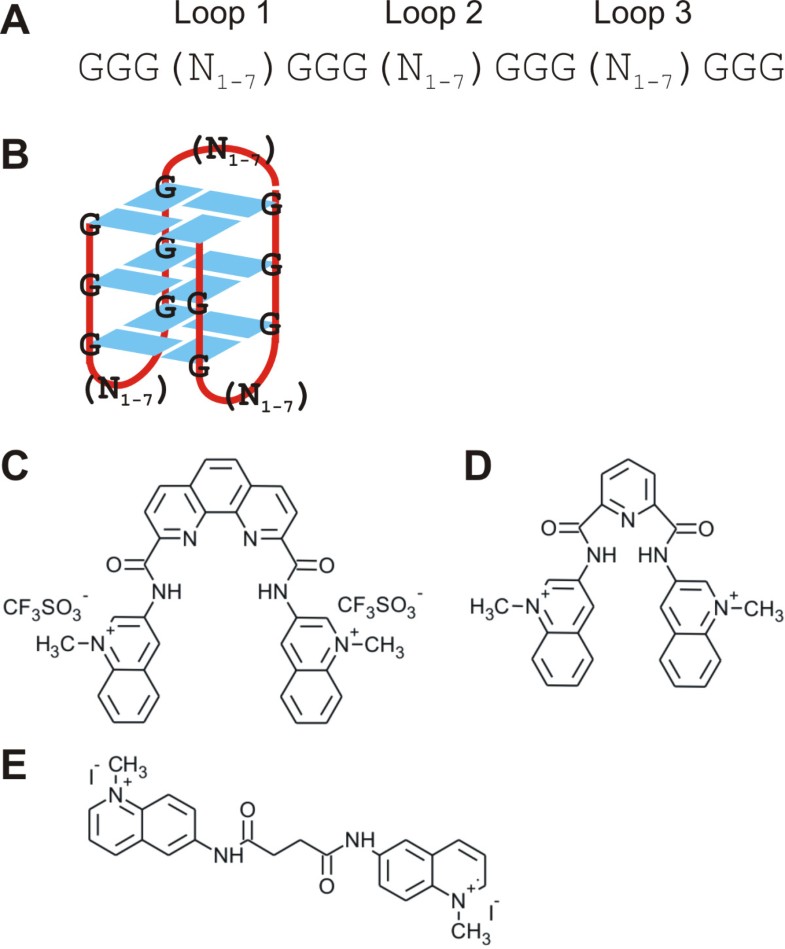 Conclusions
In summary, the present study shows that the bisquinolinium compounds PhenDC3 and 360A can induce G-quadruplex-motif-specific changes in transcription. In contrast to previous studies, our experiments employ more quadruplex-specific compounds, which is reflected in the over-representation of differentially regulated genes bearing quadruplex motifs in their promoter regions. In an earlier study using TMPyP4 as a more non-specific G-quadruplex binder 61% of the differentially expressed genes were connected to the occurrence of a G4 motif in their ± 1 kb region around TSS which is less than expected [5]. In comparison, PhenDC3 and 360A showed enhanced specificity. The differences observed between the two compounds can result from slight variations in affinity for various quadruplex-forming sequences as shown recently [58]. However, we were unable to detect obvious characteristics such as loop compositions and motifs common to quadruplexes that are associated with genes that showed changes. Such identifiers would also have been very interesting to observe also with respect to the therapeutic potential of quadruplex-targeting small molecules. On the other hand, given the rather late time point of 48 h post incubation with the quadruplex-inducing compound, we cannot rule out that some or many of the observed effects are secondary and therefore cannot be attributed to a direct effect of a quadruplex formation. Taking this into account, future studies of quadruplex-targeting compounds should also take into account earlier time points in order to ensure that indeed primary changes of gene expression are observed.
Interestingly, we found that more genes were up-regulated than down-regulated following compound treatment. Several studies reported quadruplexes as transcription suppressor elements when their effects on individual genes were studied [19, 28, 59]. However, positive effects on transcription levels via the formation of promoter G-quadruplexes have also been described [60, 61] and hence the influence of the formation of a promoter-based quadruplex on transcription is very likely dependent on the exact position and the promoter architecture. Similar up-regulation effects were noticed earlier in genome-wide microarray experiments following TMPyP4 [55] or single-chain antibody [38] treatments. Similarly, in absence of WRN/BLM helicases which are believed to resolve G-quadruplex motifs, a strong association was observed between up-regulated genes and G-quadruplex motifs in promoter regions [62]. It has been speculated that the changes could be mediated by an influence of the G4 motifs on the chromatin state [10, 12]. It is also possible that the absence of a helicase (or in our case stabilization of transient G-quadruplex motifs by small molecules) may result in formation of transcription factor binding sites or destruction of repressor binding sites. In addition, along with other non-canonical structures such as cruciform and triplexes, quadruplexes have been discussed as modulators of superhelical torsion. Stress-induced duplex destabilization (SIDD) is more prevalent in transcriptional regulatory sites [63] and quadruplex formation was shown to release supercoiling stress [6]. The occurring denaturation of duplex DNA in regulatory regions near the transcription start site would be an easy way of interfering with the transcriptional machinery and its regulation. However, more detailed studies are required to further decipher the exact mechanisms underlying quadruplex-mediated changes in transcription. We also observed a positional bias in the distribution of G-quadruplex motifs in differentially expressed genes. G-quadruplexes are enriched on the reverse strand before the TSS or on the forward strand after the TSS when compared to the G4-motifs present in non-differentially expressed genes. Interestingly, G4 motifs present on the non-template strand have been shown to play a role in RNA pol II pausing [64], which provides a possible mechanism for how these may in turn regulate the expression of the downstream gene. Further, a similar distribution of the loop size and composition of G-quadruplexes between the perturbed and non-perturbed genes were found, suggesting the precise genomic position and the composition of the surrounding DNA are likely to play an important role in determining the effect a given quadruplex will have on gene-transcription.
Declarations
Acknowledgements
We thank Kangkan Halder for helpful discussions. The work was funded by the VolkswagenStiftung via a Lichtenberg Professorship to JSH. JFR received funds from the "Ligue Nationale Contre le Cancer". MPTF and JFR thank the Agence Nationale pour la Recherche ANR (G4-TOOLBOX, ANR-Blan-09-355) for fundings. The funders had no role in study design, data collection and analysis, decision to publish, or preparation of the manuscript.
Authors' Affiliations
(1)
Department of Chemistry and Konstanz Research School Chemical Biology (KoRS-CB), University of Konstanz, Konstanz, Germany
(2)
Structure des Acides Nucléiques, Télomères et Evolution, INSERM U565, CNRS UMR 7196, Muséum National d'Histoire Naturelle, Paris cedex 05, France
(3)
Institut Curie, UMR 176-CNRS, Orsay, France
(4)
Department of Biology, University of Konstanz, Konstanz, Germany
Copyright
© Hartig et al; licensee BioMed Central Ltd. 2012
This article is published under license to BioMed Central Ltd. This is an open access article distributed under the terms of the Creative Commons Attribution License (http://creativecommons.org/licenses/by/2.0), which permits unrestricted use, distribution, and reproduction in any medium, provided the original work is properly cited.