Research article

Open Access
A systems biology analysis of long and short-term memories of osmotic stress adaptation in fungi
BMC Research Notes
2012
5:258
Received: 26 October 2011
Accepted: 25 May 2012
Published: 25 May 2012
Abstract
Background
Saccharomyces cerevisiae senses hyperosmotic conditions via the HOG signaling network that activates the stress-activated protein kinase, Hog1, and modulates metabolic fluxes and gene expression to generate appropriate adaptive responses. The integral control mechanism by which Hog1 modulates glycerol production remains uncharacterized. An additional Hog1-independent mechanism retains intracellular glycerol for adaptation. Candida albicans also adapts to hyperosmolarity via a HOG signaling network. However, it remains unknown whether Hog1 exerts integral or proportional control over glycerol production in C. albicans.
Results
We combined modeling and experimental approaches to study osmotic stress responses in S. cerevisiae and C. albicans. We propose a simple ordinary differential equation (ODE) model that highlights the integral control that Hog1 exerts over glycerol biosynthesis in these species. If integral control arises from a separation of time scales (i.e. rapid HOG activation of glycerol production capacity which decays slowly under hyperosmotic conditions), then the model predicts that glycerol production rates elevate upon adaptation to a first stress and this makes the cell adapts faster to a second hyperosmotic stress. It appears as if the cell is able to remember the stress history that is longer than the timescale of signal transduction. This is termed the long-term stress memory. Our experimental data verify this. Like S. cerevisiae, C. albicans mimimizes glycerol efflux during adaptation to hyperosmolarity. Also, transient activation of intermediate kinases in the HOG pathway results in a short-term memory in the signaling pathway. This determines the amplitude of Hog1 phosphorylation under a periodic sequence of stress and non-stressed intervals. Our model suggests that the long-term memory also affects the way a cell responds to periodic stress conditions. Hence, during osmohomeostasis, short-term memory is dependent upon long-term memory. This is relevant in the context of fungal responses to dynamic and changing environments.
Conclusions
Our experiments and modeling have provided an example of identifying integral control that arises from time-scale separation in different processes, which is an important functional module in various contexts.
Keywords
Integral Control
Glycerol Production
High Osmolarity Glycerol
Hyperosmotic Condition
Hyperosmotic Shock
Background
Adaptation to dynamically changing environments is required for any life form to survive. Unicellular microorganisms often adapt to environmental changes by modulating their metabolism and reprogramming their gene expression patterns. Generally, microbes are constantly monitoring their environment via specific receptors, and then adapting their cellular physiology accordingly via changes in gene expression and metabolism that are driven by specific signal transduction networks.
Osmosensing in Saccharomyces cerevisiae
The yeast Saccharomyces cerevisiae is able to adapt to acute changes in extracellular osmolarity. The hyperosmotic signal is amplified and transmitted via the High Osmolarity Glycerol (HOG) signaling network, and this leads to the intracellular accumulation of the osmolyte, glycerol. Increasing intracellular glycerol concentrations decrease the intracellular water potential, restore water influx and consequently restore cell volume and turgor pressure.
In
S. cerevisiae
, the HOG network has two main upstream branches, namely the Sln1 branch [
1
,
2
] and Sho1 branch [
3
,
4
] (Figure
1
). These two branches converge at Pbs2, which becomes phosphorylated in response to hyperosmotic stress, eventually culminating in Hog1 activation [
5
]. The Sln1 branch is thought to have a linear topology (i.e. no feed-forward or feedback loops). In contrast, the Sho1 branch has at least two negative feedback control loops (Figure
1
), in which activated Hog1 inhibits the activity of upstream signaling components including Sho1 [
6
] and Ste50 [
7
] via phosphorylation. In principle, such negative feedback amplifier can ensure Hog1 phosphorylation levels be kept within a narrow range upon adaptation to hyperosmotic shocks [
8
]. Consistent with this idea, the Sho1 branch does not respond to low hyperosmotic signals (less than 0.1 M NaCl), and displays lower maximum responses compared with the Sln1 branch [
9
]. In contrast, Sln1 branch operates at a high basal level in the absence of hyperosmotic signal, although the components generating such basal activation remain unidentified [
9
]. This basal signaling activity enables the Sln1 branch to respond faster than the Sho1 branch. Previous studies also suggest that, following osmoadaptation, Sln1 signaling is down-regulated via ubiquitin-proteosome mediated degradation of unphosphorylated Ssk1 [
10
].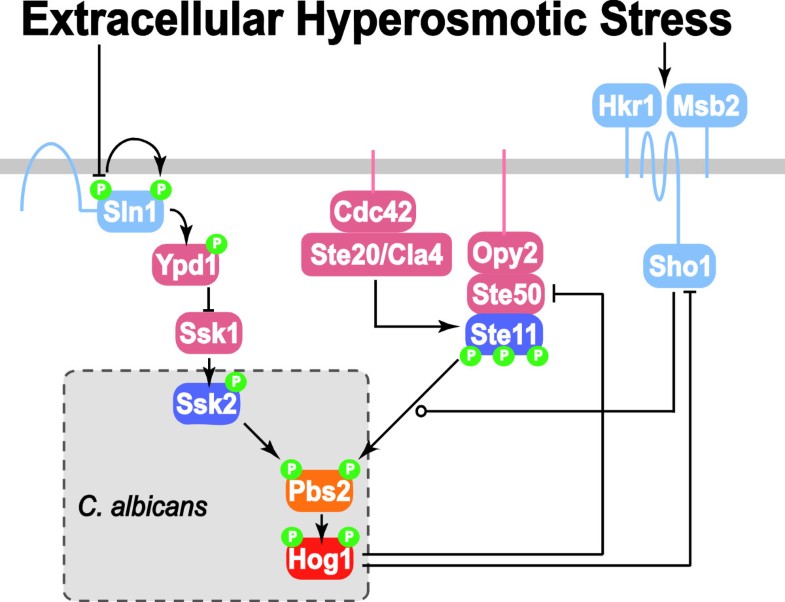 Osmosensing in Candida albicans
In contrast to the benign model yeast S. cerevisiae Candida albicans is a major fungal pathogen of humans that causes frequent mucosal infections in otherwise healthy individuals and potentially lethal infections in immunocompromised intensive care patients [16]. HOG signaling is essential for the normal virulence of C. albicans[17], although osmosensing in C. albicans is not well characterised (Figure 1). Similar to S. cerevisiae, in C. albicans osmotic stress signals are relayed to Hog1 via Pbs2 [18]. However, in C. albicans, osmotic stresses activate Hog1 only through Ssk2, and the Sho1 branch does not contribute significantly to osmosensing [19]. Therefore, Ssk2 appears to be the only MAPKKK that activates the HOG MAPK module under the stress conditions examined so far [19]. It is not yet clear whether the stress signal is relayed via Sln1. A novel osmotic stress signaling pathway might work in parallel with Sln1 to relay osmotic signals to Pbs2 [19]. In contrast, bioinformatic surveys of osmotic signaling components have suggested that key components of the Sho1 branch might be absent in C. albicans (Additional file 1: Figure S1; [20]). In summary, uncertainties remain regarding the upstream and downstream components of the HOG signaling network in C. albicans.
A systems view of HOG signaling network
Given the importance of HOG signaling components for the virulence of C. albicans[17], it is important to study how this pathogen responds to osmotic shocks. In this study, we have investigated how the HOG signaling network operates in C. albicans using a model that encompasses the HOG signaling network and downstream adaptive processes.
Some signal transduction pathways returns to basal activity levels once a cell has adapted to environmental change. For instance, chemotaxis in E. coli is achieved through a sensing network whose activity always returns to the basal levels once the cell moves towards the attractant or away from the repellent [21]. Also, the phosphorylation status of the heat shock transcription factor returns to basal levels once C. albicans cells have adapted to elevated ambient temperatures [22]. This type of "perfect adaptation" may be significant in minimizing the potential impact of signaling crosstalk. In particular, the HOG pathway shares common components with the pheromone sensing pathway and the filamentous growth pathway. Perpetual HOG signaling activity might inappropriately activate other pathways.
A recent
in silico
study reveals that only two network topologies ensure perfect adaptation, incoherent feed-forward loop and negative feedback loop ([
23
]; see Figure
2
for detailed discussions). In incoherent feed-forward loop, the response element is subject to a positive regulation that is proportional to a negative regulation simultaneously. The overall outcome is that the final output is insensitive to the signal. The negative feedback loop involves integral control, a regulatory mechanism whereby the controller output is proportional to the amount and duration of the error signal (the "error signal" being defined as the difference between a signaling network's current state and its final adapted state) (Figure
3
). Integral control enables the cell to convert an error signal into the temporal integral of the activity of the signaling pathway. In other words, the output of the signaling network (i.e. changes in the downstream adaptive processes) will be proportional to the temporal integral of the signaling pathway. Since the information is encoded as the temporal integral of the signaling pathway, the signal transduction pathway is able to "integrate out" the error signal, returning to basal levels once the cell has adapted to its new state. Hence, integral control provides a means of achieving the perfect adaptation of a signal transduction pathway.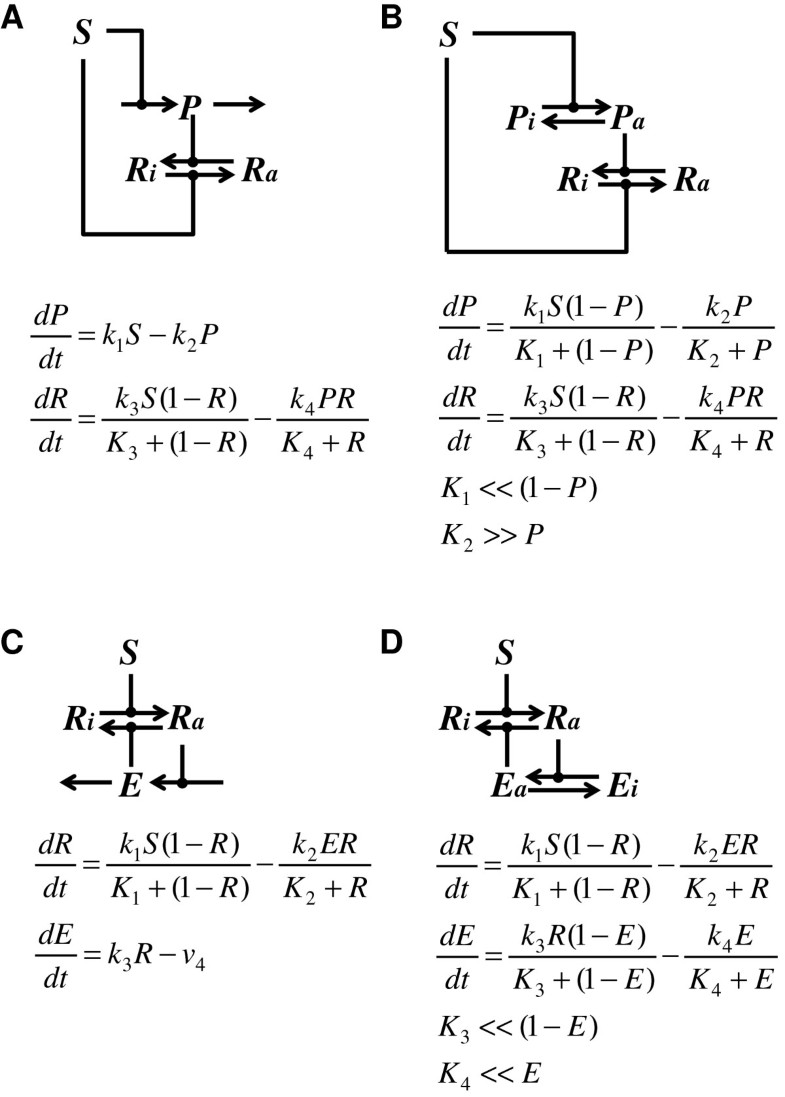 The integral controller employs the time integral of the error signal K ∫ 0 t e(τ)dτ as the feedback mechanism.
Interestingly, integral control mechanisms have arisen frequently in evolution, presumably because they provide robust means by which systems can adapt effectively to constant environmental stimuli despite stochasticity. Indeed, systems biology studies have revealed a variety of biological processes that employ integral control mechanisms including bacterial chemotaxis [24], calcium homeostasis [25] and energy metabolism [26].
Elegant single cell analyses of nuclear Hog1 enrichment in S. cerevisiae following hyperosmotic shock have revealed that nuclear Hog1 levels return to basal levels once the cell has adapted to hyperosmotic conditions, and therefore that the HOG system displays perfect adaptation [27]. These authors showed that upon exposure to osmotic stress, the time integral of Hog1 activity is linearly related to the increase in extracellular osmotic pressure within a certain range [27]. This verifies that Hog1 exercises integral control over glycerol production in response to a persistent hyperosmolarity. This key discovery offers a starting point for developing simple mathematical models of osmotic stress responses in S. cerevisiae and C. albicans.
Using modeling and experimentation, we demonstrated that such integral control arise through a separation of the time scales between rapid signaling events and the relatively slower downstream adaptive processes. In addition, a hyperosmotic shock triggers long-term changes in the physiology of yeast cells that prepares them for subsequent hyperosmotic shocks. It appears as if a yeast cell can "remember" a previous hyperosmotic shock over a period that is longer than the time scale of signal transduction, and therefore adapts quickly to subsequent hyperosmotic shocks. We term this phenomenon a long-term stress memory. Our model suggests the HOG system also has a short-term memory that is engendered in the activation and inactivation of the intermediate kinases during the signal relay. The short-term memory might be affected by the regulation of glycerol channels. Our work highlights the need to study the properties of a signal transduction network in an appropriate biological context.
Discussion
Recently, Gennemark and coworkers reported a simple mathematical model of hyperosmotic responses in S. cerevisiae[33]. Their model concisely described the biophysical changes of a hyperosmotically stressed yeast cell, and related those changes to glycerol production. This model is able to reproduce some published data on the changes in intracellular and extracellular glycerol concentrations in response to different physiological perturbations. Instead of integral control, their model assumes a time-delayed proportional control of glycerol production, i.e. glycerol productivity at a particular time is assumed to be proportional to the change in turgor pressure (relative to a constant reference turgor pressure). A consequence of this assumption is that there should be no memory effects in the stress response dynamics. This motivated us to investigate whether a model including integral control would be more appropriate.
Also inspired by the recent finding of Hog1 integral control in S. cerevisiae[27], we investigated osmotic stress responses in C. albicans by constructing a low granularity mathematical model assuming Hog1 integral control. This model integrates the HOG signal transduction pathway with downstream adaptive processes, and encompasses both hyper- and hypo-osmotic conditions. In this model, a signaling or biochemical pathway was concisely represented by an overall reaction (Figure 5). Hence, the property of the pathway was defined by the associated kinetic parameters. The model was calibrated using in-house generated time-course data of Hog1 phosphorylation plus intracellular and total glycerol levels following exposure to two doses of NaCl. Subsequently, Hog1 integral control was experimentally verified in C. albicans using experiments in which cells were subjected to repeated NaCl insults. The data showed that pre-stressed cells adapted to a second hyperosmotic shock more quickly, as if they remembered the hyperosmotic history. This phenomenon is known as the "long-term stress memory", because its duration was longer than the time required for signal transduction to take place. Using this model, we reasoned that the cellular memory observed under hyperosmotic conditions is a hallmark of the separation of time scales between HOG signaling and reduction of glycerol production rates. In this case this mechanism enables Hog1 integral control.
The separation of time scales in different biological processes is a universal phenomenon. Often, signaling networks that perceive environmental conditions such as nutrient availability, chemical insults, and mating pheromones are required to function at much faster rates (i.e. seconds) than the ensuing regulatory networks which encompass transcriptional and translational controls (i.e. tens of minutes). It is also common for signals to be converted, via modulation of transcriptional regulators, into the expression of a stable product (i.e. a stable mRNA or protein). Such a separation of time scales could result in an integral control mechanism that would generate an experimentally testable long-term memory. Therefore our experimental approach could be further applied to other signaling networks to examine such a property. In addition, the identification of such a phenomenon allows mathematical simplifications of the regulatory network under study, an important step towards a thorough understanding of signaling networks which may be obscured in exhaustive descriptive models.
The teleological question as to why the yeast cell employs an integral control mechanism remains to be answered. Among the various types of feedback mechanism, proportional control and derivative control mechanisms would allow a system to adapt to a new status that is different from the original condition. However, integral control ensures perfect adaptation of the system, whereby signaling returns to basal levels once adaptation is achieved. This would reduce the potential for cross-talk between signaling pathways. The ability of the cell to restore turgor pressure in the face of an osmotic challenge is crucial for the restoration of growth. Should Hog1 signaling regulate glycerol production via proportional control, a change in osmotic pressure would be reflected by a proportional change in Hog1 activity. In other words, the ability to sense diverse amplitudes of osmotic signal would require high concentrations of HOG signaling proteins, the production of which would demand considerable cellular resources. In contrast, the integral control mechanism converts the error signal into the temporal integral of HOG activity. This avoids the need to express HOG pathway components at high levels. In fact in S. cerevisiae, Hog1 phosphorylation levels become saturated in response to relatively low hyperosmotic signals. In addition, derivative control offers gradual changes in a system, which might be too slow to generate the necessary adaptation to external osmotic challenges. Indeed, derivative control is often found to provide a buffering capacity in cellular systems. For instance, in energy metabolism, phosphorylated molecules, such as phosphocreatine, act as a buffer during high energy demand periods. Phosphocreatine implements a biological derivative control over ATP concentration [26].
Our modeling further suggests that the frequency response of the HOG signaling pathway can be affected by the regulation over the glycerol channels. This prediction is significant because this frequency response is generally thought to be a property of the short-term memory mediated by the regulation of intermediate protein kinases alone. In addition, our simulations show that the long-term memory may also affect the way a cell responds to a high frequency signal. Our simulations suggest that a cell that has previously adapted to hyperosmolarity retains relatively high intracellular glycerol levels for a period. Consequently, the high intracellular osmolarity counterbalances the hyperosmotic signal that the cell perceives. These results highlight the importance of a systems approach to study the signaling networks.
Conclusions
Our measurements of Hog1 phosphorylation dynamics in C. albicans suggest that, in this pathogen, Hog1 achieves perfect adaptation to a constant hyperosmotic shock through an integral control mechanism that is dependent on separation in time scales between signalling and downstream adaptation. We also predict that Hog1 signalling exhibits a short-term memory that can be revealed by tracking responses to an alternating signal. Furthermore, we predict that this short-term memory depends on the long-term memory. For example, Hog1 phosphorylation levels are predicted to adapt relatively quickly to high frequency signals in cells that have pre-adapted to a constant hyperosmotic stress.
Methods
Strains and culture conditions
C. albicans strain CA1655 (ura3::λimm434/ura3::λimm434 RPS1/rps1::pACT1-FLAG-GFP) was used for the Hog1-phosphorylation assays. This strain is CAI-4 [39] containing pACT1-FLAG-GFP [40] integrated at the RPS1 locus. C. albicans CA1655 expresses a FLAG-tagged version of GFP from the ACT1 promoter and functions as an internal loading control for Western blots. C. albicans NGY152 [41], which is CAI4 transformed with CIp10 [42], was used for the glycerol assays. Strains were routinely maintained on YPD-T medium (2 % (w/v) glucose, 2 % (w/v) mycological peptone (Oxoid), 1 % (w/v) yeast extract (Oxoid), 100 mM Tris–HCl, pH 7.4) [43].
Cell growth and stress experiments
Cells were grown at 30°C with shaking (200 rpm). To ensure consistency in the starting physiology of the cultures used in our experiments, cells were pre-cultured twice overnight in YPD-T, diluted to an OD600 of 0.2 in fresh medium and then grown to mid-log phase (OD600 0.8) before any stress was applied [43]. A single hyperosmotic stress was applied by splitting one large starting culture and diluting the cells back to an OD600 of 0.2 in fresh YPD-T with NaCl added to achieve concentrations of 0, 0.3, 0.5, 0.75 or 1 M. Cells were harvested by centrifugation at selected time points and the pellets flash frozen in liquid nitrogen.
For the experiments involving the imposition of sequential stresses, cells were initially cultured and stressed as described above. At the end of the first stress period, cells were harvested, resuspended in fresh YPD-T with no NaCl and incubated at 30°C for 10 min. NaCl was then added to the cultures and samples were collected after the second stress period. Three biological replicates were prepared for each condition.
Protein extraction and western blotting
To make protein extracts, flash-frozen cell pellets were resuspended in freshly prepared protein lysis buffer (50 mM Tris–HCl pH 7.5, 150 mM NaCl, 0.5 % NP40) containing inhibitors (2 mg/ml Leupeptin, 2 mg/ml Pepstatin, 1 mM PMSF, 2 mM Na3VO4 and 50 mM NaF) and sheared with acid-washed glass beads (425–600 μm, Sigma-Alrich) using a Fast-Prep FP120 machine (Thermo Scientific) (6 × 15 s bursts, Speed 6.5 with 1 min on ice between bursts). Protein extracts were clarified by centrifugation and protein concentration determined using a Bradford assay [44].
Proteins were separated by SDS-PAGE on NuPAGE®Novex Bis-Tris 4-12 % pre-cast polyacrylamide gels (Invitrogen, Paisley, UK). 15 μg protein was loaded in each lane. Proteins were transferred to PVDF membranes, rinsed in phosphate-buffered saline (PBS) and then blocked in PBS-T containing 10 % BSA (PBS, 0.1 % Tween20, 10 % (w/v) BSA) for 30 min at room temperature. Blots were incubated overnight at 4°C in PBS-T containing 5%BSA containing a 1:2000 dilution of anti-phospho-p38 MAPK (Thr180/Tyr182) antibody (Cell Signaling Technology) and a 1:20000 dilution of anti-FLAG antibody (Sigma-Aldrich, UK). Blots were washed in PBS-T and then incubated for 1 h at room temperature with Anti-rabbit IgG, HRP-linked antibody (Cell Signaling Technology). The blots were washed in PBS-T and the signal was detected using LumiGLO™ (Cell Signaling Technology) or SuperSignal®WestFemto (Thermo Scientific) according to manufacturer's instructions. Phosphorylated Hog1 and GFP-FLAG levels were visualized and quantified using the FluorChem®FC2 (Alpha Innotech) or the FUSION SL™ (Peqlab) systems and the levels of phosphorylated Hog1 were expressed relative to the internal standard (GFP-FLAG).
Glycerol assay
Extracellular and total glycerol concentrations were determined in stressed and unstressed cells at various time points. Cultures were grown and the stress applied as described above. The Free Glycerol Determination Kit (Sigma-Aldrich) was used to determine glycerol concentrations according to the manufacturer's instructions. To measure extracellular glycerol concentrations, 1.5 ml samples of culture were collected and the cells harvested by centrifugation. Supernatants were transferred to a fresh tube and heated at 100°C for 10 min before their glycerol content was determined. Total glycerol concentrations were measured using 1.5 ml of culture after heating at 100°C for 10 min without prior removal of cells. Cell debris was spun down and the supernatant assayed for glycerol content. Intracellular glycerol concentrations were calculated by deducting the extracellular glycerol concentration from the total glycerol concentration.
Availability of supporting data
Supporting data on the following topics are collated in an additional Supplemental data file with the manuscript:
Bioinformatic analysis of the conservation of proteins in HOG signaling network in Candida albicans
Mathematical modelling
· Steady-state response of HOG signaling network

· Frequency response of HOG signaling network

· Model assumptions

· The model

· Model parameterisation

· Frequency response of the system
Declarations
Acknowledgements
This paper is dedicated to Jaroslav Stark, our source of wisdom and inspiration, who tragically died in 2010. TY would like to thank Wei Pang for the valuable discussions on model development and Christopher Brackley for the help on the analysis of frequency response. All authors would like to thank Laura Selway for undertaking some Gpd1 time course experimental work, and Despoina Kaloriti, Anna Tillman, Melanie Puttnam, Elahe Radmaneshfar, George Coghill, Janet Quinn and Mauricio Barahona for general discussions. All authors gratefully acknowledge the funding support by the CRISP project (Combinatorial Responses In Stress Pathways) funded by the BBSRC (BB/F00513X/1) under the Systems Approaches to Biological Research (SABR) Initiative. NARG and AJPB were also funded by the European Marie Curie Initial Training Networks, ARIADNE and FINSysB, respectively (PITN-GA-2008-214004). AJPB was also supported by an ERC Advanced Grant (STRIFE: ERC-2009-AdG_20090506).
Authors' Affiliations
(1)
Institute for Complex Systems and Mathematical Biology, School of Natural and Computing Sciences, University of Aberdeen, Old Aberdeen, UK
(2)
Department of Mathematics, Imperial College London, London, UK
(3)
School of Medical Sciences, University of Aberdeen, Institute of Medical Sciences, Aberdeen, UK
(4)
Department of Biosciences, College of Life and Environmental Sciences, University of Exeter, Exeter, UK
(5)
Department of Microbiology, Imperial College London, London, UK
(6)
Centre for Bioinformatics, Division of Molecular Biosciences, Wolfson Building, Imperial College London, South Kensington Campus, London, UK
(7)
Computational Biology, AstraZeneca, Innovative Medicines, Alderley Park, Macclesfield, UK
(8)
Formally of the Department of Mathematics, Imperial College London, London, UK
Copyright
© You et al.; licensee BioMed Central Ltd. 2012
This article is published under license to BioMed Central Ltd. This is an Open Access article distributed under the terms of the Creative Commons Attribution License (http://creativecommons.org/licenses/by/2.0), which permits unrestricted use, distribution, and reproduction in any medium, provided the original work is properly cited.