Research article
Open Access
Mutual information and variants for protein domain-domain contact prediction
BMC Research Notes
2012
5:472
Received: 15 May 2012
Accepted: 10 August 2012
Published: 31 August 2012
Abstract
Background
Predicting protein contacts solely based on sequence information remains a challenging problem, despite the huge amount of sequence data at our disposal. Mutual Information (MI), an information theory measure, has been extensively employed and modified to identify residues within a protein (intra-protein) that are in contact. More recently MI and its variants have also been used in the prediction of contacts between proteins (inter-protein).
Methods
Here we assess the predictive power of MI and variants for domain-domain contact prediction. We test original MI and these variants, which are called MIp, MIc and ZNMI, on 40 domain-domain test cases containing 10,753 sequences. We also propose and evaluate two new versions of MI that consider triangles of residues and the physiochemical properties of the amino acids, respectively.
Results
We found that all versions of MI are skewed towards predicting surface residues. Since domain-domain contacts are on the surface of each domain, we considered only surface residues when attempting to predict contacts. Our analysis shows that MIc is the best current MI domain-domain contact predictor. At 20% recall MIc achieved a precision of 44.9% when only surface residues were considered. Our triangle and reduced alphabet variants of MI highlight the delicate trade-off between signal and noise in the use of MI for domain-domain contact prediction. We also examine a specific "successful" case study and demonstrate that here, when considering surface residues, even the most accurate domain-domain contact predictor, MIc, performs no better than random.
Conclusions
All tested variants of MI are skewed towards predicting surface residues. When considering surface residues only, we find MIc to be the best current MI domain-domain contact predictor. Its performance, however, is not as good as a non-MI based contact predictor, i-Patch. Additionally, the intra-protein contact prediction capabilities of MIc outperform its domain-domain contact prediction abilities.
Keywords
Mutual InformationMultiple Sequence AlignmentAverage Mutual InformationSurface ResidueContact Residue
Background
Proteins are actors in a complex system, with their functions to a large extent defined by their interactions with other proteins. It is the size, shape and chemical properties of the residues on the surface of the protein that dictate the capacity of a protein to interact with other proteins. The ability to predict the residues involved in these interactions would help to identify specific functionality, structural constraints and even disease-causing mutations.
In this paper we examine the capacity for mutual information (MI) methods to predict these contact residues between proteins by assessing their ability to predict contacts between two domains of a protein. To date, MI based methods have been extensively used to predict contacts within a protein (intra-protein)[1–12].
MI uses a multiple sequence alignment (MSA) of homologous sequences; it measures the dependence between two columns in this alignment, with the aim of identifying correlated mutations[13]. If two residues are in close proximity, it is likely that a change in size, shape or chemistry of one will need to be compensated for by a change in the other, if the contact is to remain energetically favourable[3, 14–16]. These compensatory mutations are often referred to as correlated mutations.
MI was first applied to sequence alignments by Korber et al. to identify covarying positions in a viral peptide[1]. We hypothesise that MI has since gained popularity because it is non-parametrized, i.e. the scores of MI are solely dependent on an MSA and no additional information, such as a phylogeny propensity table[12], a similarity matrix[17, 18] and so on is required. Furthermore, unlike other algorithms that predict contact "patches"[7, 19], or individual contact residues[20, 21], MI attempts to predict specific pairs of residues that are in contact with one another.
Horner et al.[22] have collated the accuracies of intra-protein contact residue prediction from several publications that employ correlated mutation analysis algorithms, and showed that MI has an accuracy between 2% and 18%. Accuracy here refers to the percentage of predictions that are correct. The low accuracy of MI has in turn precipitated many variants that attempt to improve its performance. These variants specifically attempt to correct for the following three recognised limitations of MI: highly variable columns, phylogenetic relationships and insufficient sequences in the MSA. There is evidence that columns in the MSA that have a high variability contribute to random and non-random high MI scores[8, 23], while phylogenetic relationships[5] and insufficient number of sequences in the MSA[8] weaken the signal detection ability of MI. In 1995, Clarke[2] corrected the MI score by a measure relating to the number of amino acid pairs occurring at each position to negate the influence of highly diverged sequences that may be inappropriately aligned in the MSA. Later, Wollenberg and Atchley[5] used parametric bootstrapping to adjust for evolutionary relationships; another technique for reducing phylogenetic noise in the MSA before employing MI is the evolutionary trace approach[24]. Tillier and Lui[6] designed a tool which removes columns in an MSA that carry a high phylogenetic signal and then employs MI to identify positions in the resulting MSA that coevolve with each other, but do not coevolve significantly with other positions. As performance was still disappointing, Martin et al. attempted to remove the noise caused by entropy by dividing the MI score of a pair of columns by their joint entropy[8]. These authors also suggested that a minimum of 125 sequences should be used in an MSA to reduce stochastic noise. Dunn et al. improved on this score by introducing MIp, which modified the MI value by a measure that aims to eliminate phylogenetic and entropic effects[9]. Subsequently, Lee and Kim[25] introduced two other powerful phylogenetic noise reduction MI measures, MIc and aMIc. In 2010 Brown and Brown[11] suggested yet another MI measure, ZNMI, that accounts for different alphabet sizes among columns in the MSA. These authors also proposed a pipeline to yield highly reproducible scores. Despite all of these efforts, to date no single MI measure has achieved general utility or wide acceptance for predicting intra-protein contact sites.
MI has begun to be extended to predict inter-protein contact residues. Halperin et al.[26] carried out a small study of original MI and other correlation algorithms on 15 bacteria and archea fusion protein families, and Lee and Kim[25] evaluated their newly formulated MI measures on a specialised dataset of 27 homo-trimers. There have also been several high profile case studies on a small number of examples (one to three), such as[8–11, 27]. However, so far there has been no systematic study on a large, general purpose, cross-species dataset of the performance of MI and its latest variants on inter-protein contact residue prediction, partly because no such large inter-protein dataset with accurately paired MSAs is available[25, 26].
Following the idea of Pazos et al.[18], here we make a step towards closing this gap by employing MI and its variants on 40 domain-domain test cases; the contacts between domains serve as a proxy for inter-protein contacts[18]. We evaluate MI measures that do not require any additional information and rely solely on the sequence alignment itself; we focus on the original MI and its most recent extensions MIp and MIc, as well as ZNMI. Unlike the other measures, the ZNMI score is embedded in an iterative pipeline designed by its authors[11]. Hence we have to analyse the performance of ZNMI differently to its competitors.
We have also attempted to strengthen the predictive capabilities of MI by introducing two new MI variants. The first variant considers triangles of residues rather than pairs to identify contacts, with the aim of enhancing the signal, and is referred to as MI3D and MIp3D. As MIc already considers a third column in its normalising term, it was not extended to triangle scores. Our second variant is designed to reduce noise by grouping residues in the MSA into seven physiochemical categories and subsequently calculating MI. This modification is indicated by the suffix RA (reduced alphabet), and the resulting five variants are: MIRA, MI3DRA, MIpRA, MIp3DRA and MIcRA. Thus altogether we examine the domain-domain contact prediction ability of 10 MI measures: MI, MI3D, MIRA, MI3DRA, MIp, MIp3D, MIpRA, MIp3DRA, MIc and MIcRA, alongside the pipeline ZNMI.
In our study we observe that all versions of MI do not perform as well as a current leading domain-domain contact predictor, i-Patch[12], which achieves a precision of 48.9% at 20% recall on the 40 test cases. The enhanced predictive ability of i-Patch may arise from its use of surface residues only, residue propensity scores, as well as the MSA. Conversely, MI variants rely solely on the MSA. Upon further investigation we find that MI, MIp and MIc scores are skewed towards predicting surface residues rather than contact. Thereafter, like i-Patch, we consider surface residues only when attempting to predict domain-domain contacts using MI. This in turn improves the contact prediction abilities of all 10 MI measures. Amongst the 10 tested MI variants and ZNMI, we find that MIc is the leading MI domain-domain contact predictor, attaining a precision of 44.9% precision at 20% recall.
Results and discussion
For this inter-protein MI investigation we use 40 proteins that have two domains, and treat each domain as a separate protein. Proteins are composed of one or more domains. A multidomain protein, protein A, will often use one of its domains to bind to protein B and another to bind to protein C, thus allowing protein A to perform multiple functions. Consequently, in reality protein-protein interactions are often domain-domain interactions[28]. Hence using domain-domain interactions within proteins as a proxy for protein-protein interactions ensures that interacting "proteins" are accurately paired in each MSA, while capturing interaction mechanisms.
Unfortunately the seemingly more straightforward approach of building MSAs by finding homologous sequences of two proteins known to be in complex, and then pairing the sequences originating from the same species, is not feasible for the following reasons. Inferring protein-protein interactions across species based on sequence homology has a low level of accuracy, requiring a sequence identity of far higher than 70%[29]. Using only sequences with >70% identity would have resulted in MSAs with a low number of sequences and few amino acid changes, not sufficient enough to yield statistically significant MI results[8]. Furthermore, within a species there may be multiple homologs of the interacting proteins, and selecting the correct pairs out of this is an unsolved problem[29]. Therefore previous protein-protein contact residue prediction investigations have chosen to employ proteins of known structure, with two domains, that have several homologous sequences available[12, 18]. Hamer et al.[12] have shown that the propensities of amino acids to occur as contact residues between two domains in a protein and between protein complexes are highly similar. While it is hence plausible to use domain-domain interactions as a proxy for inter-protein interactions, it is however possible that protein-protein interfaces may indeed differ from domain-domain interfaces.
Here we want to predict whether a residue is a contact residue or not using MI-based scores on the generated domain-domain MSAs. As MI assigns scores to pairs of columns in an MSA, first we calculate the MI score for all pairs of columns, or triangles of columns in the case of the 3D variants. To obtain a score for individual columns, each residue in all 40 test cases was assigned the maximum MI score that the residue column achieved with any other residue column in its MSA. We also tested assigning the average score of each residue column, but this resulted in a significant decrease in the performance of the MI variants. A residue is then assigned the score of its column.
When calculating MI pair or triplet scores, as in previous work[9, 25], only ungapped aligned columns were used. When allowing gapped columns there was a tendency for MI methods to underperform.
For the 40 test cases employed, the probability of randomly selecting contacts, i.e. correctly picking a contact residue from the total set of residues, without any information about the proteins involved, is 17.1%. Running i-Patch[12], a non-MI-based domain-domain contact predictor, on this dataset resulted in a precision of 48.9% at 20% recall. When assessing domain-domain contact prediction, Lee and Kim[25] found that their MIc measure outperformed their additionally normalised aMIc score[25], as well as Dunn et al.'s MIp measure[9]. We also found MIc to be the best domain-domain contact predictor of our tested MI variants. On our 40 test cases, MIc attained a precision of 34.7% at 20% recall, demonstrating that the performance of MI methods is below that of the parametrised method i-Patch.
We conjecture that the enhanced classification capabilities of i-Patch may be due to its use of residue propensities, along with its consideration of only residues on the surface of a protein when attempting to predict contacts between proteins. Consequently, we examined the effect of surface versus buried residues on domain-domain MI contact prediction.
In our 40 test cases, the probability of randomly selecting a surface residue from all residues is 69.9%. Using MI, MIp and MIc on our dataset as surface residue predictors (is the highest scoring residue on the surface?), we observed that each of the measures surpassed this random classification and achieved a precision of 86.9%, 75.5% and 74.1% respectively, at 20% recall (Additional file1: Figure S1). Thus it appears that high scores of all three variants of MI are skewed towards surface residues. This is probably due to the observed high entropy of surface residue columns.
Prior investigations have shown that MI scores strongly correlate with the entropy of the columns involved[
8
,
23
]. Figure
1
shows that MSA columns corresponding to surface residues tend to have a higher entropy than those associated with buried residues. The observed lower column entropy for buried residues is consistent with previous studies that have shown that buried residues are under greater evolutionary constraints than solvent-accessible surface residues[
30
–
33
]. A slower rate of evolution of these residues is unsurprising since buried residues often play a crucial role in maintaining the 3D structure of a protein. We hypothesise that this skewness of MI towards surface residues in turn perturbs its ability to predict contact residues. With this in mind we eliminated buried residues from further evaluation of the performance of MI, MIp and MIc for domain-domain contact prediction.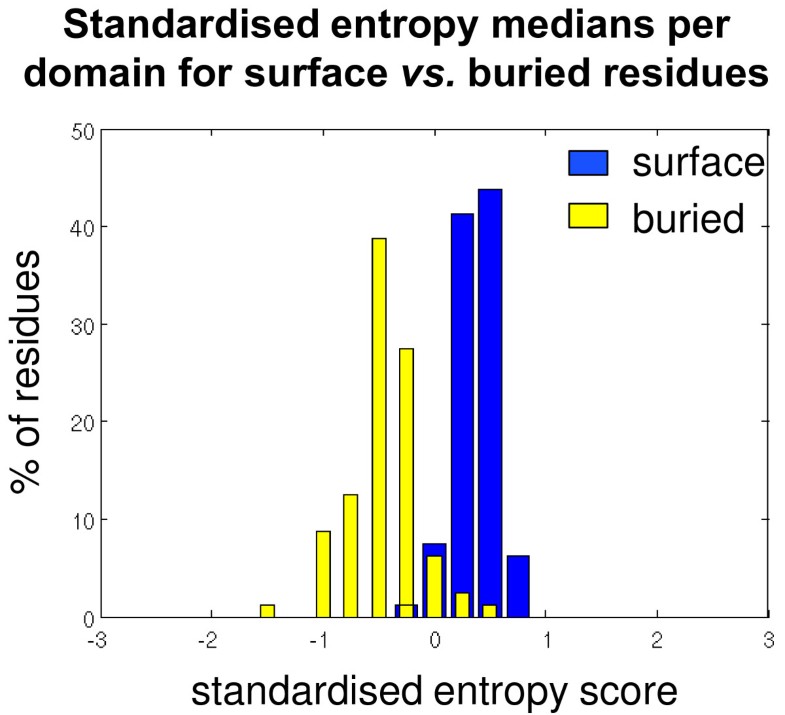 After filtering out buried residues in the 40 test cases, the precision of MIc increases from 34.7% to 44.9% at 20% recall (Figure
2C
). The probability of randomly selecting a contact residue is now 24.4%. Excluding buried residues therefore clearly has a considerable effect. As can be observed in Figure
2
, Table
1
and Additional file
2
: Figure S2, MIc still outperforms the other MI variants. MI and MIp achieve a precision of 24.4% and 42.3% respectively at 20% recall (Figures
2A
and B, and Table
1
).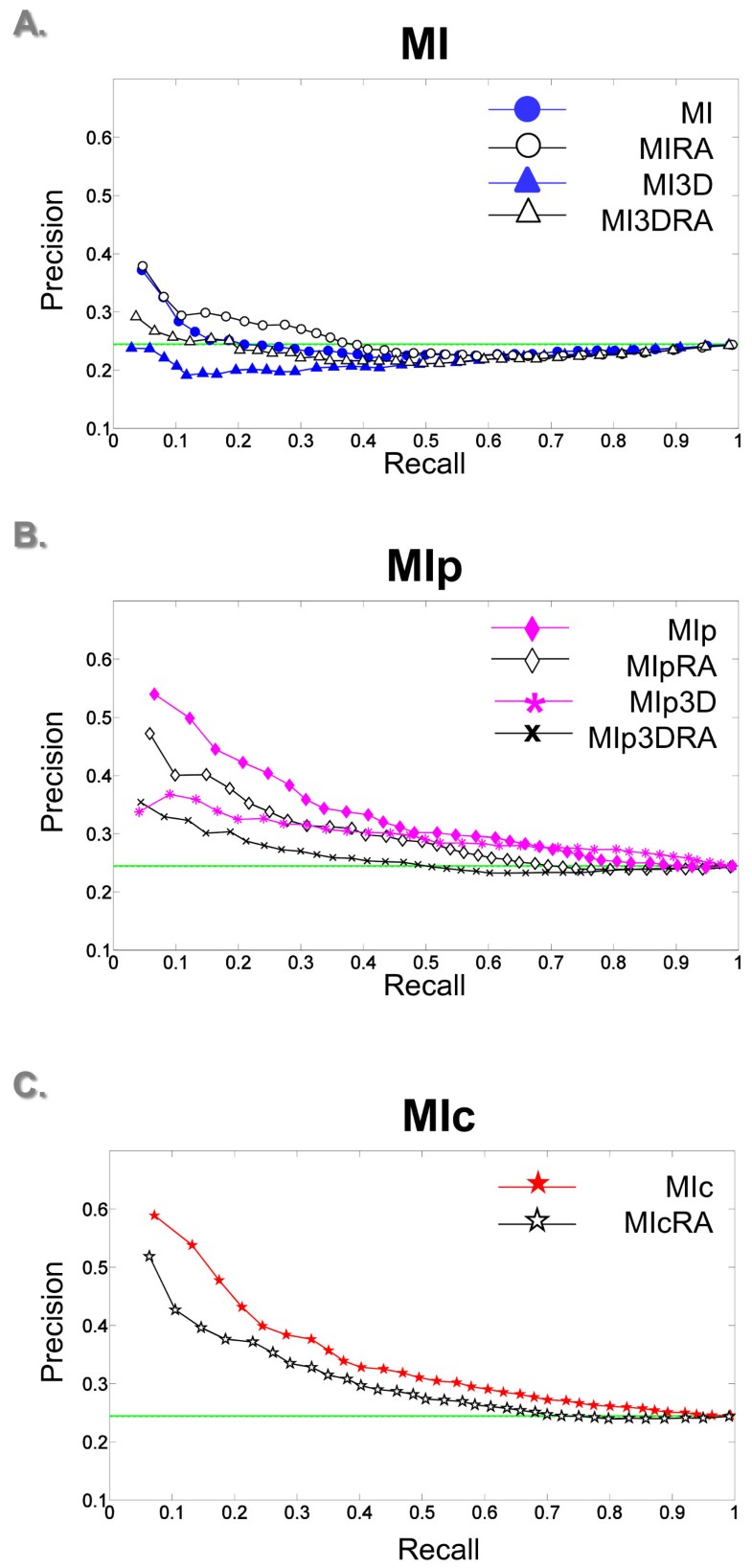 Table 1
Precision for detecting contact versus non-contact residues at 20% recall
Contact prediction

MI variant

Precision contact vs. non-contact

MIc

44.9

MIp

42.3

MIcRA

36.9

MIpRA

35.8

MIp3D

31.8

MIp3DRA

29.4

MIRA

28.4

Random

24.5

MI

24.4

RandomRA

24.4

MI3DRA

23.5

MI3D

19.9
For a meaningful comparison of scores however, we need to assess their stability. In order to test this we randomly selected 70% of the sequences from each MSA 100 times, and recalculated the variant MI scores for each of the sub-alignments (Table
2
). We observed that the rank order of the top five MI variant scores was maintained (Table
2
). This sub-alignment creation and MI recalculation procedure was only carried out on those 24 test cases that had ≥200 sequences, to ensure that there would be at least 125 sequences in the sub-alignments, the suggested minimum number of sequences required to reduce the stochastic noise in the MSA[
8
]. Hence the results in Table
1
refer to 40 test cases, while those in Table
2
reflect the mentioned subset of 24 cases. Based on two-sample t-tests, with a sample size of 24, the differences between the top four scores in Table
2
are highly significant at the 0.1% level.
Table 2
Precision for detecting contact versus non-contact residues at 20% recall, for sub-alignments of 70%
Contact prediction for sub-alignments

MI variant

70% AVG

70% STD DEV

100%

MIc

52.5*

2.1

54.8

MIp

46.0*

2.1

47.4

MIcRA

41.9*

1.8

41.4

MIpRA

38.2*

1.5

38.5

MIp3D

30.6

1.3

28.5

MIRA

30.2*

1.2

31.4

MIp3DRA

28.0*

1.2

30.9

MI

25.8*

0.8

27.6

MI3DRA

23.2*

1.0

25.5

Random

-

-

24.4

RandomRA

-

-

24.4

MI3D

20.0

0.6

21.8
Additionally, it is worth noting that the performance of all non-3D MI variants improve when using MSAs that have ≥200 sequences (Tables1 and2).
To account for the mentioned variability in scores due to changes in the MSA, Brown and Brown[
11
] have designed a new MI measure, ZNMI, as well as a methodology to yield highly reproducible and accurate contact pair prediction scores. Their suggested algorithm repeatedly partitions the MSAs into 50% sub-alignments, calculates the pair scores, retains significant scoring pairs for each partition and subsequently compares all partitions to acquire consensus pair scores. It should be noted that unlike our methodology, this pipeline does not filter out buried residues. The authors provided us with code for MI[
8
], MIp[
9
], OMES[
23
,
34
], SCA[
35
], ZNMI[
11
] and ZRES[
10
] measures wrapped within their proposed pipeline, but unfortunately not for MIc. Having run this code on our 40 domain-domain test cases we find that using ZNMI in conjunction with their algorithm does improve on the performance of original MI; at 20% recall the precision of ZNMI is 30.5% (Table
3
), as opposed to the 24.4% precision of original MI (Figure
2A
and Table
1
). ZNMI within the Brown and Brown pipeline even outperforms MIp, when MIp is incorporated into the same pipeline (27.1% precision at 20% recall; Table
3
). However, the performance of MIp independent of the pipeline, after filtering out buried residues and columns with one or more gaps, supersedes ZNMI and all other coevolving residue algorithms tested by the authors, as illustrated by its precision of 42.3% at 20% recall (Table
3
).
3D and Reduced Alphabet MI adjustments
To investigate methods that might further enhance the predictive power of MI variants we designed two adjustments. The first adjustment considers triangles of columns rather than pairs, based on the idea that interactions occur in patches[36]. This variant is denoted by the suffix 3D. The second adjustment, suffixed RA, reduces the 20 amino acids to seven categories based on their physical and chemical properties, with the aim of reducing noise.
The idea behind the 3D version is that protein binding involves patches of residues in contact. This idea has been previously used to predict contact residues[12, 36]. Furthermore, the success of MIc lies in its normalising factor, the coevolutionary pattern similarity (CPS) score, which estimates the coevolutionary relationship between the pair of residues currently under consideration and all other residues in the MSA[25]. We thus speculated that adding additional residue information to MI and MIp pair scores may enhance their domain-domain contact predictive capabilities. Hence we created new versions of MI and MIp that consider triangles rather than pairs of columns to identify contacts (MI3D (Equation 13) and MIp3D (Equation 14)). Increasing the dimensionality of MI and MIp in this manner surprisingly worsened performance in both cases; the precision at 20% recall of MI3D and MIp3D are 19.9% and 31.8% respectively as compared to precision of MI and MIp of 24.4% and 42.3% (Figure2 A and B, and Table1). We conjecture that adding an extra dimension to MI and MIp magnifies the noise in the MSA more than it boosts the signal.
Assuming that contact residues mutate in a correlated manner in order to maintain their interaction, it is not evident how much of a change a residue can undergo while still maintaining its contacts. Using a reduced alphabet residue set addresses this point; as it groups residues by their physiochemical properties, under the assumption that residues with the same physiochemical properties will maintain similar interactions. Grouping the 20 amino acids into seven categories only improved the performance of basic MI and MI3D, which rose in precision at 20% recall from 24.4% to 28.4% and 19.9% to 23.5% respectively (Figure2A and Table1). In all other cases the reduced alphabet (RA) appeared to reduce noise as well as signal (Figure2, Table1 and Additional file2: Figure S2).
Case study
The case study Skerker et al.[27] has received a lot of attention for successfully determining inter-protein contact specificity residues with the aid of MI. The authors used original MI (Equation (4)) to determine a subset of contact residues that allow for specific binding of a histidine kinase (HK) with its interacting response regulator (RR). The MSA provided by these authors does not contain the sequence of the structure used in their analysis. Hence we ran MI and MIc on the HK-RR MSA provided by Hamer et al.[12], which does include the sequence of this reference structure.
As Skerker et al. were interested in residue pairs only between the DHp domain (four helix bundle) of the HK and its interacting RR, only these MI and MIc scores were considered when examining performance. In accordance with our evaluation method on the 40 test cases, all buried residues were eliminated, as were residues corresponding to columns that had one or more gaps or an entropy of 0. This leaves us with 46 DHp residues, nine of which are contacts, and 68 RR residues, amongst which 24 are contacts.
As we have no score cut-off for predictions we check the number of correct predictions among the top nine predictions for DHp. If there was no relationship between the MI scores and contact sites, then the number of correct predictions would follow a Binomial distribution with sample size nine and probability of success 9/46. Under this model we would expect 1.76 correct predictions.
For RR there are 24 contact residues. We check the number of correct predictions among the top 24 predictions. If there was no relationship between the MI scores and contact sites, then the number of correct predictions would follow a Binomial distribution with sample size 24 and probability of success 24/68. Under this model we would expect 8.47 correct predictions.
The results are recorded in Table
4
. The p-value is the probability of seeing a number this large or larger under the corresponding Binomial model. None of the p-values are below 5%. Therefore at the 5% level there is no statistical evidence to reject the null hypothesis that in this case study random guess does as well as MI and MIc.
Table 4
Performance of MI and MIc on a histidine kinase (HK) - response regulator (RR) complex
Case study

DHp: 9 contacts out of 46

RR: 24 contacts out of 68

Contacts among top 9

p-value

Contacts among top 24

p-value

MI

3

0.2503

9

0.4864929

MIc

4

0.0800

9

0.4864929
Conclusions
MIc is the best current MI domain-domain contact predictor. The performance of MIc on our domain-domain test cases is not as good as its intra-protein contact prediction[25]. Its predictive capabilities are also not as high as i-Patch[12], a non-MI-based domain-domain contact predictor, but unlike this algorithm, MIc relies solely on sequence information in an MSA. Our 3D and reduced alphabet variants of MI did not improve prediction, but illustrate the delicate trade-off between signal to noise in the use of MI for domain-domain contact prediction.
Methods
In order to perform the tasks in our methods, code was written in perl, MATLAB and Python, and is available upon request.
Author's contributions
MG participated in design of the study, wrote the code used for analysis and drafted the manuscript. RH assisted with coding, participated in design of the study and edited the manuscript. GR supervised this research, directed design of this study and the statistical analysis employed, and edited the manuscript. CMD conceived this piece of work, supervised the research, directed design of the study and edited the manuscript. The final manuscript was read and approved by all authors.
Declarations
Acknowledgements
The authors would like to thank the members of the Oxford Protein Informatics Group for helpful discussion about this work and the Clarendon Fund Scholarship for making this research possible.
Authors' Affiliations
(1)
Department of Statistics, University of Oxford, Oxford, UK
Copyright
© Gomes et al.; licensee BioMed Central Ltd. 2012
This article is published under license to BioMed Central Ltd. This is an Open Access article distributed under the terms of the Creative Commons Attribution License (http://creativecommons.org/licenses/by/2.0), which permits unrestricted use, distribution, and reproduction in any medium, provided the original work is properly cited.