Research article
Open Access
Development of the catfish 250K SNP array for genome-wide association studies
BMC Research Notes
2014
7:135
Received: 11 December 2013
Accepted: 28 February 2014
Published: 10 March 2014
Abstract
Background
Quantitative traits, such as disease resistance, are most often controlled by a set of genes involving a complex array of regulation. The dissection of genetic basis of quantitative traits requires large numbers of genetic markers with good genome coverage. The application of next-generation sequencing technologies has allowed discovery of over eight million SNPs in catfish, but the challenge remains as to how to efficiently and economically use such SNP resources for genetic analysis.
Results
In this work, we developed a catfish 250K SNP array using Affymetrix Axiom genotyping technology. The SNPs were obtained from multiple sources including gene-associated SNPs, anonymous genomic SNPs, and inter-specific SNPs. A set of 640K high-quality SNPs obtained following specific requirements of array design were submitted. A panel of 250,113 SNPs was finalized for inclusion on the array. The performance evaluated by genotyping individuals from wild populations and backcross families suggested the good utility of the catfish 250K SNP array.
Conclusions
This is the first high-density SNP array for catfish. The array should be a valuable resource for genome-wide association studies (GWAS), fine QTL mapping, high-density linkage map construction, haplotype analysis, and whole genome-based selection.
Keywords
CatfishFishGenomeSNP arrayGWASGenotyping
Background
Catfish is the most important aquaculture species in the United States. In recent years, catfish industry encounters great challenges including devastating diseases which cause the largest economic loss. Improved brood stocks with a high level of disease resistance are desperately needed. Quantitative traits, such as disease resistance, are most often controlled by a set of genes involving a complex array of regulation [1–3]. The dissection of genetic basis of these traits requires large numbers of genetic markers.
Single nucleotide polymorphisms (SNPs) are now the markers of choice because they are the most abundant genetic variations widely distributed in the genome, and are generally bi-allelic polymorphisms that are amenable to automated genotyping [4]. SNPs are efficient for genome-wide association studies (GWAS) because linkage disequilibrium can be detected with high-density SNPs when dealing with complex traits. Simultaneous analysis of thousands of SNPs have enabled genome-wide association studies for performance and production traits in chicken [5, 6], pig [7, 8], cattle [9–11], horse [12] and sheep [13, 14]. However, such studies have not been possible with most aquaculture species including catfish due to the lack of genome-wide SNP markers and high-throughput SNP genotyping platforms.
Until recently genome-scale SNP identification was a great challenge for most non-model species. The next-generation sequencing technologies enabled efficient identification of SNPs from genomes of various organisms [15]. With the availability of a large number of SNPs, the challenge then is how to genotype these SNPs efficiently and economically.
A variety of SNP array platforms are available, of which Illumina iSelect HD Custom BeadChip (Illumina, San Diego, CA), the Sequenom MassArray (Sequenom, San Diego, CA) and Affymetrix GeneChip Custom Array (Affymetrix, Santa Clara, CA) are widely used. More recently, Affymetrix adopted the Axiom genotyping technology that allows development of customized arrays containing 1,500 to 2.6 million SNPs [16]. These platforms differ in their requirements for SNP marker numbers, sample size, cost and automation.
SNP arrays have been developed in several livestock species, including cattle [17], horse [18], pig [19], sheep [20], dog [21] and chicken [22]. For instance, the Illumina BovineSNP50 Beadchip featuring approximately 54,000 informative SNP probes was first developed for detecting variations in cattle breeds [17]. Two cattle SNP arrays with higher density were recently developed [23]. In dog, Illumina developed the CanineSNP20 BeadChip with 20K SNPs, and the recent CanineHD BeadChip containing over 170,000 SNPs [24]. A 60K chicken SNP array powered by Illumina iSelect BeadChip was designed to contain 57,636 SNPs [22]. Recently, a high density 600K chicken SNP array was developed with Affymetrix Axiom genotyping technology [25]. Apparently, there are no technology barriers for the development of high density SNP arrays, but the economic challenge is still tremendous. Even though the unit cost per genotype is currently extremely low, the total costs for the high density SNP arrays with high numbers of SNPs can still be beyond the economic powers of researchers working with species within small research communities.
High-density SNP arrays have not been developed for aquaculture species. Only low to medium density arrays were used in several aquaculture species. The Illumina GoldenGate Assay was used to evaluate 384 rainbow trout SNPs, resulting in a validation rate of 48% for the tested SNPs [26]. The GoldenGate Assay was also used to genotype 384 catfish EST-derived SNPs to assess the factors affecting SNP validation rates [27]. A custom Illumina iSelect SNP array containing approximately 6K SNP markers from Atlantic salmon was developed and used for linkage mapping and QTL analysis [28, 29].
SNP resources required for the development of a high-density SNP array have been developed in catfish. Over two million gene-associated SNPs were identified in channel catfish and blue catfish, respectively, using next-generation sequencing. Of these putative gene-associated SNPs, approximately 400,000-500,000 were of high quality [30]. In a recent study, over eight million SNPs were identified in channel catfish by whole genome sequencing of one wild and four aquaculture populations [31]. With the availability of these SNP resources, we report here the development and performance evaluation of the 250K catfish SNP array using the Affymetrix Axiom genotyping technology.
Conclusions
In this study, we report the development of the catfish 250K SNP array using Affymetrix Axiom genotyping technology. The SNPs were well-spaced in the genome. Distribution of minor allele frequency indicated that SNPs with uniform MAFs were included on the array. The performance evaluation of the SNP array by genotyping samples from pedigree families and unrelated wild populations suggested high SNP conversion rates (~80%) and high polymorphic rates (over 50%) can be obtained in all the examined samples. Technically, we showed that the Affymetrix design score (p-convert value) adequately predicted SNP probe performance and the inclusion of alternative probes greatly increased the SNP conversion rates, especially for SNPs with probes that had low design scores. The catfish 250K SNP array should be valuable for genome-wide association studies, fine QTL mapping, high-density linkage mapping, haplotype analysis, and whole genome-based selection.
Methods
Ethics statement
All procedures involving the handling and treatment of fish used during this study were approved by the Auburn University Institutional Animal Care and Use Committee (AU-IACUC) prior to initiation.
SNP selection and array design
Gene-associated SNPs were generated from Liu et al. [30]. Anonymous SNPs from non-coding genomic regions were from Sun et al. [31]. SNPs were filtered following the specific requirements for the Affymetrix SNP array design. Flanking sequences of 35 bp for each SNP were extracted where no other variations (SNPs and/or Indels) were allowed within 30 bp of SNPs. The balanced A/T/G/C of flanking sequences was required with GC content of 30%-70%. No repetitive elements were allowed in flanking sequences. In addition, single base repeats of G or C greater than 4 and A or T greater than 6 were not allowed.
All SNPs passing the in house selection using the above criteria were submitted to Affymetrix for design score assessment, where a p-convert value was assigned to each of the two probes flanking a SNP, respectively. SNPs with probes of high p-convert values were more likely to be convertible. A p-convert value threshold was determined by excluding the tail of lowest performing probes to facilitate selection of final SNP list. For the SNPs with both probes passing the p-convert value threshold, only the probe with the greater value was selected. For the SNPs with both probes having low p-convert values, both probes were selected to ensure a high probability of conversion.
To select well-spaced SNPs, at least one but no more than two SNPs per transcript contig were selected for gene-associated SNPs. At the time of the SNP selection, only the initial preliminary catfish genome assembly was available (255,858 contigs with mean length of 2,996 bp and N50 of 6,027 bp, unpublished data). The preliminary assembly was used to facilitate SNP selection according to contig length for the anonymous SNPs. One SNP per contig was selected from the contigs with lengths less than 4 kb. Two SNPs per contig were selected from the contigs with lengths greater than 4 kb. For the two SNPs selected from one contig, the SNPs with the largest distances were selected to ensure good spacing in the genome.
In addition, A/T and C/G SNPs were not selected because the two alleles of these SNPs match the same dye, and additional distinct probes in different physical locations on the array are required to distinguish them. Non-polymorphic 31-mers were randomly picked from non-repetitive regions of the genome for data quality control (QC) probes. The QC probes along with the final list of SNPs were submitted to Affymetrix for production of Axiom genotyping arrays.
Assessment of SNP spacing
To assess the genome distribution of SNPs on the array, all the 250,113 SNPs with 35-bp up and downstream flanking sequences (71 bp in total) were aligned with the latest draft genome assembly now available (62,461 scaffolds with N50 of 3 Mb, covering a total size of 850 Mb, unpublished) using BLAST to determine SNP positions. The inter-SNP spacing was determined based on SNP positions in the scaffolds. The distance between SNPs at the end of sequences and the next SNP was not included because it's not possible to assess their inter-marker interval. Similarly, SNP flanking sequences were aligned with the catfish BAC end sequences (BES) [36, 37] to identify BES associated SNPs.
SNP array performance evaluation
Fish sources
Three different sample sources were used for genotyping to assess the SNP array performance: 1) 192 unrelated channel catfish from wild populations; 2) 192 catfish hybrids from the 1st generation of backcrossing and 3) 192 catfish hybrids from the 3rd generation of backcrossing. Samples from wild populations were channel catfish collected for a previous study [38]. The hybrids from the 1st generation of backcrossing were produced by backcrossing the inter-specific F1 hybrids (channel female x blue male) with a male channel catfish, and the 3rd generation of backcross hybrids were produced by backcrossing the 2nd generation of backcross hybrids with a male channel catfish.
DNA isolation
Blood samples (300-500μl) were collected in a 1-ml syringe and immediately expelled into a 15-ml tube containing 5 ml of cell lysis buffer (100 mM NaCl, 10 mM Tris, pH 8, 25 mM EDTA, 0.5% SDS, and 0.1 mg/ml freshly made proteinase K) for DNA isolation. DNA was isolated as previously described [39, 40]. Picogreen dye (Quant-iT Pico Green, Invitrogen) was used in order to quantify double-stranded DNA according to the manufacturer's protocol. The integrity of DNA samples was checked by 1% agarose gel electrophoresis stained with ethidium bromide.
SNP genotyping
Genomic DNA samples were arranged in a 96-well microtiter plate, and normalized to a final concentration of 50 ng/μl with a final volume of 10 μl. Genotyping with the catfish 250K SNP array was outsourced to GeneSeek (Lincoln, NE, USA).
SNP analysis
Raw data in the form of CEL files were imported into the Affymetrix Genotyping Console software (v4.1) for quality control analysis and genotype calling using Axiom GT1 algorithm (Affymetrix). Samples with dish quality control (QC) value of 0.82 or better and call rate >0.97 were considered to have passed the quality control assessment. Following genotyping, SNPolisher (Affymetrix), an R package, was used to process the genotyping results. The package calculates the QC metrics for each SNP/probe set to determine its quality, and classify SNPs into six categories (Figure
9
): (i) "PolyHighResolution" where three clusters are formed with good resolution; (ii) "NoMinorHom" where two clusters are formed with no samples of the minor homozygous genotypes; (iii) "MonoHighResolution" in which only one cluster is formed; (iv) "OTV", off-target variants, where three good clusters are formed, but with one extra off-target cluster that is caused by sequence dissimilarity between probes and target genome regions [
41
]; (v) "CallRateBelowThreshold" where SNP call rate is below threshold, but other cluster properties are above threshold; and (vi) "Other" where one or more cluster properties are below threshold. The category (ii) was obtained when genotyping with related individuals such as in backcross families BC1 and BC3. In this study, SNPs of categories (i) to (iv) were regarded as convertible SNPs, and SNPs of categories (i) to (ii) were considered as polymorphic SNPs. The data used in this study are deposited in the National Animal Genome Research Program Aquaculture Genomics Data Repository (
http://www.animalgenome.org/repository
) and are also available upon request.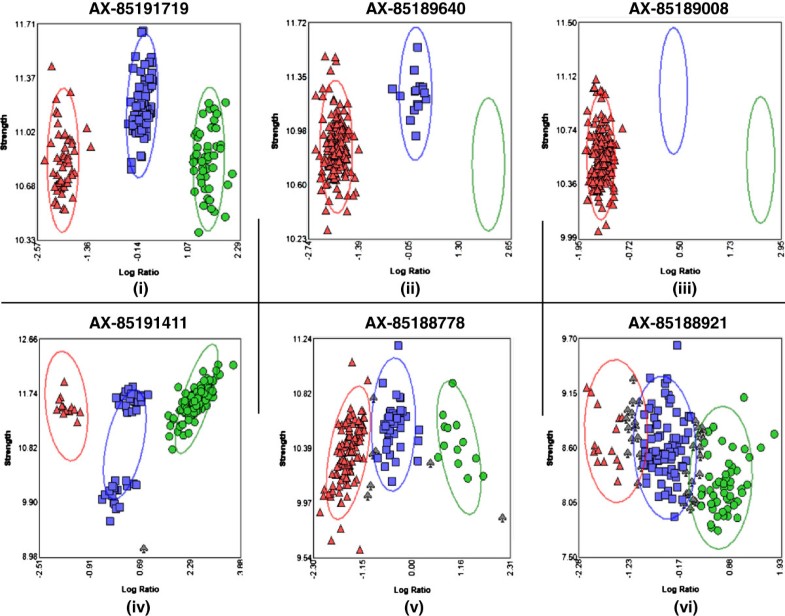 SNP transferability to other related catfish species
A set of DNA samples were tested from other related catfish species, including blue catfish (Ictalurus furcatus) of Rio Grande strain (10) and D&B strain (10), 10 brown bullhead catfish (Ameiurus nebulosus) and 10 white catfish (A. catus). The DNA preparation, SNP genotyping and analysis were the same as mentioned above.
Declarations
Acknowledgements
This project was supported by Agriculture and Food Research Initiative Competitive Grant no. 2009-35205-05101 and 2010-65205-20356 from the USDA National Institute of Food and Agriculture (NIFA). The authors are grateful for the support provided by colleagues from Affymetrix Bioinformatics Services and the custom genotyping program, especially Lucy Reynolds and Ali Pirani. Thanks go to the scientists and leaders of the Center for Applied Aquatic Genomics, Chinese Academy of Fishery science including Dr. Xiaowen Sun, Dr. Peng Xu, Director Yingjie Liu, Vice President Jieren Li, Vice President Qing Liu, and President Xianliang Zhang for their collaboration with the SNP project. It is only because of their collaboration that made the cost of the catfish array affordable with our limited resources. We thank Dr. Geoff Waldbieser for his collaboration in generating the preliminary catfish whole genome assembly. We thank all the lab colleagues who provided assistance with sample collection. The first author was supported by a scholarship from the China Scholarship Council.
Authors' Affiliations
(1)
The Fish Molecular Genetics and Biotechnology Laboratory, Aquatic Genomics Unit, School of Fisheries, Aquaculture and Aquatic Sciences, and Program of Cell and Molecular Biosciences, Auburn University, Auburn, USA
Copyright
© Liu et al.; licensee BioMed Central Ltd. 2014
This article is published under license to BioMed Central Ltd. This is an Open Access article distributed under the terms of the Creative Commons Attribution License (http://creativecommons.org/licenses/by/2.0), which permits unrestricted use, distribution, and reproduction in any medium, provided the original work is properly credited. The Creative Commons Public Domain Dedication waiver (http://creativecommons.org/publicdomain/zero/1.0/) applies to the data made available in this article, unless otherwise stated.