Research article

Open Access
Computational prediction of disease microRNAs in domestic animals
BMC Research Notes
2014
7:403
Received: 13 June 2014
Accepted: 20 June 2014
Published: 27 June 2014
Abstract
Background
The most important means of identifying diseases before symptoms appear is through the discovery of disease-associated biomarkers. Recently, microRNAs (miRNAs) have become highly useful biomarkers of infectious, genetic and metabolic diseases in human but they have not been well studied in domestic animals. It is probable that many of the animal homologs of human disease-associated miRNAs may be involved in domestic animal diseases. Here we describe a computational biology study in which human disease miRNAs were utilized to predict orthologous miRNAs in cow, chicken, pig, horse, and dog.
Results
We identified 287 human disease-associated miRNAs which had at least one 100% identical animal homolog. The 287 miRNAs were associated with 359 human diseases referenced in 2,863 Pubmed articles. Multiple sequence analysis indicated that over 60% of known horse mature miRNAs found perfect matches in human disease-associated miRNAs, followed by dog (50%). As expected, chicken had the least number of perfect matches (5%). Phylogenetic analysis of miRNA precursors indicated that 85% of human disease pre-miRNAs were highly conserved in animals, showing less than 5% nucleotide substitution rates over evolutionary time. As an example we demonstrated conservation of human hsa-miR-143-3p which is associated with type 2 diabetes and targets AKT1 gene which is highly conserved in pig, horse and dog. Functional analysis of AKT1 gene using Gene Ontology (GO) showed that it is involved in glucose homeostasis, positive regulation of glucose import, positive regulation of glycogen biosynthetic process, glucose transport and response to food.
Conclusions
This data provides the animal and veterinary research community with a resource to assist in generating hypothesis-driven research for discovering animal disease-related miRNA from their datasets and expedite development of prophylactic and disease-treatment strategies and also influence research efforts to identify novel disease models in large animals. Integrated data is available for download at http://agbase.hpc.msstate.edu/cgi-bin/animal_mirna.cgi.
Keywords
Disease microRNAs
Target
Domestic animals
Homology
Orthology
Phylogenetic analysis
Background
MicroRNAs (miRNAs) are naturally occurring single-stranded small RNA molecules that play important roles in post-transcriptional regulation of gene expression [1]. Studies have shown that miRNAs exert their regulatory role by partially binding their target (complementary) mRNAs at 3′ UTRs (untranslated regions) [2–5]. Phylogenetic studies indicate that animal miRNAs are highly conserved [6, 7]. Until recently, miRNAs were thought to be of little or no cellular significance [8–10]. The first miRNA shown to have a regulatory function was lin-4 from Caenorhabditis elegans[11, 12]. Lin-4 acted as a silencer of genes that regulate developmental timing, but it was considered a unique evolutionary adaptation as lin-4 homologs were not found in other species. The discovery of the regulatory miRNA let-7 in C. elegans in 2000 [10], with homologs in other species including humans, caused researchers to reconsider the idea that miRNAs may have a more widespread function within cells. We now know that many miRNAs play central roles in post-transcriptional gene regulation. Additionally, expression of specific miRNAs has been linked to various diseases [13–16]. Considerable research has been devoted to understanding regulatory roles of miRNAs in human diseases [17–26], and miRNAs are important biomarkers of several disease processes [27–32] including many cancers [33–43] and cardiovascular [18, 44–53], inflammation [54–57], and gastrointestinal diseases [58–60].
While databases for human disease-associated miRNAs are publicly available [
61
–
70
], there is no any integrated resource for disease-associated miRNAs in domestic animals. An integrated resource of animal disease-related miRNA data would provide the animal and veterinary research community with an invaluable resource for searching disease related miRNA subsets from their experimental data. Pubmed articles stand solely as the major reliable source of information for disease miRNA data. However, there are very few Pubmed articles currently (as of 12/31/2014) documenting disease-associated miRNAs in domestic animals compared to human, mouse or rat (Figure
1
). Identification of miRNA/disease associations in domestic animals is critical for understanding miRNA involvement in the pathophysiology of these organisms.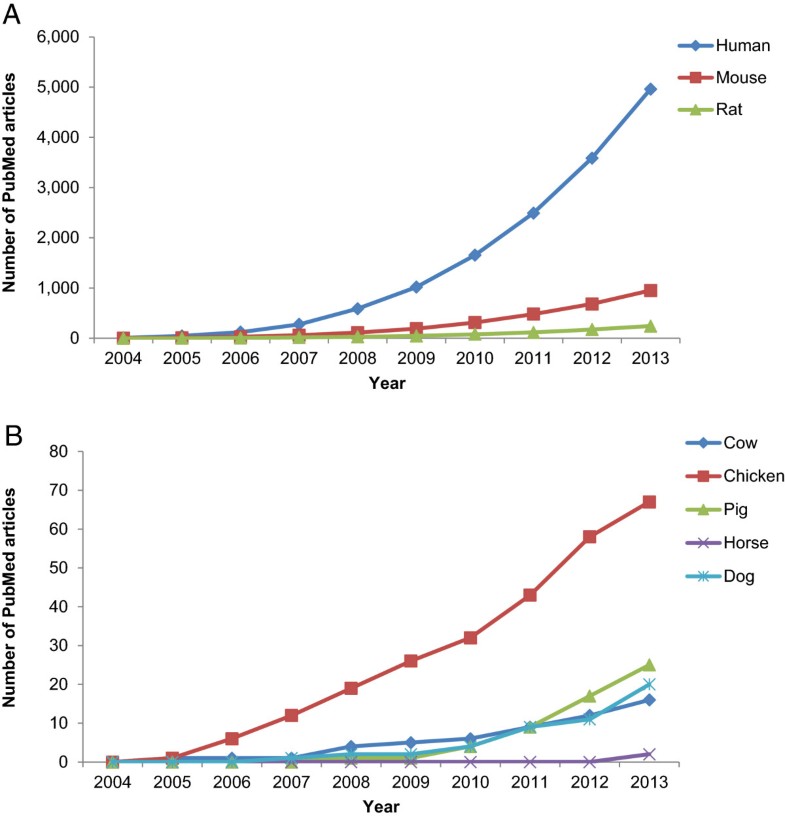 The main objective of our study was to identify animal miRNA homologs of published human disease-associated miRNAs in cow, chicken, pig, horse and dog using phylogenetic techniques. Using the current available human and animal miRNA resources, we identified potential disease-related miRNAs in domestic animals based on integrated computational and manual approaches including assessing the sequence similarities and evolutionary relationships between human disease miRNAs and their animal orthologs. These predictions will serve as a resource to facilitate hypothesis-driven research in domestic animals, which upon verification in animals could suggest animal models for human diseases and strategies for developing therapeutic measures.
Discussion
One means of identifying diseases before symptoms appear is through the discovery and utilization of disease-associated molecular biomarkers. Many biomarker techniques that have been widely applied in human and model organism studies have not been adequately implemented in the study of domestic animal diseases. It is now clear that miRNA play major regulatory role in various disease processes but financial investment is more committed to investigate miRNA involvement in human disease more than any other species (Figure 1). There are several miRNAs currently classified as biomarkers for human cancers [27, 42, 87–93], cardiovascular [45, 46, 94, 95], and inflammation [54–57] diseases. Although not experimentally found to be associated with miRNAs, some of these human diseases are also found in domestic animals [96–99]. Advances in knowledge about human disease-associated miRNAs warrant investigation of similar diseases in related species.
In this study we used homology approach to generate a resource that integrates animal miRNA data with human disease-associated miRNAs. As demonstrated using hsa-miR-143-3p which has been associated with diabetes type 2 [84] (Figure 7 and Table 2) it is logical that similar miRNAs perform comparable functions across related species, and therefore diseases correlated with miRNAs in one species may be correlated with homologous miRNA expression and disease in related species. The example of diabetes type 2-associated miRNA hsa-miR-143-3p gave a highlight on how to link disease-associated elements across species and develop hypothesis-driven investigation in animals. Integrating all data enabled us to identify some human disease miRNAs that are found in more than one animal species (Additional file 1), which indicates the likelihood of also sharing common diseases. Having miRNAs targeting similar genes across species provide clue of functional orthology. As indicated in this study one miRNA can be associated with multiple diseases. For example, hsa-miR-21-5p has been documented in nearly 400 Pubmed articles and is associated with 124 human disease phenotypes and has homologs in four animals including chicken.
However, not all human miRNA-related diseases may be relevant to all animals. Manual curation effort to continue building and updating the animal disease miRNA resource developed in this study is our long term process. The relevance of each human miRNA disease linked to each animal and targeted gene will continue to be established and integrated in the resource. Validation of the human disease miRNAs in the animal context will likely leverage the findings in human at the same time improve our understanding of their involvement in the pathogenesis, diagnosis, and prognosis of various animal diseases.
Conclusions
In this study we have shown that some human disease-associated miRNAs are well conserved across domestic animals. Also, human genes targeted by disease-associated miRNAs are highly conserved in animals. Conservation of both miRNAs and their target genes across human and domestic animals provides the likelihood of having functional orthology relationship which may also lead to similar diseases. Findings from this study are a step forward towards building an advanced animal disease miRNA resource, identifying miRNA-related diseases in animals and utilization of miRNA disease biomarkers in animal and veterinary research. In the long-term, validating these human disease miRNAs in domestic animals could identify new large animal models of diseases and most likely biomarkers to expedite development of therapeutic measures for human and animal diseases.
Availability of supporting data
The data supporting the results of this article is included within the article and its additional files. The integrated animal disease miRNA resource is freely available for download via AgBase at http://agbase.hpc.msstate.edu/cgi-bin/animal_mirna.cgi.
Ethical requirements
Our study used human and animal data from publicly available databases and did not require ethics approval from the Institutional Review Board for the Protection of Human Subjects in Research (IRB) or the Institutional Animal Care and Use Committee (IACUC).
Abbreviations
BRENDA:

BRaunschweig ENzyme Database
BTO:

BRENDA Tissue ontology
DO:

Disease ontology
GO:

Gene ontology
HDMACs:

Human disease miRNAs with animal counterparts
HMDD:

Human miRNA disease database
IGBB:

Institute for genomics, biocomputing and biotechnology
MFE:

Minimum free energy
miRNAs:

MicroRNAs
NJ:

Neighbor-joining
OMIA:

Online mendelian inheritance in animal
OMIM:

Online mendelian inheritance in man
pre-miRNAs:

Precursor miRNAs
UTRs:

Un-translated regions.
Declarations
Acknowledgements
This work was supported by the Office of Research and Graduate Studies, College of Veterinary Medicine and the Institute for Genomics, Biocomputing & Biotechnology. We thank the staff at the High Performance Computing Collaboratory (HPC2) for their technical support and routine backup of data generated from this study. We thank the reviewers for their valuable comments.
Authors' Affiliations
(1)
Department of Basic Sciences, College of Veterinary Medicine, Mississippi State University, USA
(2)
Institute for Genomics, Biocomputing & Biotechnology, Mississippi State University, USA
Copyright
© Buza et al.; licensee BioMed Central Ltd. 2014
This article is published under license to BioMed Central Ltd. This is an Open Access article distributed under the terms of the Creative Commons Attribution License (http://creativecommons.org/licenses/by/4.0), which permits unrestricted use, distribution, and reproduction in any medium, provided the original work is properly credited. The Creative Commons Public Domain Dedication waiver (http://creativecommons.org/publicdomain/zero/1.0/) applies to the data made available in this article, unless otherwise stated.