The structural insights of stem cell factor receptor (c-Kit) interaction with tyrosine phosphatase-2 (Shp-2): An in silico analysis
BMC Research Notes
2010
3:14
Received: 12 August 2009
Accepted: 22 January 2010
Published: 22 January 2010
Abstract
Background
Stem cell factor (SCF) receptor c-Kit is recognized as a key signaling molecule, which transduces signals for the proliferation, differentiation and survival of stem cells. Binding of SCF to its receptor triggers transactivation, leading to the recruitment of kinases and phosphatases to the docking platforms of c-Kit catalytic domain. Tyrosine phosphatase-1 (Shp-1) deactivates/attenuates 'Kit' kinase activity. Whereas, Asp816Val mutation in the Kit activation loop transforms kinase domain to a constitutively activated state (switch off-to-on state), in a ligand-independent manner. This phenomenon completely abrogates negative regulation of Shp-1. To predict the possible molecular basis of interaction between c-Kit and Shp-1, we have performed an in silico protein-protein docking study between crystal structure of activated c-Kit (phosphorylated c-Kit) and full length crystal structure of Shp-2, a close structural counterpart of Shp-1.
Findings
Study revealed a stretch of conserved amino acids (Lys818 to Ser821) in the Kit activation domain, which makes decisive H-bonds with N-sh2 and phosphotyrosine binding pocket residues of the phosphatase. These H-bonds may impose an inhibitory steric hindrance to the catalytic domain of c-Kit, there by blocking further interaction of the activation loop molecules with incoming kinases. We have also predicted a phosphotyrosine binding pocket in SH2 domains of Shp-1, which is found to be predominantly closer to a catalytic groove like structure in c-Kit kinase domain.
Conclusions
This study predicts that crucial hydrogen bonding between N-sh2 domain of Shp-1 and Kit activation loop can modulate the negative regulation of c-Kit kinase by Shp-1. Thus, this finding is expected to play a significant role in designing suitable gain-of-function c-Kit mutants for inducing conditional proliferation of hematopoietic stem cells.
Keywords
Stem Cell FactorActivation LoopProtein Epidermal Growth Factor ReceptorCatalytic CleftProtein Epidermal Growth Factor
Findings
Research hypothesis
The c-Kit controls major signaling cascades in hematopoietic stem cells. Earlier study indicated that the catalytic domain of c-Kit consists of many important loop regions, such as catalytic loop (786-796), activation loop (810-839) and substrate-binding loop (829-837), which play crucial role in the activation of Kit kinase domain [1]. Transformation of c-Kit kinase domain from an inactive to hyperactive state is reported to occur on the basis of three distinct molecular phenomena. These are (i) binding of ATP to glycine rich loop residues (596-601), (ii) release of self-inhibitory interaction between substrate binding loop and activation loop, and (iii) loss of intramolecular H-bonds between Lys818-Asp816 and Asn819-Asp816 [1].
Binding of stem cell factor (SCF) to its receptors triggers dimerization coupled transphosphorylation of c-Kit catalytic domain [2–4], which then emerges with a dual phosphorylated tyrosine containing conserved motif (Y568V569Y570) in human c-Kit [5]. Interestingly, this motif acts as a common docking site for SH2 and SH3 domain containing proteins [6]. The adaptor protein APS, Src family of kinases and Shp-2 tyrosine phosphatase bind to Y568. Similarly, Shp-1 tyrosine phosphatase and the adaptor protein Shc bind to Y570; whereas, C-terminal Src homologous kinase (Chk) and the adaptor Shc bind to both Y568 and Y570 [7]. Shp-1 is known as a negative regulator of various receptors in hematopoietic cells, including c-Kit kinase [8, 9]. Shp-1 and Shp-2 share both sequence and structural homologies [10]. Previous studies have shown that a gain of function mutation, Asp816 to Val816 (a molecular representative of mastocytosis) in Kit activation loop leads to extensive degradation of Shp-1, indicating disruption of Shp-1 and c-Kit interaction [11, 12].
Though SH2 domains of both Shp-1 and Shp-2 are known to interact with c-Kit, the molecular basis of this interaction has not been elucidated. The present study suggests some important residues in Kit activation loop and N-sh2 domain that play crucial role in negative regulation of c-Kit kinase.
Discussion
The activity of c-Kit is controlled through two important mechanisms: either by juxtamembrane segment auto-inhibition or by phosphatases mediated inhibition. The c-Kit is auto-inhibited by its juxtamembrane segment as it forms a V-shaped loop, inserted directly into the kinase lobes and displaces αC helix of Kit [23]. Subsequent to the activation of Kit kinase, the intramolecular H-bonds between Lys818-Asp816 and Asn819-Asp816 are disrupted, which further destabilizes the activation loop, releasing the steric hindrances associated with the rearrangement of the lobes. This phenomenon allows correct positioning of residues in and from active site, thus opening up the activated structure of Kit kinase (Additional file 4).
On the basis of our investigation, we propose that in activated c-Kit, the residues Lys818 and Asn819 make intermolecular hydrogen bonding with N-sh2 domain residues "Tyr100 and Ser28" as a result of the disruption of intramolecular hydrogen bonding with Asp816 (Fig.
5
). The constitutive change of Asp816 to Val may also lead to deleterious effects by disrupting these H-bonds with Lys818 and Asn819, as Asp816 has the capability to stabilize a positively charged α helical dipole by virtue of negative charge in its side chain and also serving as an amino-terminal capping to Ile817, Lys818, Asn819 and Asp820. So a point mutation to hydrophobic or aromatic amino acid would potentially destabilize this interaction, thereby forcing activation loop to transit from inactive to active confirmation, disrupting the Shp-1 association. This leads to an enhanced ubiquitinin-mediated degradation of Shp-1 [
12
]. Strikingly, Asp820 signature molecule of systemic mast cell disorder (SMCD) [represented as Asp820Gly] forms a hydrogen bond with the His85 of N-sh2 domain [
24
,
25
]. This also explains the role of Asp820 in Shp-1 binding. So it is considered that, Kit activation loop residues play a critical role in Shp-1 mediated negative regulation of Kit kinase.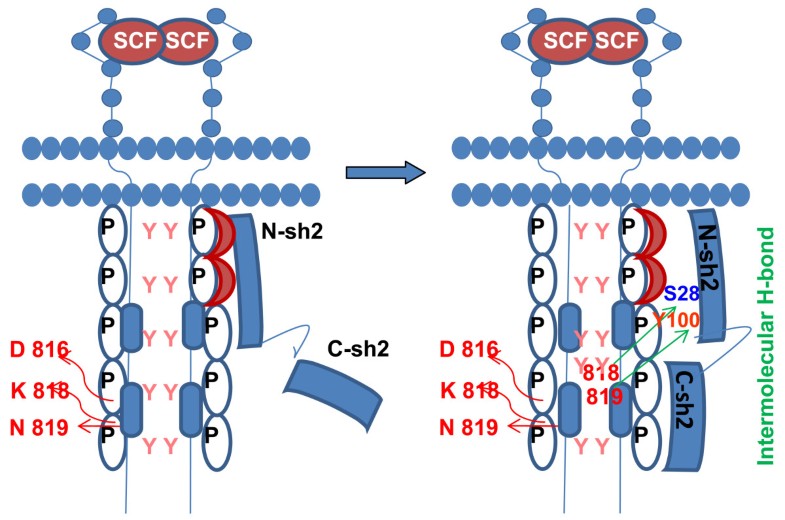 Conclusion
In summary, our study has revealed that certain activation loop residues in c-Kit are crucial for interaction of kinase with Shp-1, which may play a vital role in Shp-1 mediated down-regulation of c-Kit kinase activity. We propose that point mutation in Lys818 to Ser821 and Thr847 to Glu849 residues in Kit catalytic domain may lead to the generation of hyperactive functional variants of c-Kit. These may be implicated as efficient gene therapeutic candidates for conditional over-expression in the regeneration of hematopoietic compartments.
List of abbreviations
HCK :

Hematopoietic cell kinase
LCK :

Lymphocyte Specific Protein Tyrosine Kinase p56
PY :

Phosphotyrosine binding pocket
GRB-2 :

Growth factor receptor bound protein 2
PSSM :

Position-specific scoring matrix
GRAMM :

Global Range Molecular Matching
SCF :

Stem cell factor
Shp-1/2:

Tyrosine phosphatase-1/2
Src :

Sarcoma proto-oncogene
c-ZAP :

zeta-chain [TCR] associated protein kinase 70 kDa
JMD :

Juxtamembrane domain
APS :

adapter protein with Pleckstrin homology and Src homology two domain.
Declarations
Acknowledgements
We are grateful to Prof. R.S. Sowdhamini and Dr. Saikat Chakrabarty of NCBS, Bangalore for extending support in performing the protein-protein interaction studies. Dr. Geetanjali Yadav of NCPGR, New Delhi extended help in analyzing complexes, for that first author is thankful. The first author is indebted to the Director, NII for kind permission to conduct the study.
Authors' Affiliations
(1)
Stem Cell Biology Laboratory, National Institute of Immunology, New Delhi, India
(2)
Stem Cell and Gene Therapy Research Lab, Institute of Nuclear Medicine and Allied Sciences, Delhi, India
(3)
Department of Medicine, University College of Medical Sciences & Guru Teg Bahadur Hospital, New Delhi, India
(4)
Gene Regulation Laboratory, National Institute of Immunology, New Delhi, India
(5)
Current Address: Department of Neuroscience, School of Medical Sciences, University Sains Malaysia, Malaysia
Copyright
© Mukhopadhyay et al; licensee BioMed Central Ltd. 2010
This article is published under license to BioMed Central Ltd. This is an Open Access article distributed under the terms of the Creative Commons Attribution License (http://creativecommons.org/licenses/by/2.0), which permits unrestricted use, distribution, and reproduction in any medium, provided the original work is properly cited.