Research article
Open Access
Domain analysis of symbionts and hosts (DASH) in a genome-wide survey of pathogenic human viruses
BMC Research Notes
2013
6:209
Received: 11 December 2012
Accepted: 17 May 2013
Published: 24 May 2013
Abstract
Background
In the coevolution of viruses and their hosts, viruses often capture host genes, gaining advantageous functions (e.g. immune system control). Identifying functional similarities shared by viruses and their hosts can help decipher mechanisms of pathogenesis and accelerate virus-targeted drug and vaccine development. Cellular homologs in viruses are usually documented using pairwise-sequence comparison methods. Yet, pairwise-sequence searches have limited sensitivity resulting in poor identification of divergent homologies.
Results
Methods based on profiles from multiple sequences provide a more sensitive alternative to identify similarities in host-pathogen systems. The present work describes a profile-based bioinformatics pipeline that we call the Domain Analysis of Symbionts and Hosts (DASH). DASH provides a web platform for the functional analysis of viral and host genomes. This study uses Human Herpesvirus 8 (HHV-8) as a model to validate the methodology. Our results indicate that HHV-8 shares at least 29% of its genes with humans (fourteen immunomodulatory and ten metabolic genes). DASH also suggests functions for fifty-one additional HHV-8 structural and metabolic proteins. We also perform two other comparative genomics studies of human viruses: (1) a broad survey of eleven viruses of disparate sizes and transcription strategies; and (2) a closer examination of forty-one viruses of the order Mononegavirales. In the survey, DASH detects human homologs in 4/5 DNA viruses. None of the non-retro-transcribing RNA viruses in the survey showed evidence of homology to humans. The order Mononegavirales are also non-retro-transcribing RNA viruses, however, and DASH found homology in 39/41 of them. Mononegaviruses display larger fractions of human similarities (up to 75%) than any of the other RNA or DNA viruses (up to 55% and 29% respectively).
Conclusions
We conclude that gene sharing probably occurs between humans and both DNA and RNA viruses, in viral genomes of differing sizes, regardless of transcription strategies. Our method (DASH) simultaneously analyzes the genomes of two interacting species thereby mining functional information to identify shared as well as exclusive domains to each organism. Our results validate our approach, showing that DASH has potential as a pipeline for making therapeutic discoveries in other host-symbiont systems. DASH results are available at http://tinyurl.com/spouge-dash.
Keywords
Functional similarityDomain similarityHost-pathogen interactionsGene transferComparative genomicsCellular homologHost-virus coevolution
Background
Many species interact persistently in symbiosis through mutualistic, commensalistic, or parasitic relationships. Such symbiotic associations can lead to long histories of coevolution, promoting horizontal transfer of genes between the corresponding species. Acquired genetic material has afforded both prokaryotes and eukaryotes several advantageous new functions, including antibiotic resistance, nitrogen fixation, and even photosynthesis [1].
In the case of parasitic symbionts like viruses, most of the documented cases of gene transfer involve proteins with functions related to host immune system control or evasion. The large DNA viruses are particularly notorious for encoding homologs of cellular components of both the innate and adaptive arms of the immune response [2].
Homologs in host-virus systems have been traditionally identified [3–5] using pairwise sequence comparison methods like BLAST [6] and FASTA [7]. Yet, pairwise sequence comparison has limited sensitivity, particularly in detecting distant homologies. Profile sequence searches, which combine information from multiple sequences (e.g. PSSMs (Position Specific Scoring Matrices) [8, 9], HMMs (Hidden Markov Models) [10–13]), have greater sensitivity than pair-wise sequence comparison in detecting distant homologs [9, 14].
Profile search tools like PSI-BLAST and HMMER therefore provide more sensitive homology searches than BLAST or FASTA. Very few studies have investigated host-viral similarities (e.g.[15, 16]) using profile search tools, however. Moreover, recent improvements to profile-based comparison algorithms have increased sensitivity further [17], thus improving their ability to identify even more distant homologies. In addition, previous studies of divergent host-viral similarities using profile search tools implemented their protocols as ad hoc solutions for specific viruses, thus, impeding automation and application in other viral systems.
The present article investigates functional similarity at the protein domain level by surveying similarities between the human genome and the genomes of an arbitrary but representative set of eleven viruses impacting human health. It also examines similarities between the human genome and the genomes of forty-one viruses of the order Mononegavirales. The functional comparisons are made with a bioinformatics pipeline that we call Domain Analysis of Symbionts and Hosts (DASH).
HHV-8 is the causative agent of Kaposi's sarcoma, the most common AIDS-associated cancer [14], and it has also been associated with primary effusion lymphoma [15] and multicentric Castleman's disease [16]. Because many studies have documented a cellular origin for many genes in HHV-8 [2, 13], HHV-8 provides an ideal model virus for validating our approach. This article therefore scrutinizes HHV-8 more closely than the other fifty-one viruses. Our comparative genomics survey includes DNA and RNA viruses of various genome sizes and transcription strategies, thereby providing a snapshot of the prevalence of functional similarities across a representative set of viruses impacting human health. The results for the fifty-two viruses surveyed here validate the methodology and show that DASH has potential as a pipeline for making therapeutic discoveries in other host-symbiont systems.
Methods
DASH's computational pipeline
DASH compares each of the genes in a pathogen genome against a local collection of protein domain families (Figure
1
). DASH performs the sequence comparisons using HMMER's hmmscan v. 3.0 [
17
] against all the HMM profiles in the Pfam-A subset of Pfam v. 26 [
18
]. PfamA features 13,672 protein domain models, making it a relatively exhaustive repository, one manually built by experts from representative sets of sequences. DASH records all significant similarities to the Pfam models for each of the pathogen's genes (Figure
1
). A parallel analysis also functionally annotates the host genome (Figure
1
). DASH distinguishes the protein domains exclusive to the host and pathogen from those shared between them (Figure
1
, Figure
2
).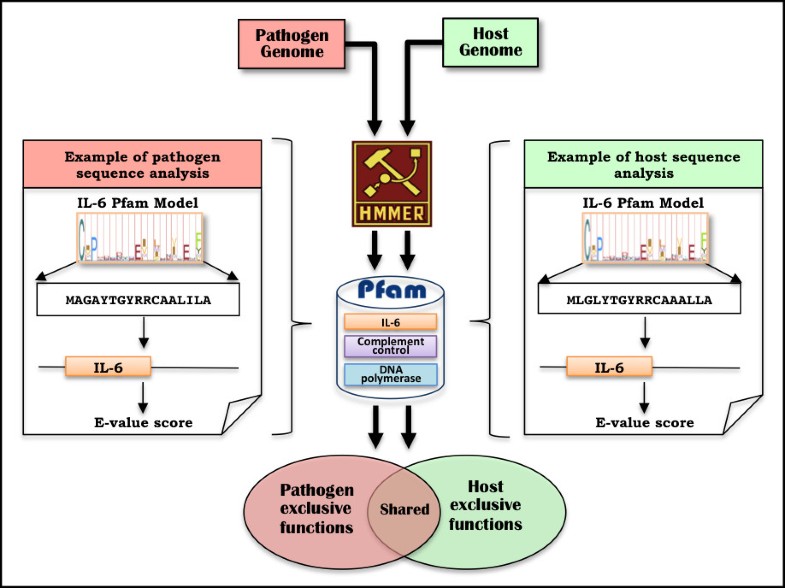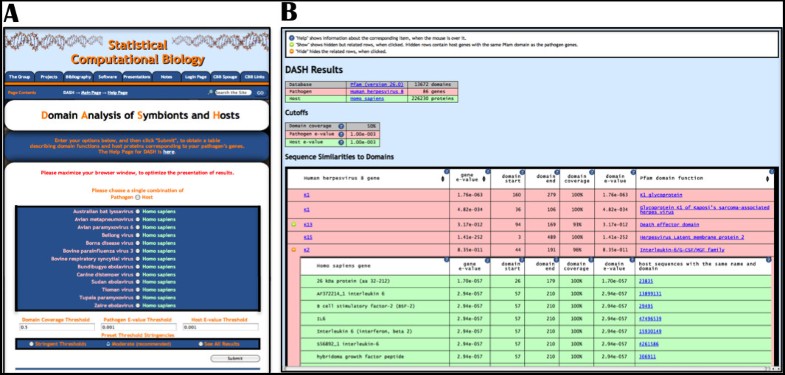 Detecting functional similarities between the human and viral genomes
DASH compared eighty-six proteins in the HHV-8 genome (reported by NCBI's Refseq viral genome collection as of May 11, 2011) against the 13,672 PfamA v. 26 models. DASH also analyzed 226,230 human proteins from NCBI's NR database (release date: February 2, 2012). The reported similarities for searches in both genomes were considered significant under a threshold E-value<1e-3 [17] after applying a Bonferroni multiple-test correction. The E-values in this study were multiple-test corrected to account for multiple comparisons (number of Pfam domain models times the number of proteins in the relevant organism, host or pathogen). When DASH matches a sequence to a Pfam domain model, it reports domain coverage, the fraction of the length of the domain model matched. To avoid spurious short sequence matches, this study reports a match only if the corresponding domain coverage exceeds 0.50. The same protocol described for the functional analysis of the Human and HHV-8 genomes was applied to analyze the eleven viruses in the comparative genomics survey and the forty-one viruses in the examination of the order Mononegavirales. The fifty-two viruses were extracted from the Refseq viral genome collection of May 11, 2011.
Conclusions
The present article described a genome-wide survey of protein domain similarity between an arbitrary but representative set of viruses and their human host. As a proof of concept, we used DASH to analyze the homologies between HHV-8 and human, which have been extensively documented in the past two decades. Several of the HHV-8 proteins have been reported as being of cellular origin, which DASH confirmed. Our work also confirmed functional similarities between human and both the DNA and RNA viruses, with viral genomes of various sizes and regardless of transcription strategies. Our examination of the order Mononegavirales confirmed that retroviruses have not been the only RNA viruses donating genetic material to cellular genomes. DASH also provided supporting evidence that non-retro-transcribing RNA viruses have contributed endogenized elements to the human genome.
The fractions of homologs between humans and the fifty-two viruses reported here are likely underestimates of the actual fractions. This study analyzed only the protein-coding regions of the genomes. Quite possibly, transfer of non-coding genes (e.g. non-coding functional RNA (rRNA, tRNA), cis-regulatory elements, etc.) may also have occurred.
In all likelihood, the proteins shared by viruses and their hosts today have been acquired through horizontal gene transfer (HGT) at some point in the past. Our functional analyses of the fifty-two human viruses suggest that genetic transfers from host to virus seem to have been predominant in the DNA viruses. Our results also show that among the viruses, the RNA viruses have been predominant donors of genetic material to the host regardless of viral transcription strategy. Our remarks of directionality are based on the annotations on the homologies, which confirm reports published elsewhere (e.g.[5]).
Sequence similarity methods can suggest cases of HGT, but determination of HGT directionality is more difficult to automate, because it requires a remarkably detailed phylogenetic investigation in large part directed by human input. Yet, the usefulness of a sequence-based method like DASH is in its ability to scan large amounts of data to streamline the list of protein candidates for further phylogenetics or experimental characterization. Moreover, DASH provides a platform to analyze the complete genomes of two interacting species. The analysis identifies common domains as well as those exclusive to each organism.
The current version of DASH, a prototype, allows the analysis of fifty-two reference viral genomes. The results we have shown here validate the methodology and show the potential of the pipeline to analyze other host-symbiont systems rapidly. In principle, the DASH pipeline can annotate new genomes or characterize different isolates of the same virus. DASH output can also augment the analysis of host-pathogen interaction or co-evolution data. In addition to detecting functional similarities, DASH provides sets of possibly orthologous genes for phylogenetic analysis and evolutionary gene reconstruction. DASH can also generate lists of genes and proteins potentially unique to the virus to aid rational drug design. For instance, if a peptide-binding site were unique to a virus, the design of peptide drugs would then avoid an autoimmune response in the host. Knowledge of the genetic material captured or donated by pathogens should give insights into the etiology of the diseases they cause and help inform effective drug and vaccine design.
Declarations
Acknowledgments
The authors would like to thank Drs. Anthony L. DeVico, George K. Lewis, Thomas McCarty, and Barney Graham for helpful discussions. This research was supported by the Intramural Research Program of the NIH/NLM/NCBI.
Authors' Affiliations
(1)
National Institutes of Health, National Library of Medicine, National Center for Biotechnology Information, Bethesda, USA
Copyright
© Gonzalez and Spouge; licensee BioMed Central Ltd. 2013
This article is published under license to BioMed Central Ltd. This is an Open Access article distributed under the terms of the Creative Commons Attribution License (http://creativecommons.org/licenses/by/2.0), which permits unrestricted use, distribution, and reproduction in any medium, provided the original work is properly cited.